The ASUS Cerberus V2 headset ships in a clear plastic box, with the headset itself being directly visible from the front.
Inside, there are a couple of user guides plus an audio/mic splitter cable.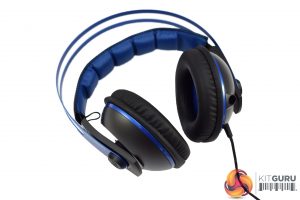 Getting a look at the headset itself, I will start by saying there are three colour options when it comes to the Cerberus V2: I was sent the blue model, while there are also red and green options. There's got to be a joke about RGB in there somewhere…
Moving in closer, we will start with the ear cups. These are closed-back in design, as is common for gaming headsets, and the ASUS Cerberus three-headed dog logo is visible on the outside of the cups.
On the inside, it becomes apparent that the ear cups are circular when most gaming headsets have oval-shaped cups. Personally, I have no preference about the shape but it is definitely worth noting. The foam-filled ear cushions are covered with faux-leather while the drivers have a blue fabric covering as well.
Elsewhere, the Cerberus V2's headband is of the floating variety, meaning there is a metal outer-frame and a padded faux-leather band which rests on your head. All blue, of course.
The Cerberus V2 also comes with a removable boom mic that plugs into a 3.5mm jack on the left ear cup. The boom is also fully flexible, so it can be bent into any shape you wish.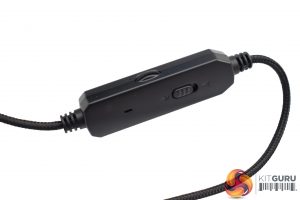 Lastly, the in-line remote is interesting as it features a secondary mic, designed to be used when you are plugged into your phone and on-the-go. There is also a mic mute switch and volume wheel on the controller.