Three years on from the original Cerberus headset, ASUS is back with the Cerberus V2.
It is a well-built headset, thanks to its steel frame, and while its appearance may split opinion – due to the coloured headband and fabric – I personally think it looks pretty good for a gaming headset.
The Cerberus V2 is also nice and comfy, with large ear cushions and a well-padded headband. I do think that the foam in the cushions could be softer, to allow for a tighter fit over the ears, but that is a minor thing.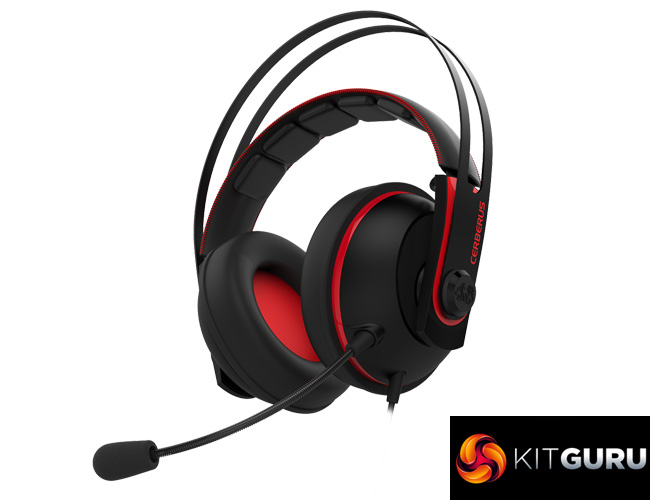 I was a very happy gamer using the Cerberus V2 as the sound quality is very decent considering the price. It is definitely very bass-heavy but this is typically what gamers want, and I personally loved using the Cerberus V2 while playing some of my favourite FPS games.
The downside to this approach is that subtler music or other audio does suffer, so I wouldn't necessarily recommend this if you want a headset for general listening and gaming.
However, thinking of the ASUS Cerberus V2 purely as a gaming headset, it is very decent and offers good value for money. There is a lot of competition at or around this price-point, but I have no qualms in recommending the Cerberus V2 to anyone looking for a stereo 3.5mm jack headset.
You can buy one for £59.99 from Overclockers UK HERE.
Discuss on our Facebook page HERE.
Pros
Comfortable.
Well-built.
Great for gaming.
3.5mm jacks adds versatility, as opposed to a USB connection.
Cons
Ear cushions could be softer.
Stiff competition around this price-point.
KitGuru says: After a three-year absence, the Cerberus headset is back with a bang. It is not the perfect headset that will satisfy everybody, but it is a darn good gaming headset and at a decent price, too.