The Cooler Master MasterPulse MH320 ships in a well-sized black box with a large product photo positioned on the front.
Inside, the only accessory is a small quick-start guide.
The headset itself is not much to look at, but I do appreciate its all-black aesthetic – it is certainly very stealthy.
I am, however, quite impressed to see a steel frame on the unit considering the price, so kudos to Cooler Master for that. The headband itself is of the 'floating' variety – so it is self-adjusting – and is covered with faux-leather.
Elsewhere, the ear cups are closed back so don't let the mesh grille section fool you, it is purely for aesthetics. A grey Cooler Master logo positioned on the right ear cup is the only piece of branding on the headset.
On the inside, the foam ear cushions are finished with some faux-leather, while we can clearly see the cups are oval shaped and circumaural.
The long boom mic is not removable or retractable, so it remains fully extended at all times. However, it is positioned on a rotating hinge so it can be stowed out of sight when not in use. The boom itself is also flexible so you can shape it how you like.
There is also a small in-line controller positioned on the headset's cable, consisting of a mic mute switch and volume wheel. It is certainly quite basic but is still a good feature to have.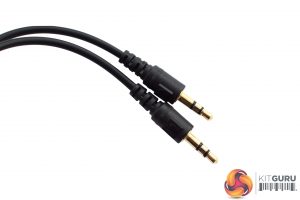 Lastly, the MH320 connects via two 3.5mm jacks – one for audio, one for the mic.