The Corsair HS50 ships in a familiar-looking black box with yellow accents. A large product photo dominates the front.
Inside, accessories are thin on the ground: we find a warranty guide, the detachable microphone and a y-splitter cable.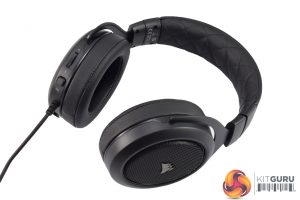 The headset itself is all-black, though there are a couple of other models which have green or blue stitching around the back of the ear cups. The model we were sent is the 'carbon' SKU, and I think it looks great – stealthy and minimalistic, it should fit in on any desk.
Moving in for a closer look, we start with the ear cups. Made of a sturdy plastic, Corsair has opted to cover the back of the cups with a mesh grille which may fool some into thinking these are open-back cans – they're not. A metallic grey Corsair logo sits right in the middle of the grille.
On the other side, the ear cushions are relatively soft though the faux-leather finish may not appeal to everyone. Unfortunately, the cushions aren't removable either, which is probably one of the only downsides to the design.
Elsewhere, the inside of the headband sports about half an inch of foam cushioning, and that is also covered with more faux-leather with a stitched pattern to add some interest.
The top of the band is covered with yet more faux-leather, while the Corsair branding is printed right in the centre of the band.
Having a metal headband slider is good to see, too, and I am also appreciative of the size markings that are printed onto the slider itself.
Back to the ear cups, the left-hand cup features a couple of on-ear controls – namely, a volume wheel and a mic-mute button. I am a big fan of on-ear controls – they're very handy but are often overlooked by manufacturers, so it is good to see Corsair including them here.
On the other side of the left-hand ear cup, there is also a small rubber flap which can be removed to reveal the 3.5mm microphone jack.
The boom itself is obviously fully detachable and is very flexible, so feel free to bend it however you want. The mic uses a unidirectional pattern with a frequency range of 100Hz – 10kHz.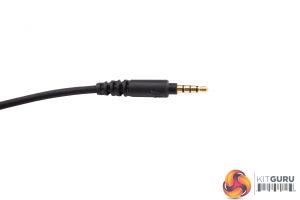 Lastly, the integrated cable measures 1.8m long and ends with a 4-pole 3.5mm jack – great for use with phones or consoles. PC gamers will likely want to use the included y-splitter to have separate mic and headphone connectors.
Be sure to check out our sponsors store EKWB here