The Corsair Void Pro ships in a dark box with the classic yellow accents gamers have come to expect from Corsair.
Aside from the headset itself, inside the box we find 1x micro-USB charging cable, 1x wireless USB dongle, 1x mic windshield and 1x user guide.
Moving on to look at the headset, it does look very similar to the original Void we looked at over here. There a couple of colour options, though, so if you don't like the 'carbon' option there is also a white model available.
Moving in closer, let's start with the ear cups. They are obviously closed back in design and feature a small Corsair logo on either cup – this logo is also illuminated by RGB lighting, something we examine on the next page.
On the inside, the cups are actually mounted on rotating hinges, so you can lay the headset flat should you wish. The ear cushions are covered with mesh fabric, too, instead of the more standard leatherette finish.
Elsewhere, the headband is adjustable and there are even some size markings so you can get the same fit every time.
The outside of the headband is plastic, but there is a decent amount of padding on the inside – also covered with fabric.
There are also some on-ear controls to look at, and we'll start with the right ear cup. Here we find the micro-USB charging point, as well as a small volume wheel. This volume wheel can also be pressed inwards, with a short press changing the EQ profile and a long press enabling or disabling the Dolby 7.1 surround.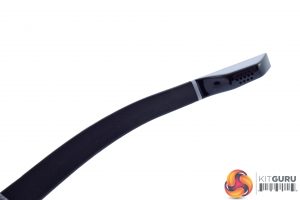 Lastly, the boom mic. It is a unidirectional mic and is not detachable, though the boom is flexible. The small LED 'ring' lights up red to let you know when the mic itself is muted.