Overall, the Corsair Void Pro is a decent headset, but it is not without its flaws.
Starting with the good, though, it is much more comfortable to wear than its predecessor, the original Void. The ear cups are larger and softer, while there is also less clamping pressure from the headband.
Build quality is average, being a bit plasticky, but there are some aluminium hinges which add some rigidity. Overall, I have used sturdier headsets in the past, but I don't think the Void Pro is going to break any time soon – just don't go throwing it across the room during a rage-quit!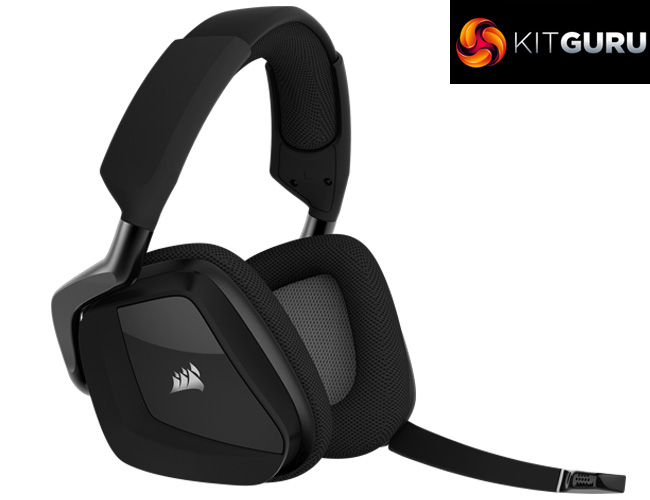 The headset sounds pretty good, too. It isn't a match for a dedicated pair of headphones, but compared to the Void USB, the bass is definitely punchier, while the high-end is also more crisp and detailed. The mid-range does lack some clarity, however, but you can regain most of that with a small tweak to the EQ.
Funnily enough, though, the Void Pro's mic doesn't sound as good when compared to the Void USB. The noise cancelling tech adds a strong 'twang' to the sound, making it sound a little unnatural. The Void USB sounds clearer and more natural in comparison which is certainly strange. As of going to press, we've reached out to Corsair about this and will update this review when we have a response.
Update 11/9/2017 – we have heard back from Corsair and have posted their response verbatim on the previous page.
All-in-all, the Corsair Void Pro is a decent headset that is available in wired or wireless models. It doesn't blow me away, and the mic quality may need further investigation, but it is very comfortable and the audio quality is certainly decent so it does enough to gain our recommendation.
The Void Pro has just launched with a UK MSRP of £109.99. We will post a buy link when we have one.
Discuss on our Facebook page HERE.
Pros
Comfortable.
Improved ear cushions.
Audio quality is pretty good.
Decent virtual surround sound.
Cons
Mic sounds unnatural.
Mid-range is slightly recessed.
KitGuru says: For those looking for a good all-rounder of a gaming headset, the Corsair Void Pro is comfortable, sounds good and offers decent virtual surround.