The Linner NC50 ships in a very clean white box, with just a simple photo and some subtle branding on the front.
Inside we find the following accessories: 2x spare ear tips, 2x spare ear hooks, 1x carry pouch, 1x microUSB cable, 1x user guide and 1x warranty card.

Getting to the NC50 itself, the first thing to note is that these wireless earphones utilise a rubberised neckband. The neckband plays multiple roles – it stores the batteries, makes it harder to lose the earphones, and also provides the ability to enable or disable the ANC functionality.
At each end of the neckband, there are two hard plastic sections which stick out slightly. These house the NC50 batteries, with the left-hand section sporting Linner branding.
On the other side, this plastic piece houses the ANC/monitor button – here you can quickly control whether you want ANC on or off, while you can also put the earphones into 'monitor mode', something we discuss on the next page.
On the underside of that plastic section, we also find the microUSB charging point as well as the on/off button. I would've preferred a USB Type-C charging port, but that is a minor issue.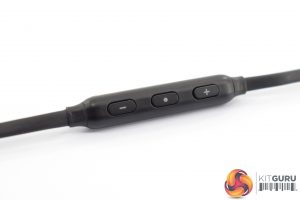 One last piece of the neckband is worth touching on – there is a small remote which has volume buttons as well as a multi-function button which allows users to pause music or to take calls. This in-line remote is not positioned on the neckband itself, but is halfway up the right earbud's cable.
Speaking of the earbuds, the first thing to note is their metallic backs, which are also magnetic. This means you can attach the two buds together to stop them from bouncing around when you're not wearing them.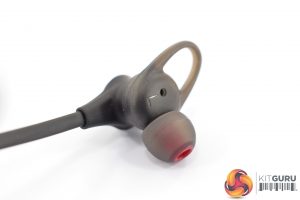 Other than that, it is also interesting that Linner designed the NC50 to utilise ear hooks which sit just inside your antihelix, helping to keep the buds in place. By default, medium sized ear hooks and ear tips are attached to the NC50, though there are small and large sizes included in the box.