The Razer Kraken 7.1 V2 ships in a standard Razer-styled box – meaning it is black with green accents.
Inside, there is little in the way of extra accessories: a manual, 'welcome to the Cult of Razer' greeting card and two stickers are all you get with this headset.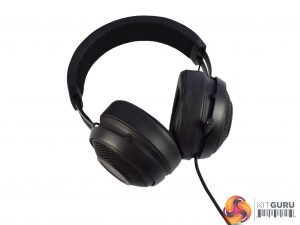 The headset is what we are interested in, though, and I think it looks great. While there is an 'overview' photo of the headset above, we will take a closer look at some of the headset's features below.
Starting with the earcups, it may look like the Kraken uses an open-back design thanks to the mesh ring that surrounds the Razer logo. However, this is just for show as the cups are actually closed-back. Incidentally, the Razer logo is also illuminated by RGB LEDs which can be controlled using the Synapse software. This is something we look at on the next page.
Taking a look at the ear cushions, we can see they are circumaural – meaning they cover the entirety of your ears. The cushions are made of faux-leather, which should hopefully mean the headset is nice and comfortable. Users can also swap out the circular ear cushions for oval ones, but you do have to buy the oval cushions separately.
Moving on, here we get a look at the headband. Razer is keen to stress that the unibody headband is actually made from Bauxite aluminium, which means it looks and feels exceptional. It should also help durability in the long run, though this is something we cannot test due to having limited time with our samples.
Razer has also etched different size markings into the headband frame – this allows you to to make sure that both sides of the headset are the same length, something I know I appreciate.
Lastly, the underside of the headband is covered by a meshed fabric padding which should help keep the headset comfy.
Elsewhere, Razer has done something pretty cool with the Kraken's mic. Essentially, it is fully retractable. In the image above, left, you can see the mic tucked away and barely sticking out from the headset's frame. In the image above, right, the mic is fully extended. This is a neat solution as it means you cannot lose the mic (as is possible with a fully-removable mic) while it also prevents the mic from getting in the way when you are not using it.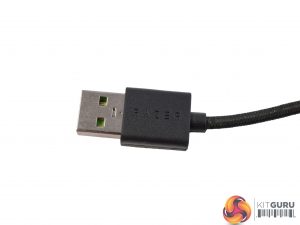 Lastly, the Kraken connects via USB. The USB cable is braided, 2m-long and non-detachable.