Real-world user testing is often important when it comes to peripherals so over the last week I have ditched my regular pair of cans and microphone in order to switch over to the MSI DS502 full-time. Over this time period I have evaluated the software, the microphone, comfort and sound quality, all of which are key ingredients when it comes to delivering a well-balanced headset.
First let's start off with the software side of things. MSI's latest headset comes with its own software utility, which is equipped with the Xear virtual surround, EQ and FX sound plugins to give users that little bit of extra control over their audio experience.

The main screen is pretty self-explanatory. This is where you can control left and right audio balance and the master volume of the headset. At first, I found the DS502 to be oddly quiet despite having the master volume all of the way up. However, the in-line control wheel on the headset will allow you to boost volume further.
Double clicking on the speaker icon will allow you to access various other menus. The first additional menu is for sample rate, allowing you to boost playback from 44.1KHz to 48KHz.
The next window gives you access to the EQ tool. Here you can select from a variety of preset profiles, or adjust the different frequency levels yourself if you know a thing or two about audio mixing.
The next window gives you access to different environment effects which essentially just add or remove reverb. The concert hall environment for instance would have more reverb while the padded room effect would give you a reference level of sound, as if you were in a sound dampened studio.
Here you can access virtual surround sound. This might be the most useful window in the software for gamers in particular as it is the only one that can give a real competitive advantage by making it easier to listen out for audio in different directions.
The Xear SingFX window lets you pitch shift audio and add a fade out. This isn't something I would necessarily use and I'm not sure why such a tool would be needed in a gaming headset but it is there if you want to play around with it.
The final window lets you enable Xear Surround Max. There is absolutely no information on this in the software itself so I had to do some digging to find out what it actually does. Essentially it just clones the front left + right audio channels and plays the same sound through the rear ones so that stereo audio sources play out of all speaker channels when you have 7.1 virtual surround switched on. This has the added effect of boosting volume a tad too.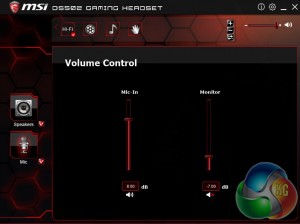 You have a similar selection of effects for the DS502's microphone as well. You can adjust the volume, you can have voice playback through the headphones so you can hear when you talk and you can boost the sample rate from 44.1 KHz to 48KHz.
Finally, you also have access to some effects, including microphone echo and something called 'magic voice', which is a software voice changer that will let you sound like a male or female, or more entertainingly, like a monster or a generic cartoon character.
MSI's software for the DS502 is crammed with features though most of them seem like unnecessary gimmicks that don't serve much practical purpose. Xear SingFX and Xear Max Surround are two features that I think could have been cut out entirely.
On a final note, in the top bar of the software there are four profiles that you can select from: Hi-Fi, Movies, Music and Manual. If you are buying this headset then you will want to stick to the Hi-Fi profile as the options for Movies and Music just add varying levels of reverb, echo and compression, which ultimately detracts from the experience entirely, rather than adding to it.
Now let's talk about using the actual headset itself. MSI has equipped the DS502 with a pair of 40mm drivers, which are commonly found in mid-range gaming headsets and just like most other 40mm driver based headsets, the DS502 is capable of delivering a respectable amount of audio detail at normal listening volumes.
MSI's headset delivers a decent amount of treble and thanks to the closed-back headphone design, the punchy bass is accentuated slightly and sound leakage is kept to a minimum. However, mid-tones are lacking, leaving most music sounding fairly dull and somewhat lifeless.
For gaming though, the DS502 is a fine performer, I used this headset for a few rounds of Counter-Strike: Global Offensive during my downtime and the virtual surround sound worked well enough that I could pick out enemy footsteps coming from their proper directions.
On top of that, the microphone on the DS502 is pretty good for Skype and TeamSpeak if you want to communicate with your friends or team mates while playing. My voice came through clearly without the need to boost the microphone beyond the default volume setting and I experienced no feedback noise in use.
MSI's DS502 is also extremely comfortable to wear for long gaming sessions. While the self-adjusting headband does mean a sacrifice in clamping pressure, as long as you don't start head-banging, it shouldn't slip off at all. I wore the DS502 for many hours at a time and didn't feel any fatigue, even with my glasses on. The leather ear cups are nicely padded. though I will say, it would have been nice if they were a tad larger and gave my ears a bit more room- this will vary as everyone has different ear-sizes.