To test the drives we used the USB 3.2 Gen 1 MobileLite Plus SD Reader that came with the Canvas React Plus, using the USB 3.1 Gen 2 port in our Intel-based test rig.
CrystalDiskmark is a useful benchmark to measure theoretical performance levels of hard drives and SSDs. We are using V7.
The ATTO Disk Benchmark performance measurement tool is compatible with Microsoft Windows. Measure your storage systems performance with various transfer sizes and test lengths for reads and writes. Several options are available to customize your performance measurement including queue depth, overlapped I/O and even a comparison mode with the option to run continuously. Use ATTO Disk Benchmark to test any manufacturers RAID controllers, storage controllers, host adapters, hard drives and SSD drives and notice that ATTO products will consistently provide the highest level of performance to your storage.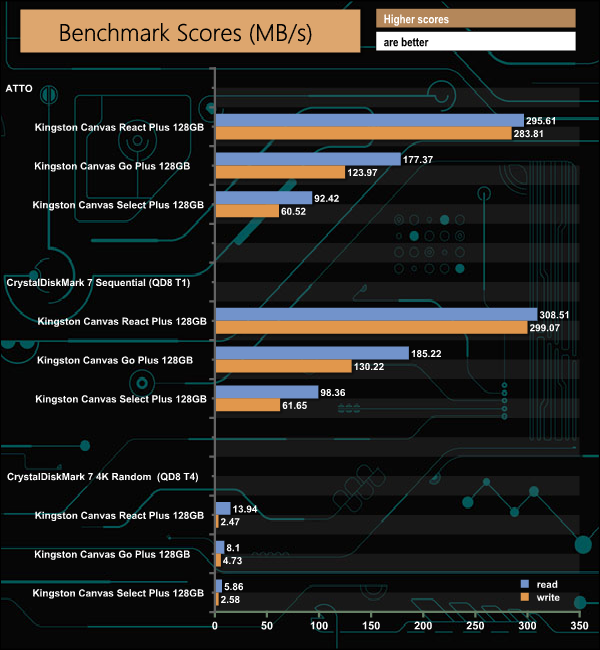 The fastest of the Kingston cards is the Canvas React Plus, with official ratings of up to 300MB/s for reads and 260MB/s for writes. We could confirm those figures with the ATTO benchmark (295MB/s reads, 283MB/s writes) and CrystalDiskMark (308MB/s reads, 299MB/s writes).
The Canvas Go! Plus is rated up to 170MB/s for reads and up to 90MB/s for writes, and when tested we managed to squeeze a little more out of the drive. With the ATTO benchmark, we saw 177MB/s for reads and 123MB/s for writes, and with the CrystalDiskMark we saw  reads of 185MB/s and writes of 130MB/s.
The slowest of the bunch is the Canvas Select Plus and this time we couldn't quite hit the maximum ratings for the card, officially 100MB/s read and 85MB/s. ATTO produced scores of 92MB/s and 60MB/s for read and writes, while with CrystalDiskMark we saw reads of 98MB/s and writes of 61MB/s.