The Abyss 1266 are a remarkable listening experience and they will go down in time as one of the world's best headphones. We aren't sure if JPS Labs has achieved their goal of 'world's best headphone' but they really do deserve to be considered up with iconic products such as the Sony R10 and Stax 009.
The eye popping asking price of £4,254 is difficult to ignore, but when we consider that flagship loudspeakers can cost in excess of £50,000 then perhaps they can be quantified. I can honestly say that the visceral attack and incredible dynamics of these planar magnetic drivers need to heard to be truly appreciated.
Initial set up of the Abyss 1266 is not just important, it is utterly critical. Without proper positioning and some tweaking of the metal headband, bass response will suffer and the overall sound signature will shift. You need to forget everything you have learned about getting a 'tight seal' on your ears, and instead position the drivers so the lambskin pads just touch against your skin, barely holding a seal and nothing more.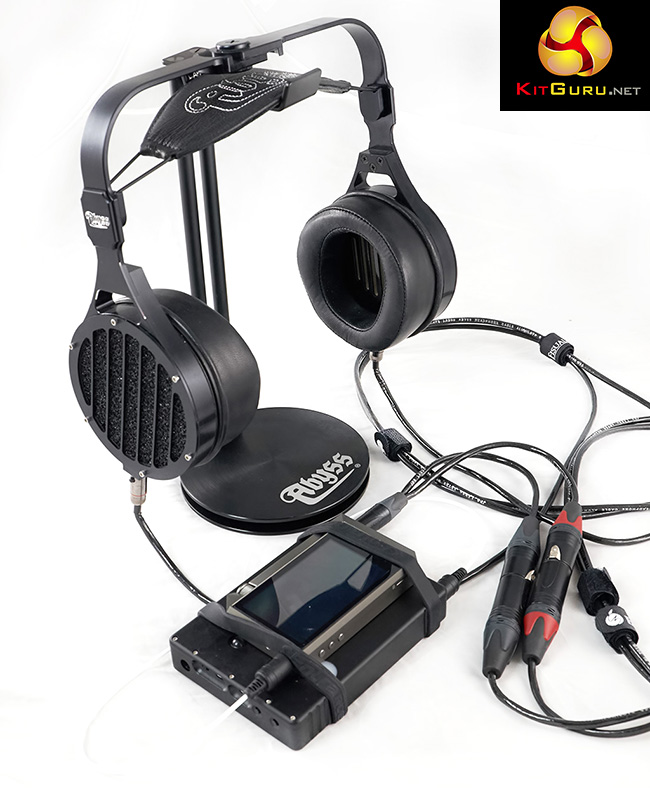 The appearance of the Abyss 1266 will certainly split opinion – many people have stated how they look like a medieval torture device, but in reality are you really going to be looking at them when they are on your head? You won't be wearing these to work on the train, or even on a long distance plane journey because they are too cumbersome and they will annoy everyone in your vicinity.
Sound isolation is as you would expect, virtually non existent. Everyone in the room will be able to hear exactly what you are listening to, but equally so you never feel completely 'cut off' from the environment either. The sensation of truly being one with the music has never felt so pronounced before, even when I compare against my Stax 009 or Sennheiser HE90 Orpheus headphones.
The Abyss 1266 is not difficult to drive, but it is a beast to drive effectively. This will be an issue as many people will feel their amplifier is 'doing the job well' but in fact the Abyss 1266 will be underperforming dynamically in all areas. I heard so many amplifiers over the last year producing 'volume' from the Abyss 1266, but that is only part of the story.
In a mobile environment the Chord Hugo proves unbeatable, especially when paired up with the Astell and Kern AK240. The Abyss really sing, and bass response is tight, quick, impactful and insightful. Occasionally the drivers may demand a little more power than the Hugo can deliver, but generally the experience is phenomenal and one that I challenge anyone to find underwhelming.
The Abyss 1266 really sing when paired up with the Cavalli Audio Liquid Gold Amplifier. This combination is worthy of being compared against the Stax 009 and Blue Hawaii amplifier, or in many ways even the Sennheiser HE90/HV90. The Stax 009 is still the 'orchestral' headphone of choice, but the Abyss 1266 is more than a match in any other genre I have analysed.
The comparisons against the Audeze LCD3 are rife, and understandably so – they are both technically planar magnetic headphones. For most people the LCD3 are more than enough, but if you chase that last 10% then you will need to spend considerably more money outside of the Audeze portfolio.
Weighing everything together is interesting. There is no doubt that JPS labs have made a bold entrance into the high end from being 'simply' a high grade cable manufacturer.  They are a force to be reckoned with and will hopefully be able to produce other headphones using similar technology – and perhaps delve into more cost effective markets with future revisions.
How do we consider 'value for money' in closing? Is buying a new Ferrari a good financial decision? What about flying first class from the United Kingdom to California? What about buying a new Rolex watch? What about that new £3,000 PC system that will be worth nothing in 2 years time? The Abyss 1266 with a Cavalli Audio Liquid Gold Amplifier may cost £8,000 today, but it will comfortably last a life time. If you can afford the pairing, then its going to be a very personal buying decision. How important is music in your life?
The Abyss 1266 are undoubtedly the ultimate rock headphone, but to think their capabilities are limited to a single genre would be a massive oversight.
You can buy these from Analogue Seduction in the UK for £4,254 inc vat.
Discuss on our Facebook page, over HERE.
Pros:
built to last.
high grade cables are supplied.
leather satchel and cool box for storage.
deservedly should be considered with the best of the best of all time.
magnetic adjustable earpads are inspired.
Cons:
not the most stylish looking headphones.
wallet sapping
The Stax 009 is still unmatched for extremely complex orchestra work.
Kitguru says: The Abyss 1266 are firmly created for the wealthy, high end audience who want the ultimate sound quality. £4,300 is just the start however, be prepared to spend another £3-£4k on a capable amplifier to get the most from them.