Reports have surfaced in the Japanese press that TSMC has quit on its bid to buy Toshiba's rather precious NAND-flash business, leaving Foxconn in the lead position. Foxconn has offered to pony-up 3 trillion Yen (around $30 billion), or $21.2 billion more than what Reuters had reported as the sought-after selling price.
TSMC's dropping out of the race, according to industry sources, was due to management's belief the sale would go State-side rather than Taiwan, because of regulators' concerns in Japan. This has left Foxconn and Broadcom (together with Silver Lake Partners) as the likely contenders in a bidding war which will continue in late May with a second round of bids, says the Asahi Shimbun. Original bidders for the NAND business were cited to have included the likes of Korea's SK Hynix, Google, Amazon, Apple, Broadcom, Western Digital and Micron.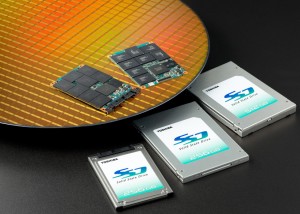 There is, however, good reason for all the fanfare and interest: Toshiba's NAND flash unit is the second-largest NAND Flash memory producer in the world, right after Samsung, and demand for NAND has skyrocketed in the past few years, with supply being consistently on allocation since early 2016.
You will have noticed by now that SSD pricing has been going up, month after month.
Toshiba had decided to bite the bullet and spin off the goose which lay the golden eggs to make up for a massive $6.3 Bn write-down earlier this year, triggered by its failing US nuclear energy business, Westinghouse Electric. Tensions had been high at a shareholder meeting in February when the company addressed the big glowing radioactive elephant in the room. And rightly so, selling off the most valuable asset in the company – without an alternative – can jeopardize the long term viability of the company as a whole.
KitGuru Says: Hon Hai had, last summer, already snapped up Sharp for $3.5 billion, and while Japanese regulators have tentatively given the go-ahead on the Toshiba NAND sale,  authorities may raise concerns if a Taiwan-owned, China-operated conglomerate takes over another key business in Japan.