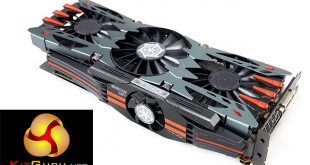 Got some spare cash to upgrade that weak old graphics card? If you have £500 burning a hole in your bank account then the Nvidia GTX980 is the first choice on our list. KitGuru has already looked at custom partner cards from MSI, ASUS and Palit but today we look at something very special indeed. The Inno3D GTX980 iChill Herculez X4 Air Boss Ultra is without a doubt one of the most hardcore graphics cards to grace our labs – featuring a scary looking four fan heatsink, and crazy 'out of the box' clock speeds. This is not one for the faint of heart.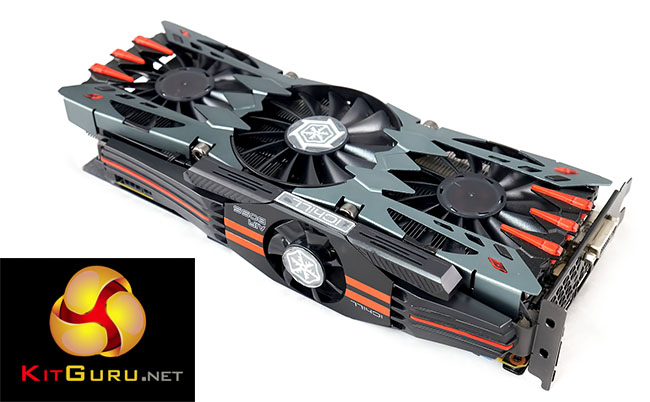 The Inno3D GTX 980 'iChill Herculez X4 Air Boss Ultra' may be a mouthful to say, but it looks like it was developed by the Devil himself (or Jigsaw from SAW). Graphics card or deadly bladed weapon to deal with unwanted house intruders? You decide.
For those interested, the 'Air Boss' name is a naval term used on the flight deck of an aircraft carrier. The Air Boss is in charge of all the operations of the flight deck from moving planes around and landing and launching aircraft. The Air Boss resides in the tower and communicates with the flight deck via a megaphone. Sure, its all slightly corny, but its nothing new as graphics card manufacturers try to come up with the next big product brand name. Shorter names are more effective, a point which we feel Inno3D have missed completely.
A quick recap over the Maxwell architecture, in case you have missed all the details of the GTX970 and GTX980 in the last month. You may already have studied our multiple analysis of the lower level GTX750Ti solution throughout the year however.
The GTX750ti has been one of the most exciting cards that Nvidia have released in recent years – performance is close to the HD7850 while consuming half the power at the socket – and all without the need for a PCIe power cable. It produces such a modest heat emission that the Asus GTX750Ti Strix OC we reviewed recently didn't need to spin the fans most of the time, even when gaming.
AMD really are so far behind now when it comes to power consumption that they will need to release a new architecture to compete. Not an easy thing to do overnight, but we hope they can become competitive again in the coming months. Competition is good for us – the consumer.
The Maxwell architecture has been designed to deliver twice the performance per watt of previous generation Geforce hardware. It sounds easy enough on paper to achieve, but the real world challenges for Nvidia have been complex.
| | | | |
| --- | --- | --- | --- |
| GPU | GeForce GTX 680 (Kepler) | GeForce GTX 980 (Maxwell) | Geforce GTX 970 (Maxwell) |
| Streaming Multiprocessors | 8 | 16 | 13 |
| CUDA Cores | 1536 | 2048 | 1664 |
| Base Clock | 1006 mhz | 1126 mhz | 1050 mhz |
| GPU Boost Clock | 1058 mhz | 1216 mhz | 1178 mhz |
| Total Video memory | 2GB | 4GB | 4GB |
| Texel fill-rate | 129 Gigatexels/Sec | 144.1 Gigatexels/Sec | 109.2 Gigatexels/Sec |
| Memory Clock | 6000 mhz | 7000 mhz | 7000 mhz |
| Memory Bandwidth | 192 GB/sec | 224 GB/sec | 224 GB/s |
| ROPs | 32 | 64 | 64 |
| Manufacturing Process | 28nm | 28nm | 28nm |
| TDP | 195 watts | 165 watts | 145 watts |
The new GM204 GPU is very efficient. The Maxwell SM has been rebalanced so that the CUDA cores are fully utilised more often. Doing so saves power and enhances overall performance. The L2 cache size in the GM204 is 2MB, or four times larger than the GK104. The addition of extra cache means that fewer requests to the GPU memory are needed – again reducing power consumption and pushing more performance.
The Geforce GTX 980 is equipped with 7Gbps memory. Those of you with higher resolution monitors, or running in a multi screen configuration will also be pleased to hear that there is 4GB of GDDR5 memory on the card, not 3GB – this memory will push 224 GB/s sec. Nvidia have added a new compression engine to reduce the demand on DRAM bandwidth.
The Inno3D GTX 980 'iChill Herculez X4 Air Boss Ultra' has received a core clock enhancement to 1,266mhz, from 1,126mhz on the reference design. The GDDR5 memory has also received a 'tweak' from the default clock speeds of 1,753mhz (7Gbps effective) to 1,800mhz (7.2Gbps effective).