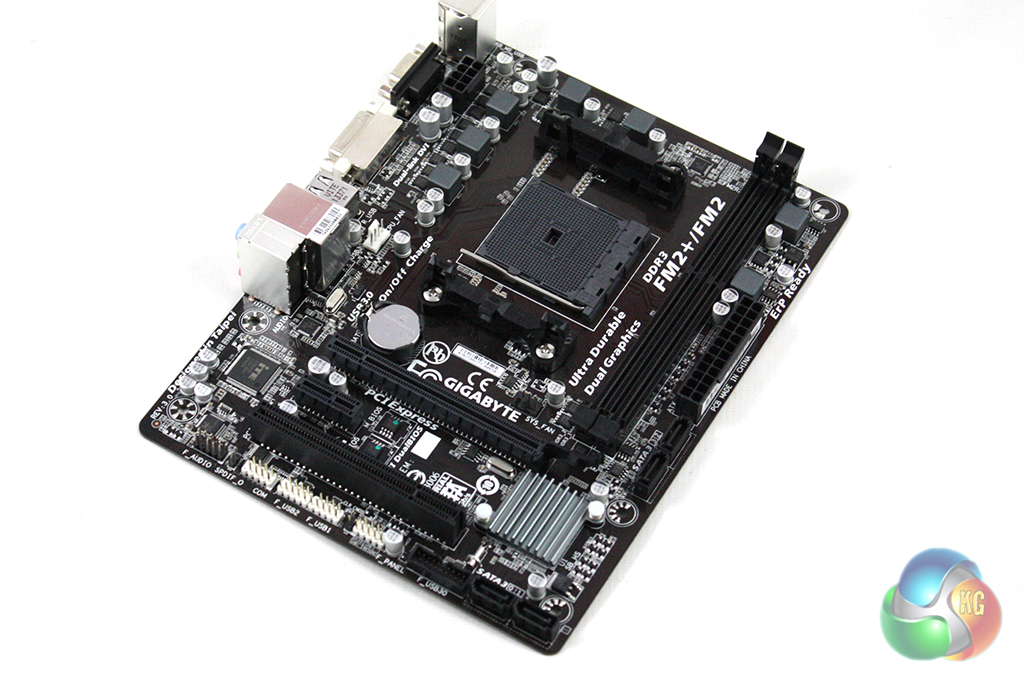 Today we are going to take a look at the Gigabyte F2A88XM-DS2 motherboard, aimed at those looking to build an AMD APU based system with a limited budget.  This particular motherboard is a bit of a departure from the usual high end product we are used to receiving from Gigabyte and we are interested to see how it overclocks, especially when factoring in the companies excellent reputation.

The F2A88XM-DS2 is a £47 budget board and Gigabyte have clearly stripped down on features heavily to keep the price down to a minimum.  However, for those users who would miss these features, there are plenty of other models in Gigabyte's range that would be suitable.
Key Features
Socket FM2+ supports AMD FM2+/FM2 A-series APU
GIGABYTE Ultra Durable 4 Plus Technology
GIGABYTE UEFI DualBIOS
GIGABYTE On/Off Charge for USB devices
4 USB 3.0 ports with GIGABYTE 3x USB power
Features Dual-link DVI for high resolution displays of up to 2560 x 1600 pixels
High ESD Protection on GbE LAN and USB ports
All solid capacitors design
Specifications
CPU Support for AMD FM2+ A Series and Athlon Series Processors
AMD A88X Chipset
2 x 1.5V Dual Channel DDR3 2400/2133/1866/1600/1333 MHz with support for AMP/XMP modules
Support for AMD APU with Integrated Radeon HD 7000/8000 Series Graphics
1x D-Sub (VGA) Port
1x DVI-D Port supporting a maximum resolution of 2560×1600
7.1 Realtek HD Audio with S/PDIF Output
Realtek Gigabit LAN
1x PCI-Express X16 Slot
1x PCI-Express x1 Slot
1x PCI Slot
Support for AMD Dual Graphics- only with A Series APU
4x SATA 6Gb/s Ports with support for RAID 0,1,5,10 and JBOD
4x USB 3.0 ports (2 rear, 2 internal)
8x USB 2.0 Ports (4 rear, 4 internal)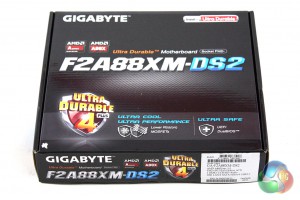 The F2A88XM-DS2 is supplied in a conventional motherboard box, which reflects the compact size of the motherboard within.  Gigabyte have chosen to decorate it in a black livery, which features various badges on the front which describe some of the key features.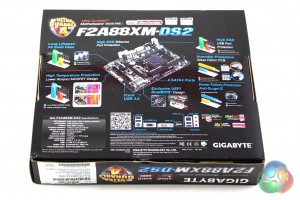 Turning the box over reveals a plethora of information about the motherboard within.  This includes a large image of the motherboard which is used to illustrate the key features, and a comprehensive list of specifications.  The box is very good quality, meaning it should provide a decent level of protection for the motherboard within in transit.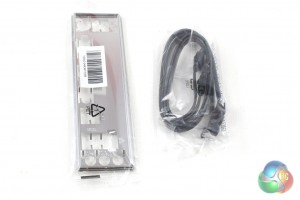 The included bundle is very limited indeed, although this is to be expected at the price point.  Inside the box, we only find an I/O plate and a pair of SATA-600 cables.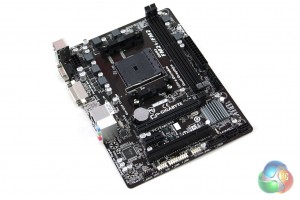 Gigabyte have chosen to use an all-black colour scheme for the motherboard which looks very nice.  This should make it fairly simple to colour co-ordinate your system.  Its official form factor is Micro-ATX, but it is considerably smaller than a standard Micro ATX motherboard. It is the same length, but is only as wide as a mini-ITX motherboard.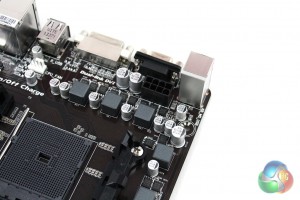 As this is a value model, there aren't any heatsinks covering the VRM circuitry.  This is an indicator that this particular model hasn't been designed with overclocking in mind.  The 4-pin CPU header is located in the top right-hand corner of the motherboard.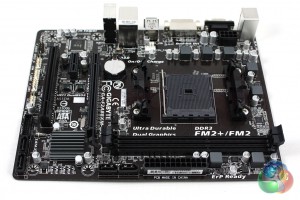 This motherboard features AMD's FM2 socket which can be easily differentiated from the previous generation as it is black in colour, rather than white.  This is located right in the centre of the motherboard.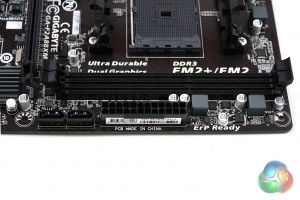 Gigabyte has clearly been trying to cut costs in a number of areas, starting with the memory slots.  This particular model only features two, which limits memory choices considerably.  Regardless, Gigabyte claim that it supports up to 64 GB of memory.  In reality though, you'll be limited to 16 GB as larger memory modules are very costly.  The two slots are capable of running DDR3 memory at speeds of 2400/2133/1866/1600/1333 MHz in a dual-channel configuration.  The 24-pin power connector is located just to the right of the memory slots.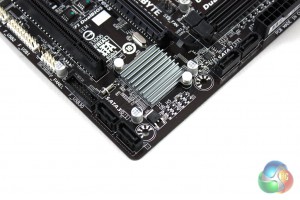 There are four SATA-600 connectors on the motherboard in total, which should be enough for most of the target customers of this model.  These are hooked up dirrectly to the A88X chipset, and support RAID 0, RAID 1, RAID 5 and RAID 10 configurations.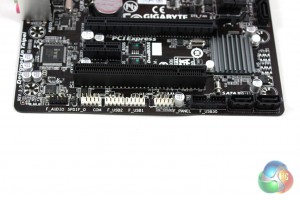 The remaining internal connectors are located along the bottom edge of the motherboard.  From left to right we find the HD Audio connector, a S-PDIF connector, a COM header, two USB2.0 headers, the front panel connector and a USB3.0 connector.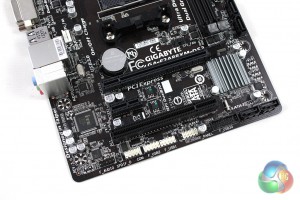 There is only one PCI Express 3.0 x16 slot on the motherboard, in addition to a PCI Express x1 slot and a legacy PCI slot.  This should provide enough expansion options for the target market of the motherboard.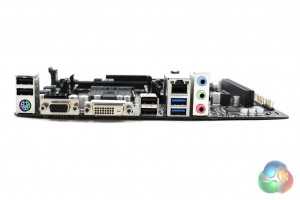 On the rear I/O panel we find a fairly limited selection of connections, including:
1 x PS/2 keyboard/mouse port
4 x USB2.0 ports
1 x DVI-D port
1 x VGA port
2 x USB 3.0 ports
1 x RJ-45 port
3 x Audio jacks
We are surprised to see that Gigabyte have included a VGA port instead of an HDMI connector. This would have made more sense for a media center build.
In our tests we will be evaluating the Gigabyte F2A88XM-DS2 with the AMD A10-6790K APU in both stock and overclocked states.
Test System:

APU: AMD A10-6790K
Memory: 8 GB (2x 4GB) AMD Gaming Series 2133 MHz
Power Supply: Seasonic Platinum 1000W
Graphics Card: AMD Radeon HD 8670D
CPU Cooler: Noctua U14S
Hard Drive: Corsair Neutron 240 GB
Monitor: Viewsonic VX2260WM
Operating System: Microsoft Windows 7 Home Premium (64-bit)
Software:
PCMark 8
3DMark
3DMark 11
3DMark Vantage
SiSoft Sandra 2013
Cinebench R11.5
Cinebench R15
Cyberlink MediaEspresso 6.7
VLC Media Player
Performance Monitor
Unigine Heaven Benchmark
Super Pi 1.5 Mod
CPUID Hardware Monitor
CPU-Z
GPU-Z
WinRAR
DiRT Showdown
Battlefield 4
Call of Duty: Black Ops 2
Overclocking
We managed to achieve an impressive 4.5 GHz overclock with the AMD Vision A10-6790K.  This was achieved by bumping the multiplier up to 45x and using an offset voltage of +0.072V.  We haven't managed to achieve a higher overclock with this particular chip, even on a much more expensive motherboard.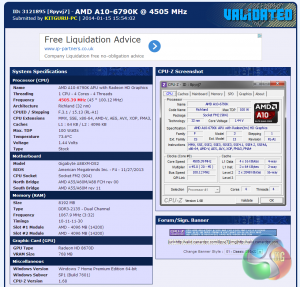 See validation here.
PCMark 8 is the latest version in the popular series of PC benchmarking tools. Improving on previous releases, PCMark 8 includes battery life measurement tools and new tests using popular applications from Adobe and Microsoft. Whether you are looking for long battery life, or maximum power, PCMark 8 helps you find the devices that offer the perfect combination of efficiency and performance for your needs.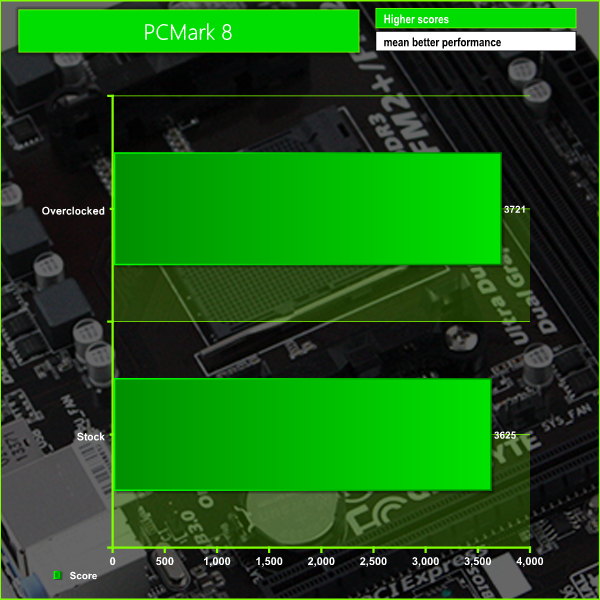 There was a decent bump in system-wide performance when the system was overclocked.
3DMark is Futuremark's latest benchmark. It can be used to benchmark and compare everything from mobile devices, such as smart phones, tablets and laptops, to high-end gaming systems. The benchmark is available for Windows, Windows RT Android and iOS.
With 3 separate tests, each of which is intended to be used alongside a specific classification of hardware, 3DMark is a very versatile benchmark. Ice Storm is intended to be used with mobile devices, Cloud Gate is good for use with laptops and home PCs, and Fire Strike can be used to push the performance of gaming PCs.
We used the 'Fire Strike' benchmark which is designed to be used on gaming PCs. We opted for the Normal setting, NOT the Extreme mode.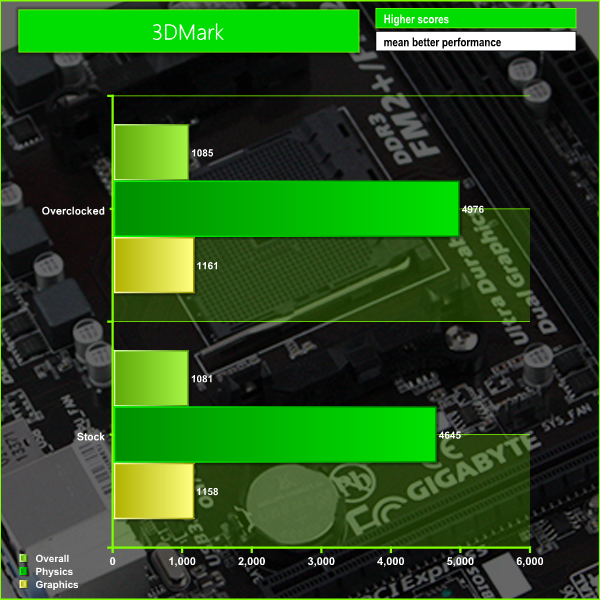 There wasn't a particularly significant improvement in the overall score in this test, but there was a decent bump in the physics score.
3DMark 11 is designed for testing DirectX 11 hardware running on Windows 7 and Windows Vista. The benchmark includes six all new benchmark tests that make extensive use of all the new features in DirectX 11 including tessellation, compute shaders and multi-threading.
After running the tests 3DMark gives your system a score with larger numbers indicating better performance. Trusted by gamers worldwide to give accurate and unbiased results, 3DMark 11 is the best way to test DirectX 11 under game-like loads.
If you want to learn more about this benchmark, or to buy it yourself, head over to this page.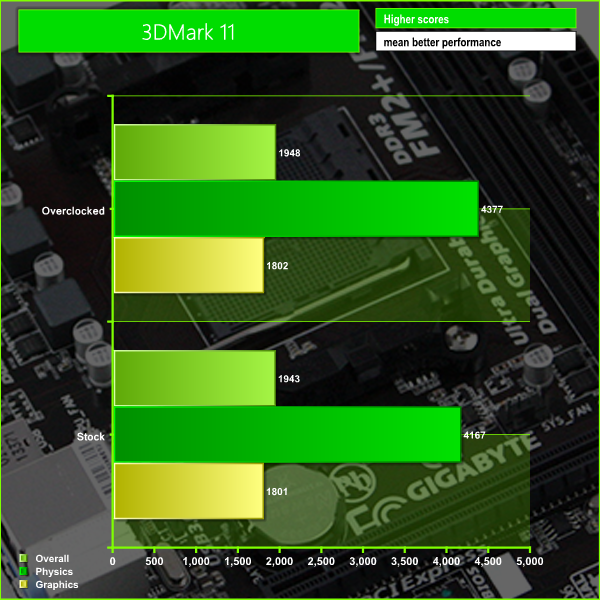 Again, there wasn't much of an improvement in the overall score when the system was overclocked, but there was a significant difference in the physics score.
Futuremark released 3DMark Vantage, on April 28, 2008. It is a benchmark based upon DirectX 10, and therefore will only run under Windows Vista (Service Pack 1 is stated as a requirement) and Windows 7. This is the first edition where the feature-restricted, free of charge version could not be used any number of times. 1280×1024 resolution was used with performance settings.
As we would expect, overclocking significantly boosts the CPU score of the system.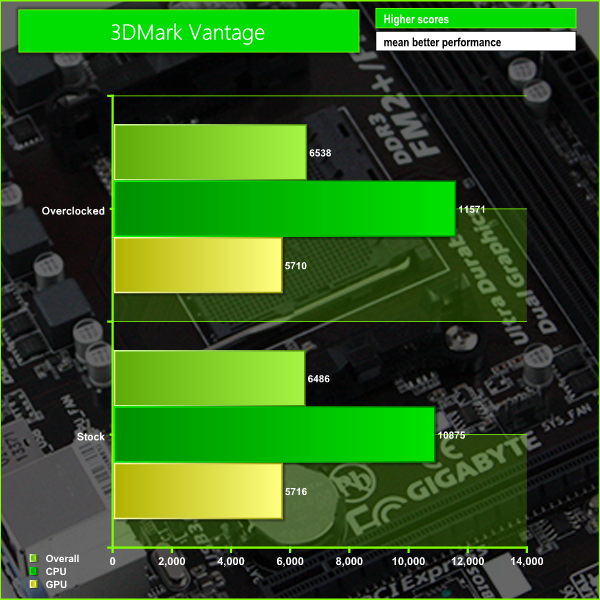 In 3DMark Vantage, we saw bigger improvements, especially in the CPU score.
SiSoftware Sandra (the System ANalyser, Diagnostic and Reporting Assistant) is an information & diagnostic utility. It should provide most of the information (including undocumented) you need to know about your hardware, software and other devices whether hardware or software.
Sandra is a (girl's) name of Greek origin that means "defender", "helper of mankind". We think that's quite fitting.
It works along the lines of other Windows utilities, however it tries to go beyond them and show you more of what's really going on. Giving the user the ability to draw comparisons at both a high and low-level. You can get information about the CPU, chipset, video adapter, ports, printers, sound card, memory, network, Windows internals, AGP, PCI, PCI-X, PCIe (PCI Express), database, USB, USB2, 1394/Firewire, etc.
Native ports for all major operating systems are available:
Windows XP, 2003/R2, Vista, 7, 2008/R2 (x86)
Windows XP, 2003/R2, Vista, 7, 2008/R2 (x64)
Windows 2003/R2, 2008/R2* (IA64)
Windows Mobile 5.x (ARM CE 5.01)
Windows Mobile 6.x (ARM CE 5.02)
All major technologies are supported and taken advantage of:
SMP – Multi-Processor
MC – Multi-Core
SMT/HT – Hyper-Threading
MMX, SSE, SSE2, SSE3, SSSE3, SSE 4.1, SSE 4.2, AVX, FMA – Multi-Media instructions
GPGPU, DirectX, OpenGL – Graphics
NUMA – Non-Uniform Memory Access
AMD64/EM64T/x64 – 64-bit extensions to x86
IA64 – Intel* Itanium 64-bit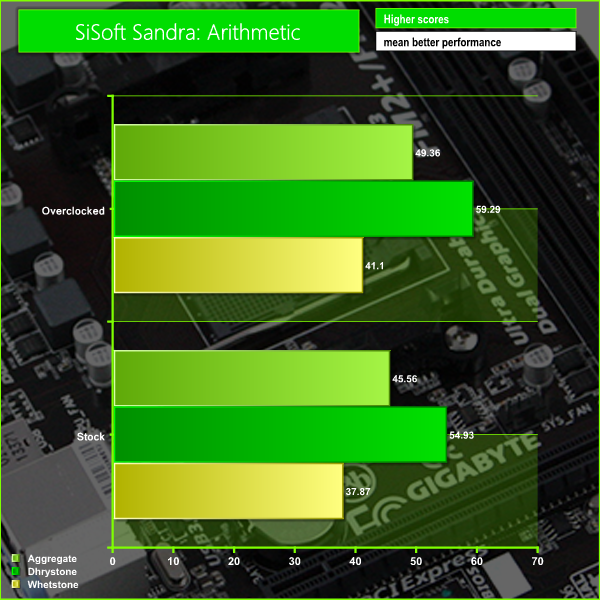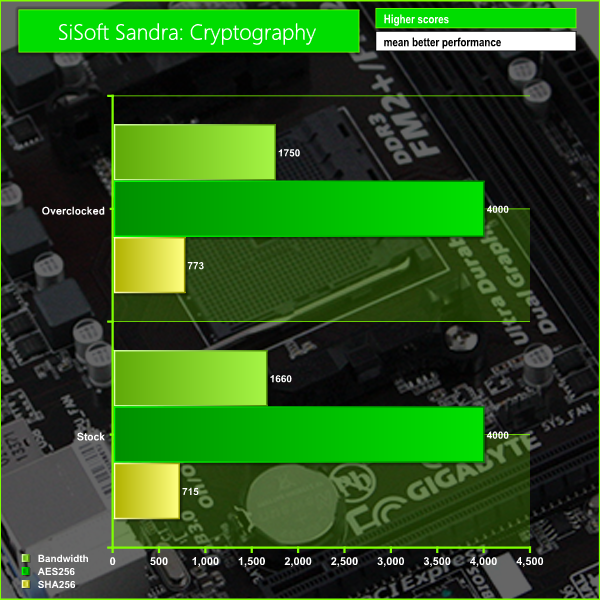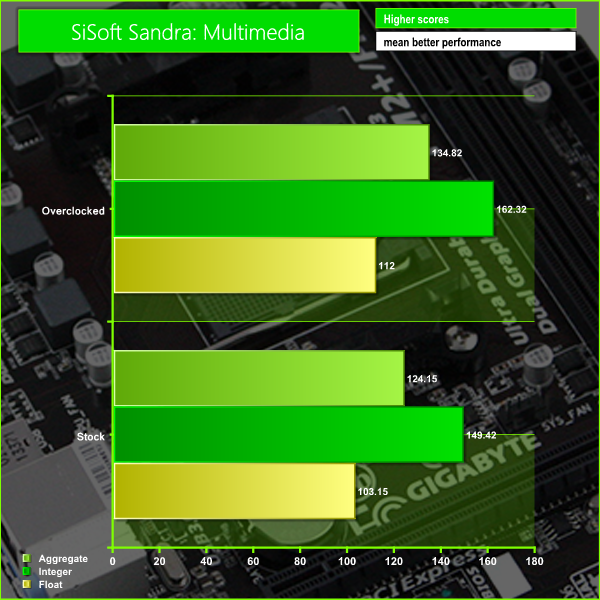 In this test we can see how well the raw CPU performance of the motherboard improved after overclocking the system.

Cinebench R11.5 is the newest revision of the popular benchmark from Maxon. The test scenario uses all of your system's processing power to render a photorealistic 3D scene (from the viral "No Keyframes" animation by AixSponza). This scene makes use of various different algorithms to stress all available processor cores.
In fact, CINEBENCH can measure systems with up to 64 processor threads. The test scene contains approximately 2,000 objects containing more than 300,000 total polygons and uses sharp and blurred reflections, area lights and shadows, procedural shaders, antialiasing, and much more. The result is given in points (pts). The higher the number, the faster your processor.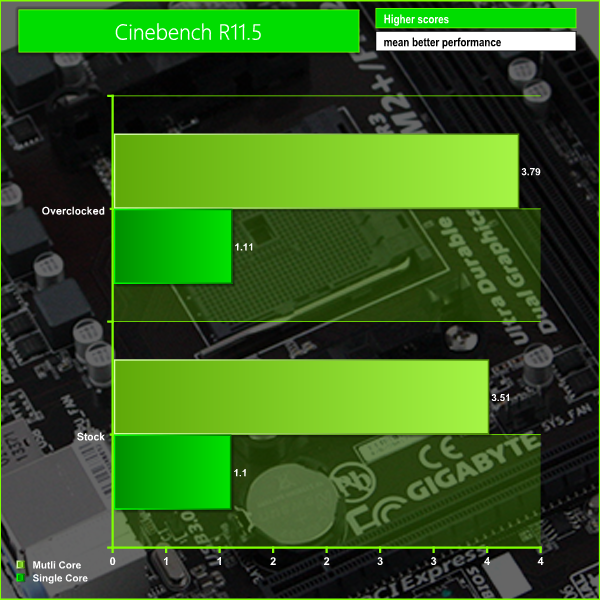 In this test, we saw impressive performance improvements in the multi-core test, although the improvements in the single core test were slight.
CINEBENCH is a real-world cross platform test suite that evaluates your computer's performance capabilities. CINEBENCH is based on MAXON's award-winning animation software CINEMA 4D, which is used extensively by studios and production houses worldwide for 3D content creation. MAXON software has been used in blockbuster movies such as Iron Man 3, Oblivion, Life of Pi or Prometheus and many more.  Cinebench R15 is the latest version of this benchmark.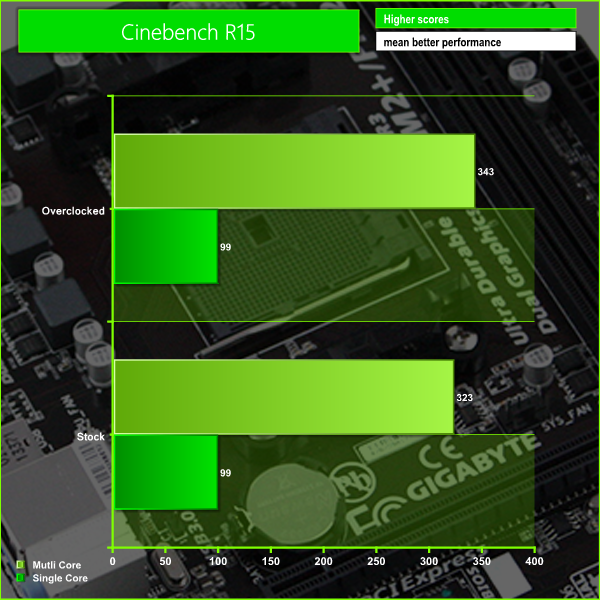 In this test, there wasn't an improvement in single core performance when overclocked due to turbo mode being disabled, but there was a significant improvement in multi core performance.
Super Pi is used by a huge audience, particularly to check stability when overclocking processors. If a system is able to calculate PI to the 2 millionth pace after the decimal without mistake, it is considered to be stable in regards to RAM and CPU.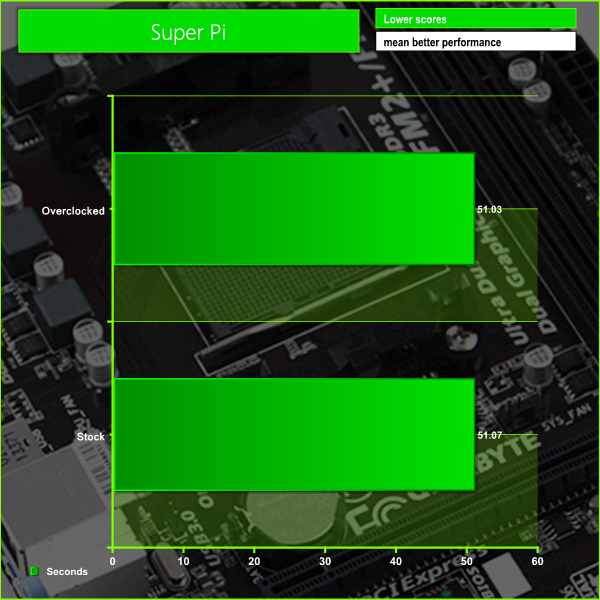 This particular benchmark also gauges the single core performance of the system, so there is very little difference when the system is overclocked.
The Matroska Media container is a very popular, open standard Multimedia container which is usually found as .MKV files. It is a very popular format in enthusiast circles and can be played directly in VLC or Windows Media Player with suitable codecs installed.
We played our 1080P MKV movie using the latest version of VLC Media Player and measured the CPU usage with the Performance Monitor built into Windows.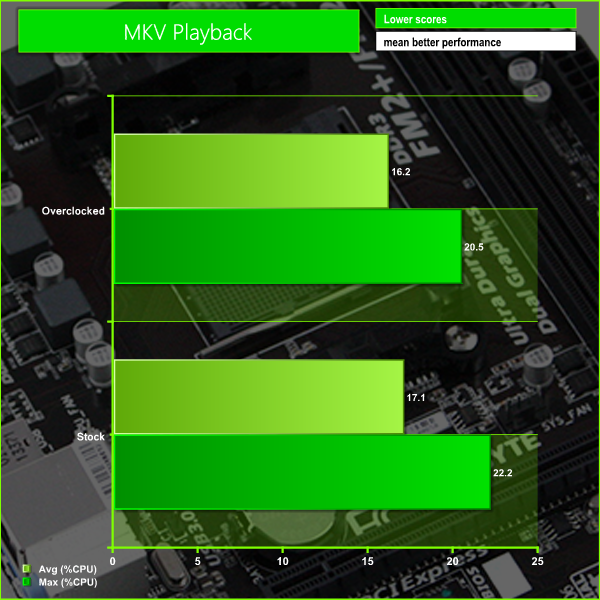 In this test, there was a slight reduction in the CPU usage when overclocked.
CyberLink MediaEspresso 6 is the successor to CyberLink MediaShow Espresso 5.5. With its further optimized CPU/GPU-acceleration, MediaEspresso is an even faster way to convert not only your video but also your music and image files between a wide range of popular formats.
Now you can easily playback and display your favourite movies, songs and photos not just on your mobile phone, iPad, PSP, Xbox, or Youtube and Facebook channels but also on the newly launched iPhone 4. Compile, convert and enjoy images and songs on any of your computing devices and enhance your videos with CyberLink's built-in TrueTheater Technology.
New and Improved Features
Ultra Fast Media Conversion – With support from the Intel Core i-Series processor family, ATI Stream & NVIDIA CUDA, MediaEspresso's Batch-Conversion function enables multiple files to be transcoded simultaneously.
Smart Detect Technology – MediaEspresso 6 automatically detects the type of portable device connected to the PC and selects the best multimedia profile to begin the conversion without the need for user's intervention.
Direct Sync to Portable Devices – Video, audio and image files can be transferred in a few easy steps to mobile phones including those from Acer, BlackBerry, HTC, Samsung, LG, Nokia, Motorola, Sony Ericsson, and Palm, as well as Sony Walkman and PSP devices.
Enhanced Video Quality – CyberLink TrueTheater Denoise and Lighting enables the enhancement of video quality through optical noise filters and automatic brightness adjustment.
Video, Music and Image File Conversion – Convert not only videos to popular formats such as AVI, MPEG, MKV, H.264/AVC, and FLV at the click of a button, but also images such as JPEG and PNG and music files like WMA, MP3 and M4A.
Online Sharing – Conversion to video formats used by popular social networking websites and a direct upload feature means posting videos to Facebook and YouTube has never been easier.
For our testing today we are converting a 1.43 GB 720p MKV file to Apple Mp4 format for playback on a portable device using the Apple preset. This is a common procedure for many people and will give a good indication of system power.  Hardware acceleration was enabled to give you a good idea of system wide real world performance.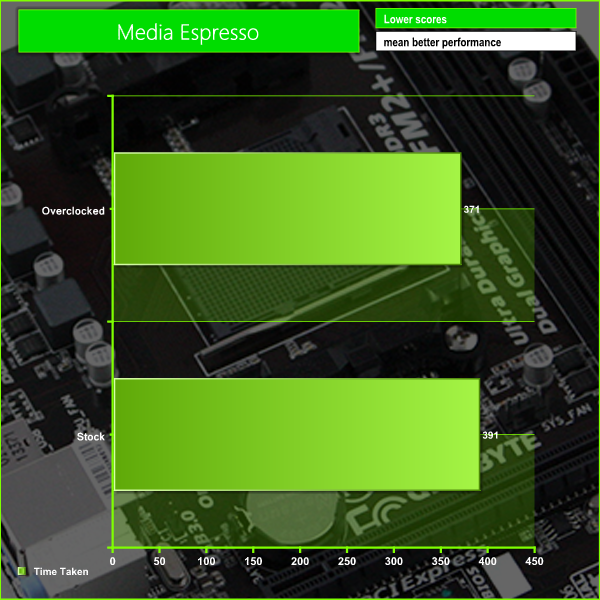 In this test, we can see the real world benefits of overclocking the system.  There was a significant reduction in the amount of time taken to convert our test file.
Battlefield 4 (also known as BF4) is a first-person shooter video game developed by EA Digital Illusions CE (DICE) and published by Electronic Arts. The game is a sequel to 2011′s Battlefield 3. Battlefield 4 is built on the new Frostbite 3 engine. The new Frostbite engine enables more realistic environments with higher resolution textures and particle effects. A new "networked water" system is also being introduced, allowing all players in the game to see the same wave at the same time.Tessellation has also been overhauled.
We used the settings illustrated in the screenshot above for testing.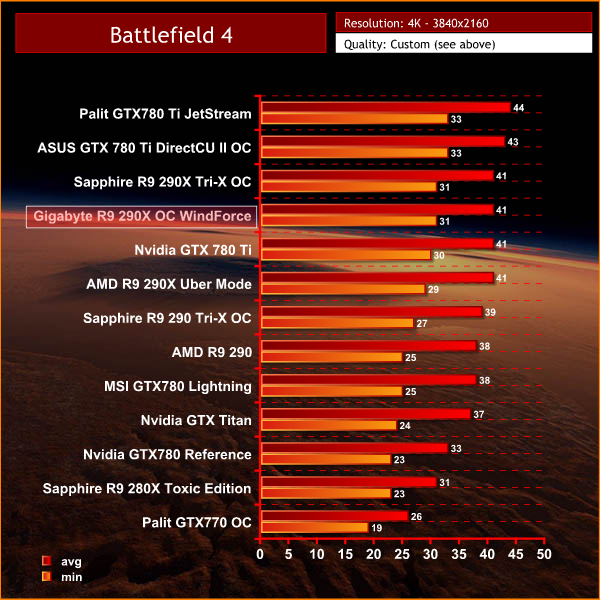 Here we see a slight improvement in the gaming performance of the system when overclocked.
Black Ops 2 is the latest episode in the Call of Duty franchise and is one of the most popular games of the moment.  It uses an updated version of the IW engine, used in previous Call of Duty games, which isn't particularly demanding.  This makes it ideal for testing mid-range gaming systems like this.
We used the settings illustrated in the screenshot above for testing.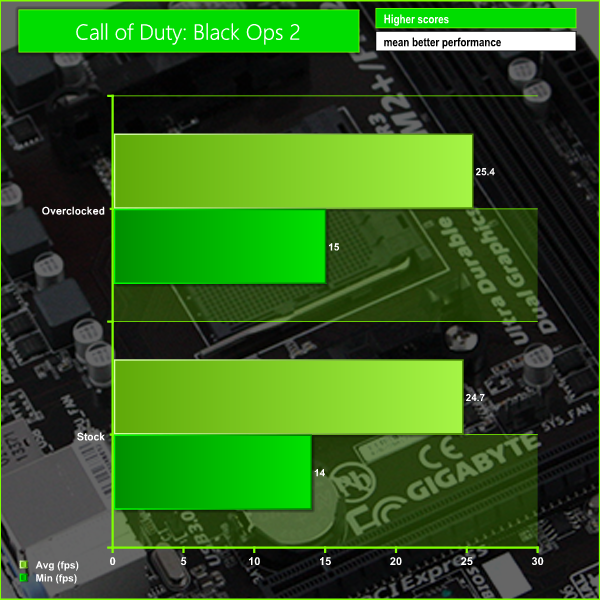 Again, we saw a slight bump in the framerate when the system was overclocked.
Dirt Showdown is the latest title in the franchise from Codemasters, based around the famous Colin McRae racing game series, although it no longer uses his name, since he passed away in 2007.
We used the settings illustrated in the screenshot above for testing with all other settings set to the 'Low' presets.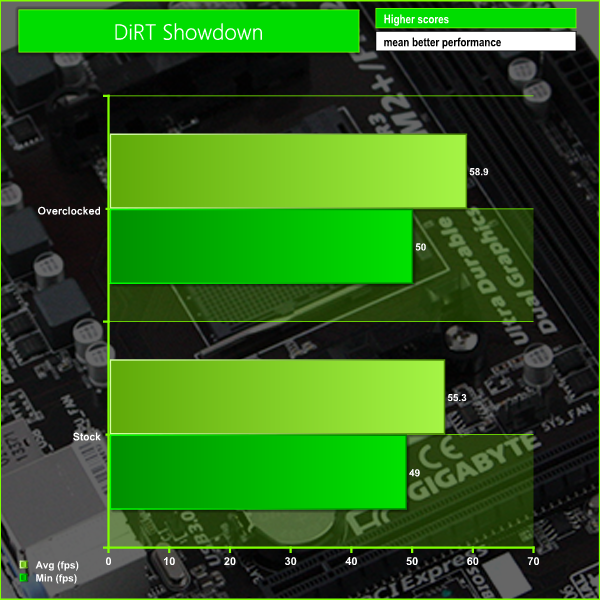 We saw impressive performance in this test, which was boosted further when the system was overclocked.
We measured the power consumption of our entire test system at the wall while loading the CPU using Prime95 and GPU using FurMark. We recorded results with the system at reference clock speeds.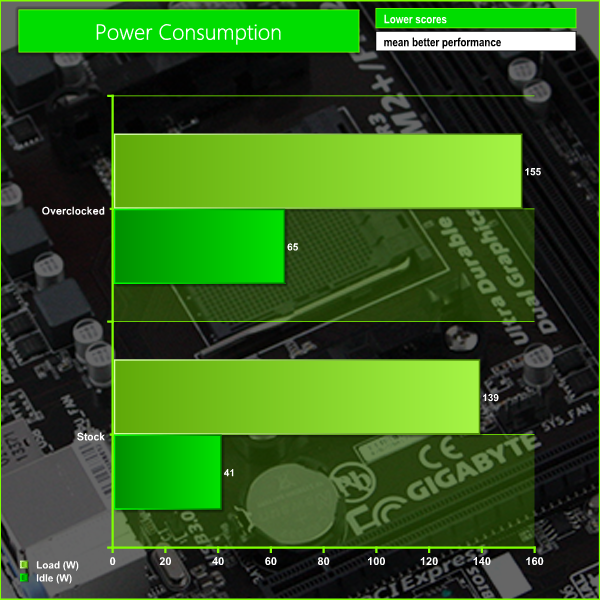 These numbers are fairly impressive, and show just how friendly an APU-based system can be to your energy bill.
The Gigabyte F2A88XM-DS2 motherboard is a very interesting product, especially when factoring in the modest £47 asking price.
Although Gigabyte have stripped back heavily on features, the F2A88XM-DS2 still delivers fantastic overclocking performance.  We were able to achieve a noteworthy 4.5 GHz final clock speed, which is as good as we have managed with this chip using other, more expensive motherboards.
Gigabyte have chosen to use a black colour scheme which looks great and should fit in nicely with most configurations.  The F2A88XM-DS2 features an unusual form factor which is technically micro-ATX, but it is actually more compact.  This makes it ideal for use in compact cases.
The main drawback of this motherboard for us is the lack of an HDMI port.  With an HDMI connector, it would make a great option for those looking to build a basic home theatre PC or multimedia PC.  Gigabyte have also cut back on the other I/O connections, although these aren't likely to be as problematic for most people.
At a price of £47 from Overclockers UK and £46.99 from YOYOTech, we feel that the Gigabyte F2A88XM-DS2 offers great value for money.  It is ideal for those users looking to build a basic multimedia PC on a budget. In fact, if it featured an HDMI connection it would achieve our most coveted 'Must Have' award.
Discuss on our Facebook page, over HERE.
Pros:
Great value.
Black colour scheme.
Impressive overclocking performance.
Cons:
KitGuru says: An impressive motherboard with surprisingly good overclocking capabilities. At £47 it proves difficult to ignore.