Antec have been around for a very long time and have earned a good reputation with the enthusiast audience. We have reviewed many of their power supplies over the years and today we look at the new EDGE 750W retailing in the UK for around £105 inc vat. This modular power supply is 80 Plus Gold Certified and ships with a full 5 year Antec warranty with lifetime 24/7 support.

Antec have released three EDGE models in 550 W, 650 W and 750 W capacities. Antec have partnered up with Seasonic as the OEM for the EDGE range of supplies. Seasonic have been creating some of the finest power supplies for the enthusiast sector in the last year so this can be seen as a good thing.
Features:

750W Continuous Power – Guaranteed 750W of Continuous Power from Antec
80 PLUS® GOLD certified – Up to 92% efficient, to reduce your electricity bill
Save Energy and Money – Reduce your electricity bill by up to 20%
135 mm LED FDB Silence – Whisper-quiet high-quality LED fluid dynamic bearing bearing fan with long lifetime
Thermal Manager – An advanced low voltage fan control for optimal heat & noise management
28(18+10)-pin MBU socket – For possible future MBU connectors
16-pin Socket – Industry-leading 16-pin socket double the modular connectivity by supporting 2 different 8-pin cables per socket and allow for future connector changes
High Current Rails – 2 High Current +12V rails with high load capabilities ensure maximum CPU & GPU compatibility
Flat Stealth Wires – Flat and darkened wires for minimal visibility in chassis (except MBU)
98% +12V – Output for maximum CPU & GPU support
Multi PCI-E – 2 PCI-E connectors for multiple GPU support
CircuitShield™ – Full suite of industrial grade protections: Over Current Protection (OCP), Over Voltage Protection (OVP), Under Voltage Protection (UVP), Short Circuit Protection (SCP), Over Power Protection (OPP), Over Temperature Protection (OTP), Surge & Inrush Protection (SIP), No Load Operation (NLO)
Japanese Heavy-Duty Caps – High-performance Japanese capacitors ensure tightest DC stability and regulation
PhaseWave™ Design – A server-class LLC design with a synchronous rectification based on a DC-DC topology
AQ5 – Antec Quality 5-year warranty and lifetime global 24/7 support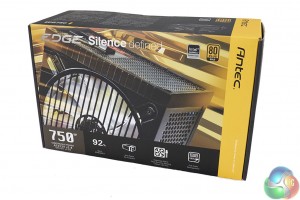 We like the new Antec box artwork. Always good to see less 'generic' style boxes with products.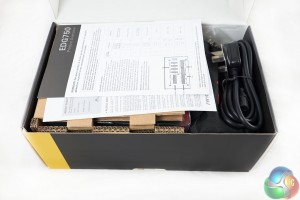 Inside, the power supply is protected in a plastic bag, between slabs of cardboard.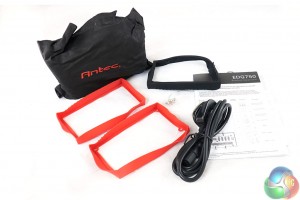 The bundle includes 'anti noise de-couplers' – this is a fancy term for basic vibration dampers. We don't show them fitted to the power supply in the remainder of the review, but they are visible on the previous page. The bundle includes a regional specific power cable, modular cable bag, mounting screws and literature on the product.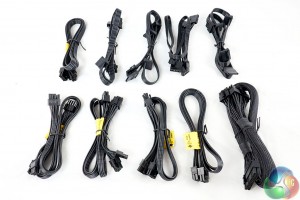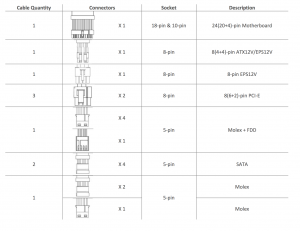 The modular cables are all the flat ribbon style – which are easier to route. The only one that is sleeved is the main MB connector. Some of the cables have yellow tags on them indicating the direction to fit to the power supply.
The EDGE 750 watt supply has 6 PCIe 6+2 connectors – perfect for a reasonably high end SLI or Crossfire system build.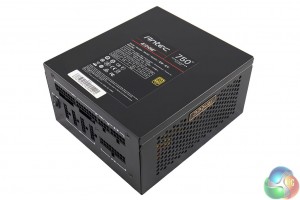 The Antec EDGE 750W is a very understated power supply, finished in a simple black paint.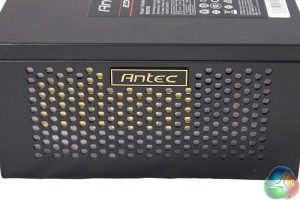 There is some company branding on the side panels, and plenty of vents to help with air flow – but hang on. On closer look we can see the vents are actually covered in a plastic sheet, so there will be no airflow from the sides.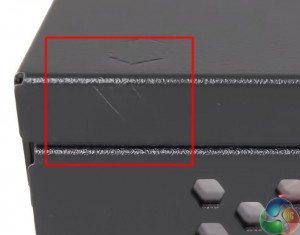 The unit didn't pass our 'screwdriver' test. This involves running the head of a Philips head driver down the side of the chassis with light to medium force. After all, how many times have you accidentally connected with a power supply during a system build?
Several small, but noticeable scratches were left on the surface (see image above).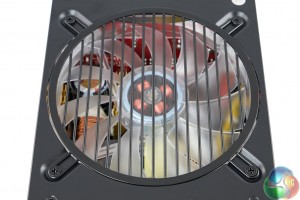 The top of the power supply is home to a large, clear fan – resting behind a metal grill. We will look at the fan more closely when we open the unit.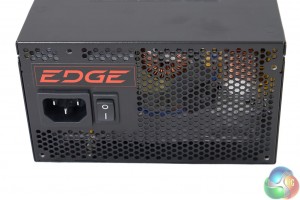 One side has the 'EDGE' brand name, alongside a power connector and switch. This honeycomb vent isn't covered with a plastic sheet, so air will flow fine here.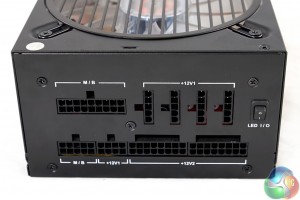 The other side is home to the modular panel – all labelled for clarity. If you look closely you will see a little LED 1/0 button – this turns a little blue light, on and off.



You can connect one or two modular 8 pin cables into any of the 16 pin sockets.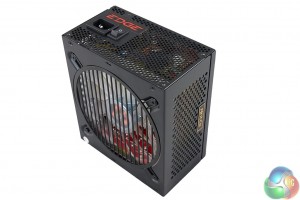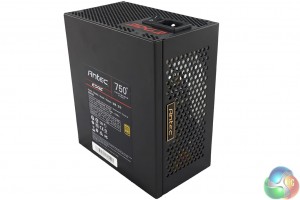 The EDGE is quite an attractive looking power supply, from all angles.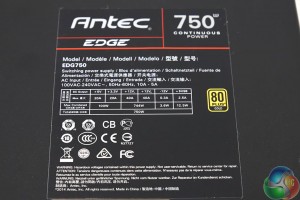 Antec EDGE 750 Watt Power Supply

DC Output

+3.3V

+5V

+12V1
+12V2

-12V

+5Vsb

Max Output

20A

20A

40A
40A

0.3A

2.5A

Total Power
100W
744W
3.6W
12.5W
750W
The Antec EDGE is a dual +12V rail power supply. Each of the unit's +12V rails can deliver 40Amps of power. The minor rails can each deliver 20A.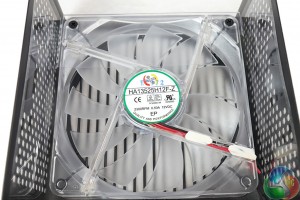 Antec are using a ONG HUA 135mm fan rated 0.50A with a maximum rotational speed of 2,300 rpm. This is a high grade fluid dynamic bearing fan.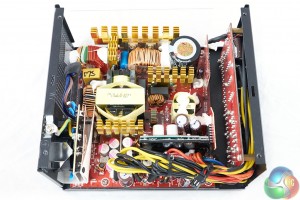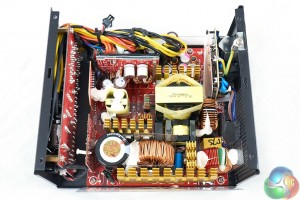 This is the same platform that Seasonic use in their S12-G/G Series power supplies – there are changes however. This is a resonant LLC primary topology with a synchronous rectification secondary and DC-DC VRM's for the production of the minor rails. Soldering quality is excellent, as we would expect from Seasonic.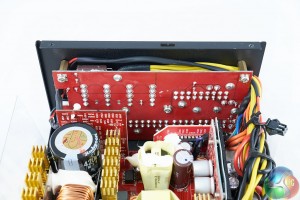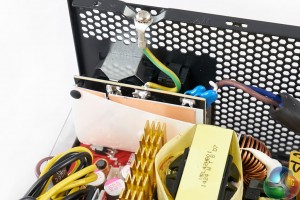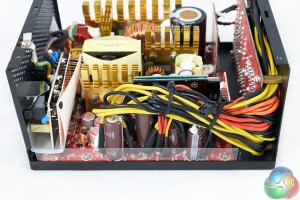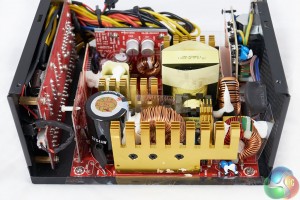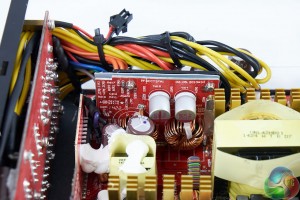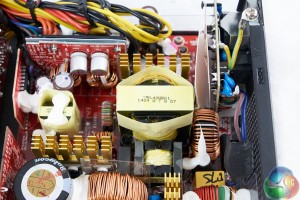 The filtering stage starts with a coil, alongside X and Y Capacitors – it continues onto the main PCB.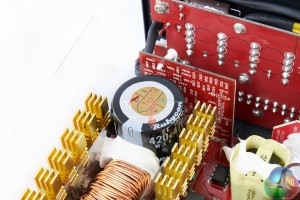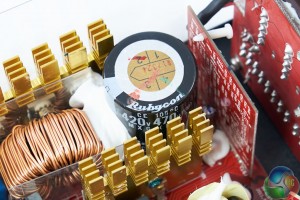 The main primary capacitor is Japanese – by Rubycon (one of the best on the market). It is rated 420V 470uF 105C. Other capacitors on the board are by leading Japanese company Nippon Chemi Con.
On this page we present some high resolution images of the product taken in our professional studio. These will take much longer to open due to the dimensions, especially on slower connections. If you use these pictures on another site or publication, please credit Kitguru.net as the owner/source.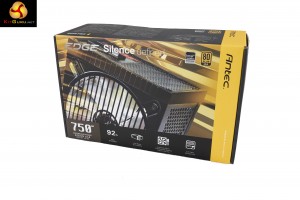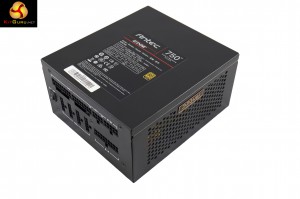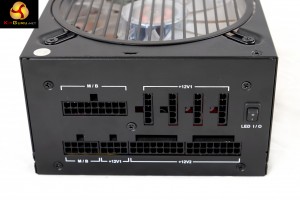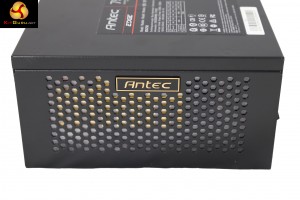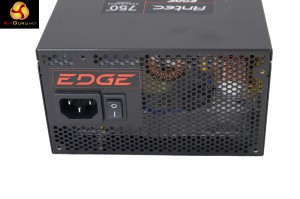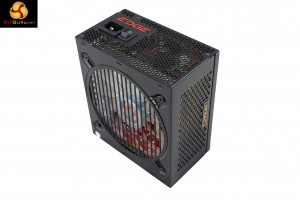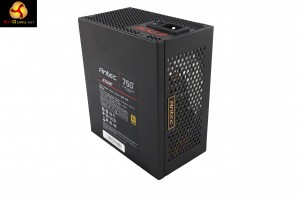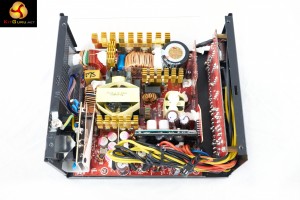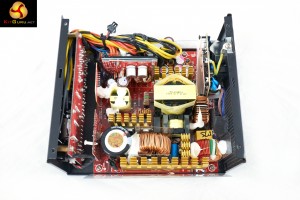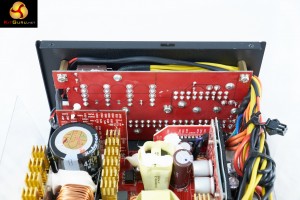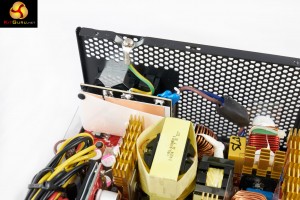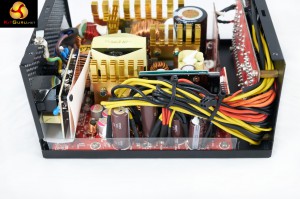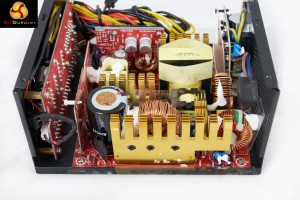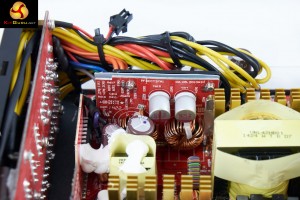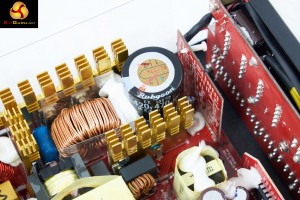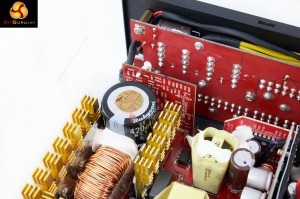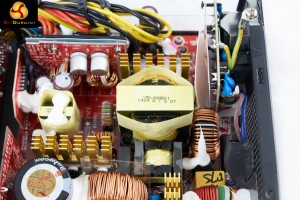 Additional technical assistance: Peter McFarland and Jeremy Price.
Correctly testing power supplies is a complex procedure and KitGuru have configured a test bench which can deliver up to a 2,000 watt DC load. Due to public requests we have changed our temperature settings recently – previously we rated with ambient temperatures at 25C, we have increased ambient temperatures by 10c (to 35c) in our environment to greater reflect warmer internal chassis conditions.
We use combinations of the following hardware:
• SunMoon SM-268
• CSI3710A Programmable DC load (+3.3V and +5V outputs)
• CSI3711A Programmable DC load (+12V1, +12V2, +12V3, and +12V4)
• Extech Power Analyzer
• Extech MultiMaster MM570 digital multimeter
• Extech digital sound level meter
• Digital oscilloscope (20M S/s with 12 Bit ADC)
• Variable Autotransformer, 1.4 KVA
DC Output Load Regulation

+3.3V

+5V

+12V

+5VSB

-12V

A

V

A

V

A

V

A

V

A
V

75W

1.23

3.35

1.19

5.04

4.95

12.10

0.50

0.20

-12.05

150W

2.17

3.34

2.83

5.04

10.07

12.08

1.00

0.30

-12.06

375W

6.15

3.33

6.05

5.04

26.15

12.07

1.50

0.50

-12.07

565W

10.31

3.33

10.86

5.01

38.34

12.05

2.00

5.01

0.60

-12.07

750W

10.72

3.33

13.84

4.99

53.59

12.02

3.00

0.80

-12.08
Load regulation is excellent right across the output range.
Antec EDGE 750W
Maximum Load
838W
We managed to reach around 838W before the unit would shut down gracefully, after the protection kicked in.
Next we want to try Cross Loading. This basically means loads which are not balanced. If a PC for instance needs 500W on the +12V outputs but something like 30W via the combined 3.3V and +5V outputs then the voltage regulation can fluctuate badly.
Cross Load Testing
+3.3V
+5V
+12V
-12V
+5VSB
A
V
A
V
A
V
A
V
A
V
734W
1.0
3.34
1.0
5.04
60.0
11.95
0.2
-12.01
0.50
5.02
154W
15.0
3.32
15.0
4.99
2.0
12.11
0.2
-12.01
0.50
5.02
The unit passes our Cross Load testing with a set of very good results. Even when we hit the +12V output with 60A, the line held at 11.95V.
We then used an oscilloscope to measure AC ripple and noise present on the DC outputs. We set the oscilloscope time base to check for AC ripple at both high and low ends of the spectrum.
ATX12V V2.2 specification for DC output ripple and noise is defined in the ATX 12V power supply design guide.
ATX12V Ver 2.2 Noise/Ripple Tolerance

Output

Ripple (mV p-p)

+3.3V

50

+5V

50

+12V1

120

+12V2

120

-12V

120

+5VSB

50
Obviously when measuring AC noise and ripple on the DC outputs the cleaner (less recorded) means we have a better end result. We measured this AC signal amplitude to see how closely the unit complied with the ATX standard.
AC Ripple (mV p-p)
DC Load
+3.3V
+5V
+12V
5VSB
75W
5
10
15
10
150W
10
15
15
15
375W
10
15
25
15
565W
15
25
35
15
750W
15
40
35
15
The +12V output peaked at 35mV at full load which is a good result. +3.3V peaked at 15mW, however we noticed that the +5V output hit 40mV at full load, which seems quite high, and close to the industry rated tolerance levels.
Efficiency (%)

75W

86.92

150W

88.18

375W

91.98

565W

89.71

750W

88.90
The power supply is efficient, peaking at close to 92% at 50% load. This drops to around 89% at full load. Impressive results.
We take the issue of noise very seriously at KitGuru and this is why we have built a special home brew system as a reference point when we test noise levels of various components. Why do this? Well this means we can eliminate secondary noise pollution in the test room and concentrate on components we are testing. It also brings us slightly closer to industry standards, such as DIN 45635.
Today to test the power supply we have taken it into our acoustics room environment and have set our Digital Sound Level Noise Decibel Meter Style 2 one meter away from the unit. We have no other fans running so we can effectively measure just the noise from the unit itself.
As this can be a little confusing for people, here are various dBa ratings in with real world situations to help describe the various levels.
KitGuru noise guide
10dBA – Normal Breathing/Rustling Leaves
20-25dBA – Whisper
30dBA – High Quality Computer fan
40dBA – A Bubbling Brook, or a Refrigerator
50dBA – Normal Conversation
60dBA – Laughter
70dBA – Vacuum Cleaner or Hairdryer
80dBA – City Traffic or a Garbage Disposal
90dBA – Motorcycle or Lawnmower
100dBA – MP3 Player at maximum output
110dBA – Orchestra
120dBA – Front row rock concert/Jet Engine
130dBA – Threshold of Pain
140dBA – Military Jet takeoff/Gunshot (close range)
160dBA – Instant Perforation of eardrum
Noise (dBA)

75W

<28.0

150W

<28.0

375W

30.8

565W

32.9

750W
34.4
The large Ong Hua fan holds a low level of noise right through the range, spinning up at around 550W output. In the last 75W of output it rotates much faster although it never becomes intrusive even when holding a steady 750W load.
Temperature (c)

Intake

Exhaust

75W

36

39

150W

38

42

375W

39

46

565W

45

55

750W

47

59
The 120mm fan spins slowly below 500W and the high level of efficiency means the heat produced isn't excessive at all. At full load it peaks at a 12c above ambient intake.
| | |
| --- | --- |
| Maximum load | Efficiency |
| 838W | 87.7 |
For those interested, we measured efficiency when stressing the unit to breaking point. 87.7 percent efficiency at 838W … hardly practical, but interesting regardless.
There is no doubt that the Antec EDGE 750W is a capable, well designed power supply. It is set to target the discerning enthusiast audience powering a high end system, featuring perhaps two graphics cards in SLi or Crossfire – and with a restricted budget around £100.
The quality of finish is generally solid and the honeycombed vents on the sides of the chassis subjectively improve the appearance. Surprisingly they are just for show however as there is a layer of clear plastic on the inside blocking any potential airflow. Additionally, the paint work didn't survive our scratch test unscathed, leaving several marks on the chassis.
We appreciate Antec are trying to add value to the package by including several optional 'anti noise de-couplers' – a fancy term for vibration dampers. In reality we didn't notice any differences with them fitted or not, but at least in a red coloured system build they add a 'sporty stripe' to improve appearance.
The large Ong Hua fan is very quiet, and even when the power supply is handling higher loads above 500 watts, it remains barely audible. If you value low noise levels then the Antec EDGE 750W will make an ideal partner for a new system build.
The quality of the modular cabling is excellent, and with all but one (main MB cable) being flat, they will be easy to route, improving the appearance of a system build.
Technically the unit delivers good results in most areas. Load regulation is excellent and it handled our intensive Cross load test without a hiccup. Ripple suppression was commendable, however we did notice the +5V rail peaked at 40mV under full load – this raised an eyebrow. While a little higher than we would hope to see, it is important to point out that this doesn't fall outside industry rated tolerance levels.
You can buy the Antec Edge 750W power supply from SCAN in the UK, for £104.10 inc vat.
Discuss on our Facebook page, over HERE.
Pros:
Excellent load regulation.
good internal build quality.
ships with extras such as vibration dampers.
quiet under load.
fully modular.
high efficiency.
Rubycon primary capacitor.
5 year warranty.
Cons:
+5V ripple is higher than we would like to see.
paint finish could be better.
stiff competition around £100.
 Kitguru says: A solid power supply which will cater to the enthusiast user wanting as little noise as possible.