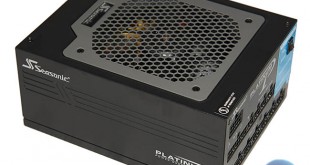 There are no shortage of high grade power supplies in 2014. Already we have reviewed the Super Flower Leadex Platinum 1,000w, The Antec High Current Pro Platinum 1,300w, Cooler Master V1200 Platinum and the Corsair AX1500i Titanium. All of these units claimed our top awards. Today we look at the brand new Seasonic Platinum 1200W modular unit, released in the UK this week.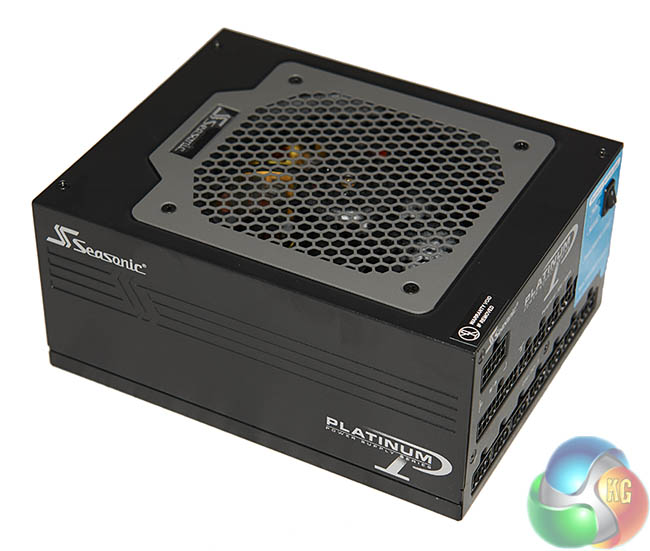 Special Features –

80PLUS® Platinum Certified Super High Efficiency
7 Years Warranty
DC Connector Panel with Integrated VRM [Voltage Regulator Module]
DC to DC Converter Design
Active Power Factor Correction [99% PF Typical]
Conductive Polymer Aluminum Solid Electrolytic Capacitors
High Reliability 105℃ Japanese Grade A Capacitors
High Current Gold Plated Terminals
Tight Voltage Regulation [±2%]
High +12V Output
Dual Sided PCB Layout
Seasonic Patented Hybrid Silent Fan Control
Sanyo Denki San Ace Silent Fan
Ultra Ventilation [Honeycomb Structure]
Full Modular Cabling Design
Multi-GPU Technologies Supported
All-in-One DC Cabling Design
Easy Swap Connector
Universal AC Input [Full Range]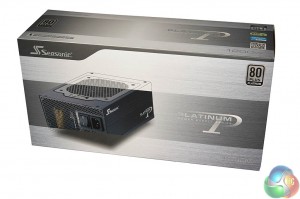 The Seasonic Platinum 1200W Modular Power Supply ships in a box with a sleeve coloured to suit the 80 Plus Platinum certification. There is a high resolution image of the product on the front, nicely presented.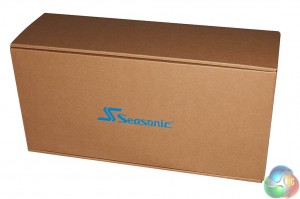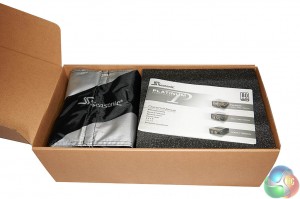 Inside, the main brown has with the 'Seasonic' logo highlighted in blue, in the middle.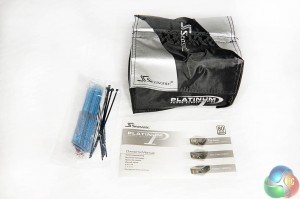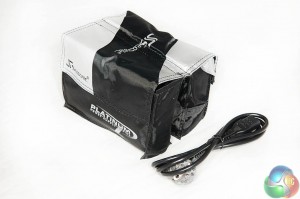 The bundle includes mounting screws, literature on the product, some cable ties, and a modular cable pouch which opens on two sides. Seasonic also include a regional specific power cable. Our review sample tends to ship direct from the factory so we don't get a UK power cable.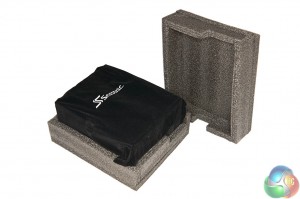 Seasonic protect the power supply between two thick foam pads. It is also wrapped in a soft felt bag to protect the paintwork.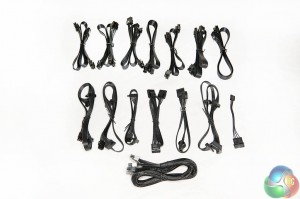 This power supply is a fully (pure) modular design, so no cables are hardwired into the chassis.
| | |
| --- | --- |
| Cable | Connectors |
| MB 20+4 pin | x1 (610mm) |
| CPU 4+4 pin | x1 (650mm) |
| CPU 8 pin | x1 (650mm) |
| PCI E 8 pin (6 pin +2) | x10 (600mm) |
| SATA | x14 (530mm+150mm+150mm) |
| MOLEX | x5 (550mm+150mm+150mm) |
| FDD | x1 |
The cables are high quality and the thinner 'ribbon' style which proves popular for routing (The main 20+4 pin MB cable is sleeved). There are no shortage of PCI-E connectors – 10 in total, making this an ideal power supply for high end Crossfire and SLi systems. There are 14 SATA connectors to suit a system with plenty of hard drives.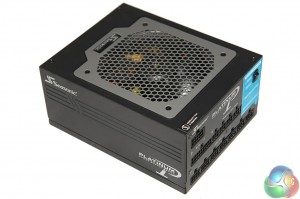 The Platinum 1200W Modular power supply is very attractively finished, in gunmetal grey/silver and black. The name of the product is on the side panels. For those interested, the appearance of the side panels have changed a little since we reviewed Seasonic's 1000W Platinum power supply back in May 2012.
As we would hope from a high end unit such as this the finish of the chassis is top quality, with thick paintwork. It passed our 'screwdriver' test with flying colours. This involves running the head of a Philips head driver down the side of the chassis with light to medium force. After all, how many times have you accidentally connected with a power supply during a system build?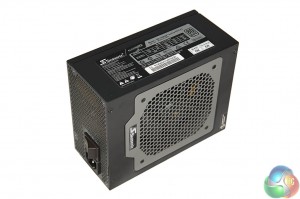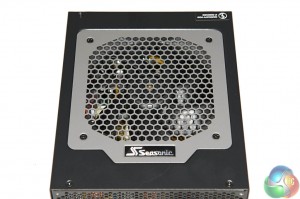 The fan is hidden behind a silver panel with Seasonic branding along the bottom of the grill.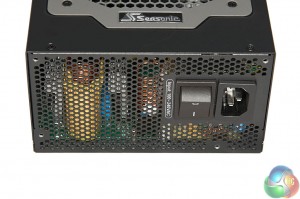 One end of the power supply is vented, to help improve air flow under load. There is a power switch and connector at the side.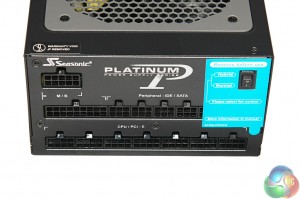 The modular panel is neatly laid out with all the connectors clearly labelled for ease of installation. There is a blue sticker top right which details the 'hybrid' and 'normal' status of the fan.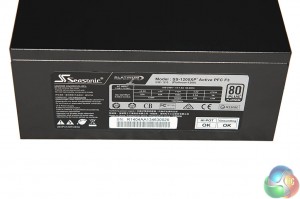 Seasonic Platinum 1200W Power Supply

DC Output

+3.3V

+5V

+12V

-12V

+5Vsb

Max Output

25A

25A

100A

0.5A

3A

Total Power
125W
1200W
6W
15W
1200W
The Seasonic Platinum 1200W power supply can deliver 100A on the +12V rail. Plenty of power for even the most demanding Crossfire and SLi configurations.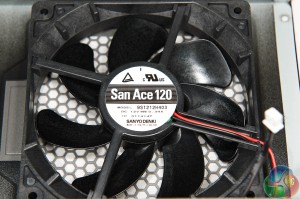 Seasonic are using a San Ace 120 (model 9s1212h403) fan. This is a Sanyo Denki unit which uses three balancing points instead of two. This helps to achieve perfect balance and rotation.
The 1200W power supply has a new 'Hysteresis' feature. This optimises how frequently the fan switches off and on. At 25c ambient temperature the fan turns on when the load rises above 35% and it turns off when the load drops below 25%. Due to this lag in response the fan switches on and off less frequently which reduces power loss in Fanless and Silent Mode.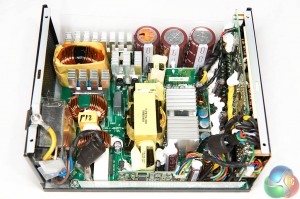 This is a Seasonic XP3 design which we have seen in a slightly different guise in our recent review of the Cooler Master V1200 Platinum power supply. The soldering quality is excellent throughout.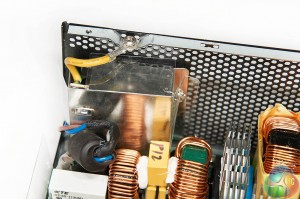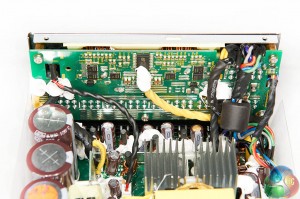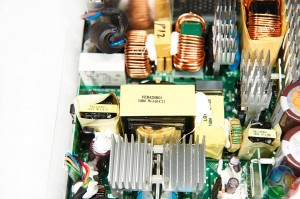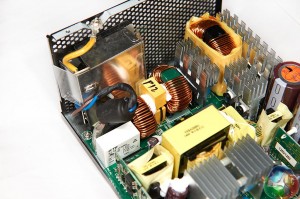 Behind the AC receptable is a sealed PCB which is home to some of the components of the EMI filter – a single X cap, four Y caps and a CM choke. The other components of the filtering stage are on the main PCB, which include an MOV, two pairs of Y and X Caps and two more CM chokes.
The primary side is a full bridge design with an LLC converter for lossless switching. The secondary side uses a synchronous design with +12V fets on the main PCB. The DC-DC converters are installed on the modular PCB to help reduce power loss.
The main PCB and modular PCB incorporate high grade Japanese electrolytic and solid capacitors.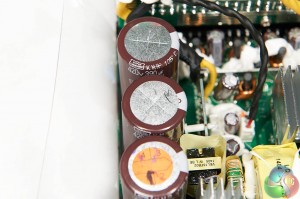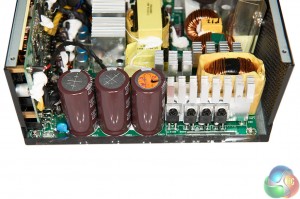 Seasonic are using three high grade Japanese capacitors on the primary stage (class leading 'Nippon Chemi Con'). These are 105c rated. All three are rated 390uF 420V. This is different to the Seasonic XP3 powered Cooler Master V1200 Platinum which we reviewed several weeks ago. The Cooler Master unit uses lower specification capacitors – one rated 390uF 420V and the other two 330uF 420V.
On this page we present some super high resolution images of the product taken with the 24.5MP Nikon D3X camera and 24-70mm ED lens. These will take much longer to open due to the dimensions, especially on slower connections. If you use these pictures on another site or publication, please credit Kitguru.net as the owner/source.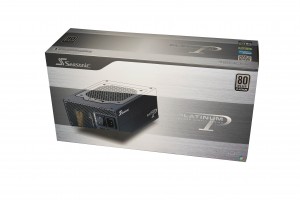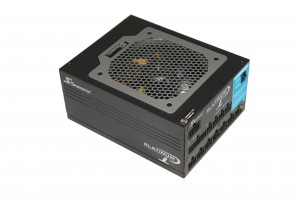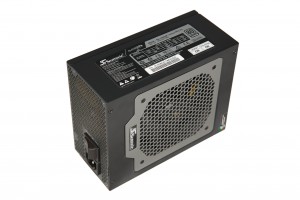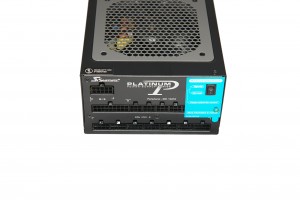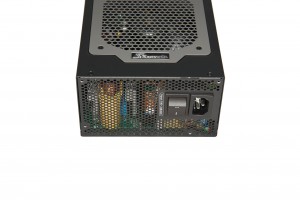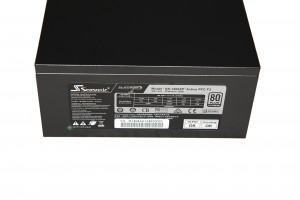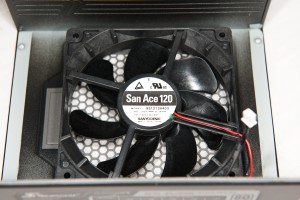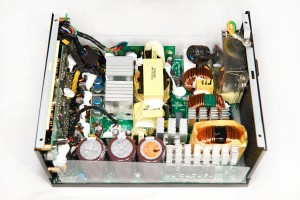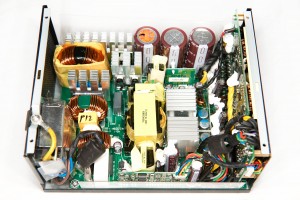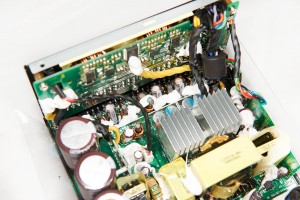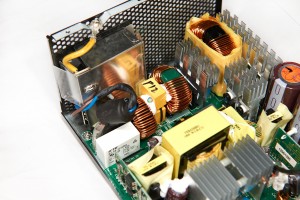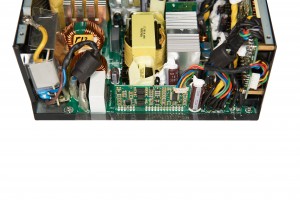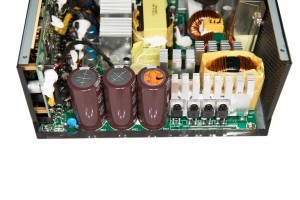 Additional technical assistance: Peter McFarland and Jeremy Price.
Correctly testing power supplies is a complex procedure and KitGuru have configured a test bench which can deliver up to a 2,000 watt DC load. Due to public requests we have changed our temperature settings – previously we rated with ambient temperatures at 25C, we have increased ambient temperatures by 10c (to 35c) in our environment to greater reflect warmer internal chassis conditions.
We use combinations of the following hardware:
• SunMoon SM-268
• CSI3710A Programmable DC load (+3.3V and +5V outputs)
• CSI3711A Programmable DC load (+12V1, +12V2, +12V3, and +12V4)
• Extech Power Analyzer
• Extech MultiMaster MM570 digital multimeter
• SkyTronic DSL 2 Digital Sound Level Meter (6-130dBa)
• Digital oscilloscope (20M S/s with 12 Bit ADC)
• Variable Autotransformer, 1.4 KVA
We test the Seasonic Platinum 1200W power supply with the fan in the 'normal' state.
DC Output Load Regulation

+3.3V

+5V

+12V

+5VSB

-12V

A

V

A

V

A

V

A

V

A
V

100W

1.55

3.34

1.75

5.08

6.65

12.13

0.50

0.20

-12.04

200W

3.13

3.34

3.50

5.08

13.50

12.13

1.00

0.20

-12.04

400W

6.40

3.34

7.05

5.08

27.50

12.13

1.50

0.30

-12.04

600W

9.80

3.34

10.77

5.06

41.70

12.12

2.00

4.99

0.30

-12.04

800W

13.25

3.34

14.55

5.06

56.40

12.12

2.50

0.50

-12.04

1000W
16.55
3.34
15.75
5.06
71.40
12.10
3.00
4.99
0.60
-12.04
1200W
22.01
3.33
22.01
5.06
85.00
12.09
3.60
4.99
0.80
-12.04
Load regulation is excellent with all the rails holding tight, within 1.5%.
Seasonic Platinum 1200W
Maximum Load
1345W
We managed to get another 145W from the power supply before the protection circuitry kicked in. The supply was undamaged and it was ready to fire up again when we dropped the load to a more realistic level.
Next we want to try Cross Loading. This basically means loads which are not balanced. If a PC for instance needs 500W on the +12V outputs but something like 30W via the combined 3.3V and +5V outputs then the voltage regulation can fluctuate badly.
Cross Load Testing
+3.3V
+5V
+12V
-12V
+5VSB
A
V
A
V
A
V
A
V
A
V
1190W
4.0
3.34
3.0
5.04
88.0
12.06
0.2
-12.04
0.50
5.01
240W
19.0
3.34
22.0
5.02
2.5
12.07
0.2
-12.04
0.50
5.01
The Seasonic Platinum 1200W power supply delivered a great set of results in the demanding Cross load test, as shown above.
We then used an oscilloscope to measure AC ripple and noise present on the DC outputs. We set the oscilloscope time base to check for AC ripple at both high and low ends of the spectrum. ATX12V V2.2 specification for DC output ripple and noise is defined in the ATX 12V power supply design guide.
ATX12V Ver 2.2 Noise/Ripple Tolerance

Output

Ripple (mV p-p)

+3.3V

50

+5V

50

+12V1

120

+12V2

120

-12V

120

+5VSB

50
Obviously when measuring AC noise and ripple on the DC outputs the cleaner (less recorded) means we have a better end result. We measured this AC signal amplitude to see how closely the unit complied with the ATX standard.
AC Ripple (mV p-p)
DC Load
+3.3V
+5V
+12V
5VSB
100W
10
10
15
5
200W
15
10
15
10
400W
15
10
20
10
600W
15
15
20
15
800W
20
15
25
15
1000W
20
20
30
15
1200W
20
25
35
20
Ripple suppression is very good. All of the rails exhibit very low ripple and the +12v rail for instance peaks at 35mV, well within the rated specifications.
Efficiency (%)

100W

85.2

200W

88.6

400W

92.7

600W

94.3

800W

93.5

1000W
92.9
1200W
92.1
The overall efficiency results are excellent, peaking at 94.3% at 600W. This drops to 92% efficiency at full load, a very impressive result.
We take the issue of noise very seriously at KitGuru and this is why we have built a special home brew system as a reference point when we test noise levels of various components. Why do this? Well this means we can eliminate secondary noise pollution in the test room and concentrate on components we are testing. It also brings us slightly closer to industry standards, such as DIN 45635.
Today to test the Power Supply we have taken it into our acoustics room environment and have set our SkyTronic DSL 2 Digital Sound Level Meter (6-130dBa) one meter away from the unit. We have no other fans running so we can effectively measure just the noise from the unit itself.
As this can be a little confusing for people, here are various dBa ratings in with real world situations to help describe the various levels.
KitGuru noise guide
10dBA – Normal Breathing/Rustling Leaves
20-25dBA – Whisper
30dBA – High Quality Computer fan
40dBA – A Bubbling Brook, or a Refridgerator
50dBA – Normal Conversation
60dBA – Laughter
70dBA – Vacuum Cleaner or Hairdryer
80dBA – City Traffic or a Garbage Disposal
90dBA – Motorcycle or Lawnmower
100dBA – MP3 Player at maximum output
110dBA – Orchestra
120dBA – Front row rock concert/Jet Engine
130dBA – Threshold of Pain
140dBA – Military Jet takeoff/Gunshot (close range)
160dBA – Instant Perforation of eardrum
Noise (dBA)

100W

28.0

200W

28.0

400W

30.8

600W

32.1

800W
33.0
1000W
34.1
1200W
36.3
The Seasonic Platinum 1200W power supply is very quiet under normal circumstances, and basically silent until around 600Watts of power is demanded. The fan profile holds fairly steady until around 1000 watts is needed. The fan quickly spins up in the last 200 watts of power output, however this isn't really a practical way to run a system.
Temperature (c)

Intake

Exhaust

100W

35

39

200W

35

42

400W

37

45

650W

43

52

800W

45

53

1000W
47
60
1200W
50
64
Temperatures are well controlled as the fan spins actively once load hits 1000W load and beyond.
| | |
| --- | --- |
| Maximum load | Efficiency |
| 1345W | 91.4 |
Pushing the power supply above its rated limits generates an efficiency level of around 91.4%. This is not a viable 'real world' situation, but its interesting nonetheless.
The Seasonic Platinum 1200W Modular Power Supply is an extremely impressive flagship model that will target the discerning audience who are powering expensive Crossfire and SLi systems with two or more graphics cards.
The Seasonic Platinum 1200W power supply is attractively finished and the paintwork passed our screwdriver test with flying colours. We are rather fond of the elegant grey/silver and black two tone finish.
Regular readers will be aware that we have already reviewed a power supply featuring the Seasonic XP3 design – the Cooler Master V1200 Platinum (back on May 6th). While inherently both power supplies will deliver almost identical results, the Seasonic unit features higher grade Nippon Chemi Con capacitors in the primary stage. Seasonic have adopted a triple 390uF 420V capacitor configuration, while the Cooler Master unit includes a single 390uf 420V capacitor with two lesser 330uF 420V capacitors.
The Seasonic power supply could deliver 1345watts before safely shutting down and it can happily run at 1,300 watts all day without a problem. Seasonic have earned a reputation for seriously over specifying their power supplies, and this unit is no exception.
There are some other differences between both XP3 designs. Cooler Master have opted to put the hybrid fan controller switch on an external expansion slot bracket, whereas Seasonic have the switch on the back of the power supply itself. I always feel a extra cable running from the power supply adds to potential 'build clutter', although it is a very minor point.
Technically, the 1200W Platinum power supply is superb. Load regulation is rock solid and the unit coped very well with our stressful cross loading test. Ripple suppression may not quite match the incredible results we got from the Flextronics powered Corsair AX1500i Titanium, but they still fall well within rated industry specifications.
Noise levels of this power supply are low thanks to the adoption of the high grade Sanyo Denki fan. Seasonic select these fans specifically for their low noise and long life characteristics.
The Seasonic Platinum 1200W Modular Power Supply is available in the United Kingdom from Overclockers UK now for £250 inc vat.

Discuss on our Facebook page, over HERE.
Pros:
built to very high standards.
80 Plus Platinum.
Pure Modular.
low noise levels under load.
high grade fan.
10 PCIe connectors.
7 year warranty.
Cons:
Ripple suppression could be better.
Kitguru says: Another very powerful, over specified, efficient, high grade power supply from the Seasonic team.