When it comes to building a gaming PC these days, a high-end sound card is likely pretty far down on your list of priorities. However, if you are serious about audio and want to get the best out of your speakers or high-end headphones, then you will find that your average on-board audio solution won't cut it. Today, we are taking a look at the Asus Strix RAID DLX, their flagship sound card, offering full support for 7.1 surround sound, along with a headphone DAC and amplifier to enhance your listening experience.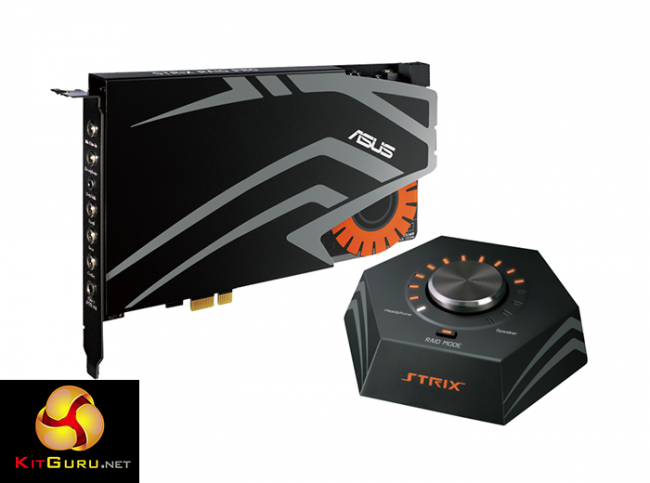 The Asus Strix RAID DLX offers 7.1 surround sound, along with some excellent software features that can be used to tweak things to your liking.

Features:
Instant-on Raid Mode: Customize in-game audio with one click.
124dB signal-to-noise ratio (SNR) and audiophile-grade DAC: Enjoy high-fidelity, immersive sound.
Sonic Studio utility: Take full control over loads of sound technologies via an intuitive, one-page interface.
Sonic Radar Pro: Lets you pinpoint the exact location of in-game sounds and enhances critical audio details like enemy footsteps for an aural advantage.
600ohm headphone amplifier: For enhanced bass and clear, detailed sound.
Specifications:
Output Signal-to-Noise Ratio (A-Weighted) (Front-out) : 124 dB
Output Signal-to-Noise Ratio (A-Weighted) (Headphone-out) : 124 dB
Input Signal-to-Noise Ratio (A-Weighted) : 117 dB
Output THD+N at 1kHz (Front-out) : 0.0009 %(-107 dB)
Output THD+N at 1kHz (Headphone-out) : 0.0009 %(-107 dB)
Input THD+N at 1kHz : 0.000316 %(-110 dB)
Frequency Response (-3dB, 24bit/96KHz input) : 10 Hz to 48 KHz
Output/Input Full-Scale Voltage : Line output (RCA, 3.5) : 2 Vrms (5.65 Vp-p)
Audio Processor :C-Media USB 2.0 6632 AX High-Definition Sound Processor (Max. 384KHz / 24bit)
Digital-to-analog Converter(DAC) ESS SABRE9016 Premier 8 Channel Audio DAC
Analog Playback Sample Rate and Resolution : 44.1K/48K/88.2K/96K/176.4K/192KHz @ 16bit/24bit
Analog Recording Sample Rate and Resolution : 44.1K/48K/88.2K/96K/176.4K/192KHz @ 16bit/24bit
S/PDIF Digital Output : 44.1K/48K/96K/192KHz @ 16bit/24bit
ASIO 2.0 Driver Support : 44.1K/48K/96K/192KHz @ 16bit/24bit with very low latency Connectivity
Analog Output: 5 x 3.5 mm jack (1/8″) (Headphone out /Front out/Side out/Center-Subwoofer out/Rear out)
Analog Input : 1 x 3.5 mm jack (1/8″) (Line-in/ Mic-in combo)
Digital: 1 x S/PDIF out ((combo with side out)) 1 x Box Link