Drones can be pretty easy to crash, whether you know what you are doing and have had plenty of practice flying them, or if you decide to try out your friends drone while drunk and fly it into the Whitehouse. A small Swiss team called Flyability think it has the answer to at least some of these problems. Admittedly it would not stop you flying into the White House, but it would stop you crashing so you could fly away from the secret service afterwards.
Flyability have released some videos of one of their current prototypes, called the Gimball, flying around and it does indeed look pretty impossible to crash, with the video showing it flying into walls, ceilings and all manner of other obstacles including people! As you can probably guess from the name, it is based on a ball and a gimbal mechanism that keeps the drone pointing in the right direction (up) even when it's bouncing off objects.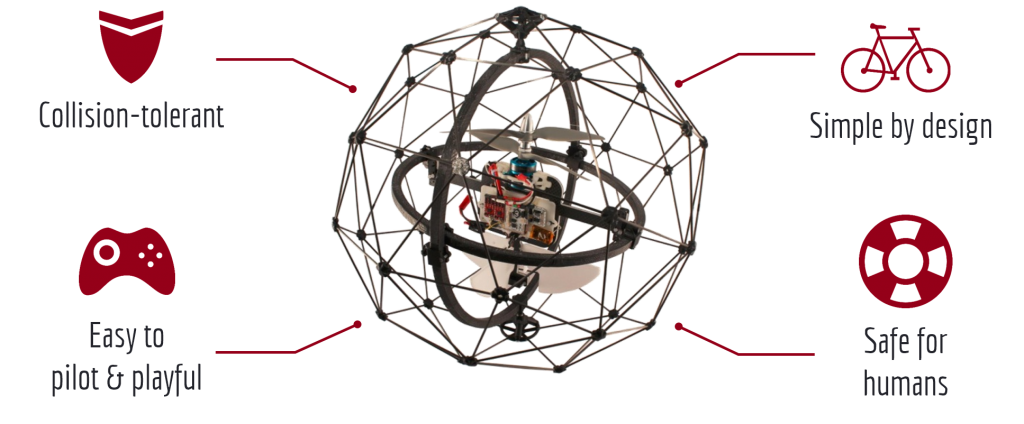 The simple design is designed to be cheap and impact resistant, whilst protecting both the drone and those around it. A ball of carbon fibre struts form the outer surface, with the rotor and equipment safe in the middle. No exposed blades on every corner like most quadrocopters and the stability is inherent in the design.
The drone was designed to assist in search and rescue operations and has recently won the top prize of $1 million in the Drones for Good Award held in the United Arab Emirates, meaning it should now be able to go into production and help out wherever it's needed. The Flyability team will also be using this prize money to add things like infrared cameras and other lightweight equipment to the drone to help it in its reconnaissance and rescue missions.
[yframe url='https://www.youtube.com/watch?v=TIpqxsVDgVs']
Flyability t
eam leader Patrick Thevoz said "We struggled to find funding to develop our search and rescue drone but this UAE Government Summit initiative, Drones for Good, means we can commercially develop our project within a year, and with Flyability able to go where it is dangerous for rescuers, help save lives.[…] The Drones for Good Award is a unique opportunity to help people realize that these flying machines are capable of positively impacting society."
Discuss on our Facebook page, HERE.
KitGuru Says: The sound of a crash resistant drone is great, but I'm sure it will crash if flown into anything at a high enough speed. Then again it doesn't really look that fast, so maybe it would just bounce off. Do you think you would be able to crash it?
Source: Flyability