Microsoft and Intel have placed in the top two spots for the Environmental Protection Agency's annual Green Power use ranking, both using clean energy sources for 100% of their power needs. This is all the more impressive when you see that combined, they use almost 5,600,000,000 kWh of electricity per year. That's a lot of power and could easily have been a lot of carbon!
These figures are released as part of the US EPA Green Power Ranking that lists top energy users in the US and shows how much sustainable power they use. Rounding out the rest of the tech top 5 we have Apple, Google and Cisco, but unfortunately none of them reach 100%, with Apple coming close at 92% but Google still having a long way to go on only 32%.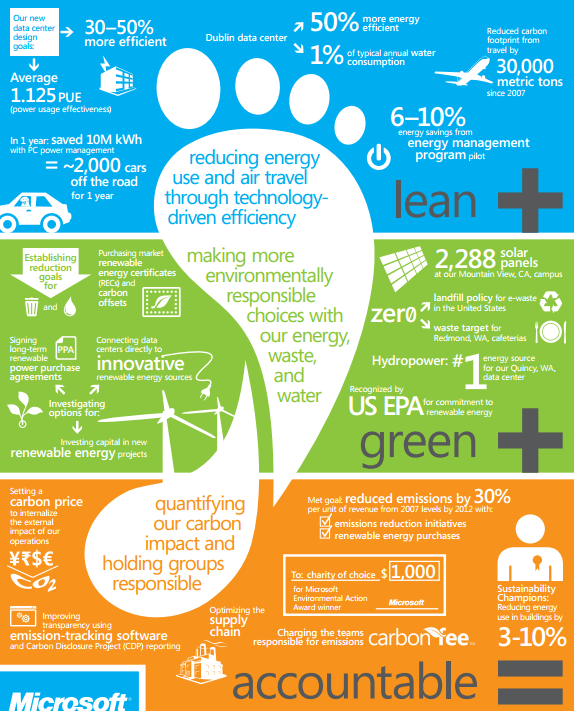 Microsoft's Josh Henretig added "As the EPA reports, Microsoft currently purchases nearly 2.5 billion kilowatt-hours (kWh) of green power annually for its U.S. operations, which is enough green power to match 100 percent of Microsoft's U.S. electricity use. Our annual purchase of green power is equivalent to avoiding the carbon dioxide (CO2) emissions from the electricity use of nearly 236,000 average American homes annually."
It is worth pointing out as well that both Microsoft and Intel use power from a wide range of different sources, such as Biogas, Biomass, Small-hydro, Solar, Wind and generating their own power onsite, through Solar and Wind power. With these companies leading the way in energy sustainability, hopefully many other tech giants and start-ups will soon follow.
Discuss on our Facebook page, HERE.
KitGuru Says: What surprised me most here is the fact that Google is so far behind Microsoft, Intel and even Apple. Hopefully this will put them under additional pressure to work on getting to 100% Green Power in the next few years. It's also a shame that we don't have any Global ranking of companies in this same way.