Concerns arose around video game loot boxes a couple of weeks ago, with a good portion of the public stating that they should be revised to classify as gambling. While the government has already offered one response, it has since gone into more detail, stating that it is "committed to ensuring that consumers are properly protected."
The issue arose when many claimed that they were unhappy with commercial practices within video games, particularly how many of the games aggressively pushing loot boxes were tied to an age rating lesser than that of gambling laws.
This prompted a petition, created by Connor Rhys Deeley, to "Adapt gambling laws to include gambling in video games which targets [sic] children," in which the primary aim was to get the government to respond, if not bring the topic up for debate in parliament. Currently, the petition is sitting at 15,000 signatures of the required 100,000 to make that happen, but above the 10,000 needed to get the government to respond in a decent capacity.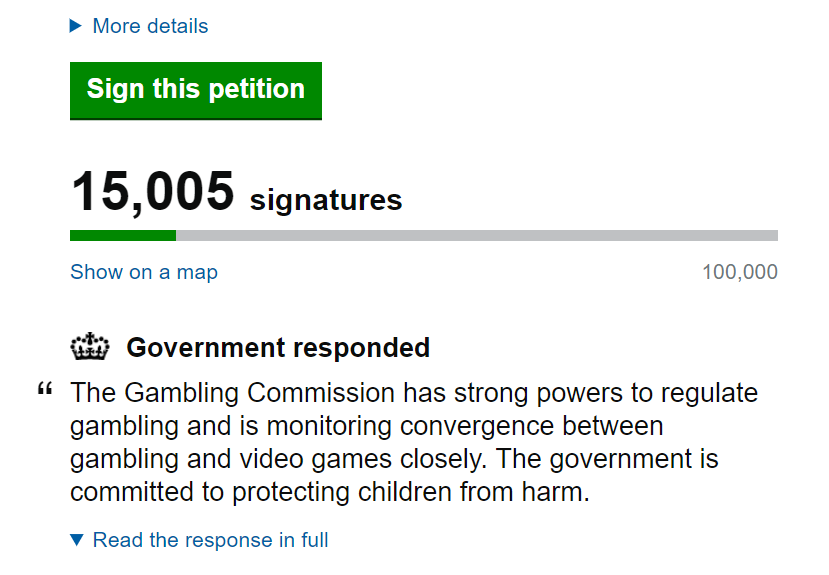 The original response from former Secretary of State for Culture, Media and Sport, Tracey Crouch was directed at questions posed by Cambridge Labour MP Daniel Zeichner, however failed to address Deeley's petition. Albeit a little vauge, Crouch did state that "The government recognise the risks that come from increasing convergence between gambling and computer games. The Gambling Commission is keeping this matter under review and will continue to monitor developments in the market."
This new response finally addresses Deeley's petition and while the information isn't worlds apart from Crouch's, there is more to take away from the statement. While The Gambling Commission "has strong powers to regulate gambling and is monitoring convergence between gambling and video games closely," it has requested the Responsible Gambling Strategy Board "to examine the wider relationship between children and gambling," given that the petition is primarily concerning the welfare of children regarding video games and loot boxes.
As it stands, "The Video Standards Council (VSC) rating board is the designated body for classifying video games, and applies the Europe-wide PEGI ratings to video games supplied in the UK," and "the PEGI criteria currently make provision for games depicting simulations of traditional gambling, and such games would generally attract a minimum PEGI rating of 12. The VSC Rating Board is discussing these issues with the PEGI Council and its Experts Group to determine whether any changes to the PEGI criteria need to be made."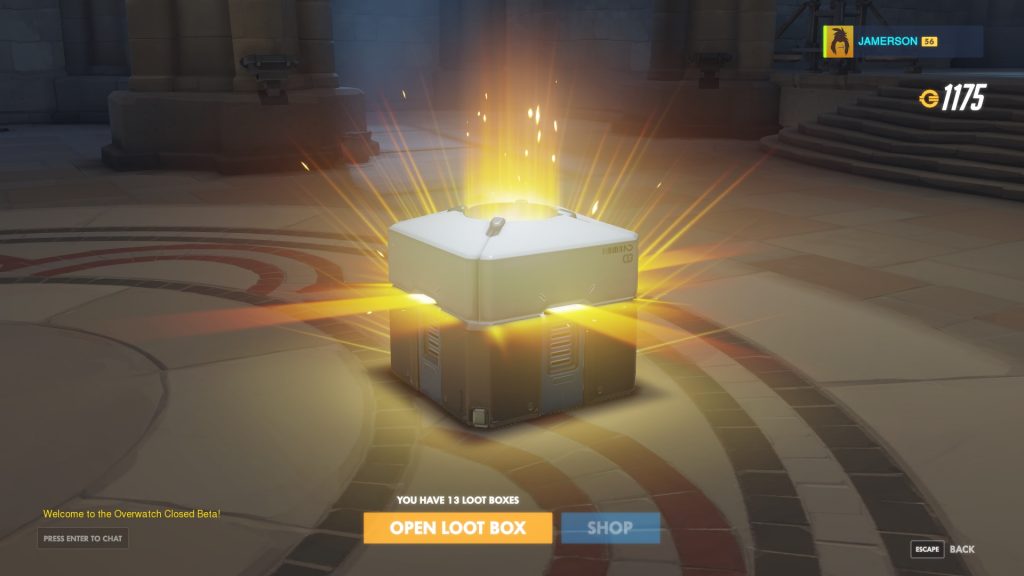 Aside from this, "Consumers are also protected by the Consumer Protection from Unfair Trading Regulations 2008. This includes a requirement on businesses not to subject anyone to misleading or aggressive marketing practices, or, for example, direct exhortation to buy products, such as games content, including in-game purchases such as loot boxes. The government is committed to ensuring that consumers are properly protected and that children's vulnerability and inexperience is not exploited by aggressive commercial practices."
The government is also set to deliver results on its Young People and Gambling Survey, which in particular dealt with the perception of esports and video gaming. It is unclear as to whether loot boxes were included within this topic at the time it was conducted.
Currently, loot boxes are not defined as gambling because of the inability to trade them for real life monetary value, which is the true definition according to the Gambling Commission. Elsewhere, it's also been stated that the guarantee of getting an item for your money, no matter the value of the item, sets it apart from gambling.
KitGuru Says: At the very least, the government and the Gambling Comission seem to be working on a solution to ease people's fears. So far, the response is a lot more reassuring than I expected and hints at progress on what is a relatively new consumer practice.