The Big Dog robot developed by the now Google owned Boston Dynamics, has been exciting and scaring robotics fans for several years since its original test videos were released to the public. While initially expected to be a helpful pack-animal for the U.S. military though, the army contract has now been cancelled as it turns out the Big Dog is just too noisy to be useful in most military scenarios.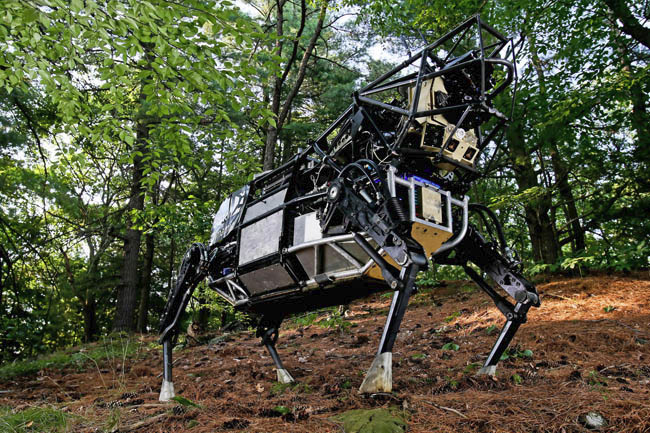 Such a regal animal
The Big Dog, officially known as the Legged Squad Support System (LS3), is a petrol powered automated robot that can follow allow behind troops, carrying supplies and equipment (up to 180KG) and can traverse complicated terrain without risk of becoming immobilized. It can also understand auditory and visual commands, letting soldiers tell it what to do in quick fashion when needed.
The problem however stems from its noisy engine. Being combustion powered, the LS3 is said to sound akin to a lawnmower (as per the BBC) which is noisy enough to give away the position of soldiers on the battlefield and itself, potentially making it easier to capture by enemies. It's also said to be difficult to repair, which considering its size and weight, could leave it stranded if something goes wrong.
[yframe url='http://www.youtube.com/watch?v=RDZu04v7_hc']
With that in mind, the military cancelled its plans for the LS3, citing the above issues. Boston Dynamics did respond with an alternative, an electric powered version known as Spot, but it too had difficulties. The lack of power compared to the combustion engine meant it could only carry 18KG, a weight easily handled by a single soldier and it has yet to be given the same automated functions as the Big Dog has.
[yframe url='http://www.youtube.com/watch?v=M8YjvHYbZ9w']
So for now, the military has shelved all support robots from Boston Dynamics and will perhaps revisit them when the technology is developed further. The robotics manufacturer will instead now focus its efforts in other sectors, perhaps developing new machines to operate within manufacturing and industry.
Discuss on our Facebook page, HERE.
KitGuru Says: This seems like a shame as Big Dog has been an impressive looking development for years. Perhaps it could be used in humanitarian efforts to reach hard to access areas? What do you think the LS3 could be used for?