When Don Mattrick made a pig's ear of the Xbox One unveiling, suggesting that users without decent internet should just buy an Xbox 360 among other things, no one thought he would be hired on by another large gaming company, but that's exactly what happened. Just a short while after his big gaff, Mattrick was hired by Zynga for millions and now, less than two years later, he's been ousted and Zynga stock has taken a beating.
Although the split has been described as "amicable," it seems hard to imagine that the mood at Zynga is a happy one. Mattrick was brought on to help turn around an ailing business, as it's continued to lose market share and profits throughout his tenure. With him now leaving, original CEO and founder of the company, Mark Pincus will be taking over the role as CEO, having left it to bring Mattrick on board.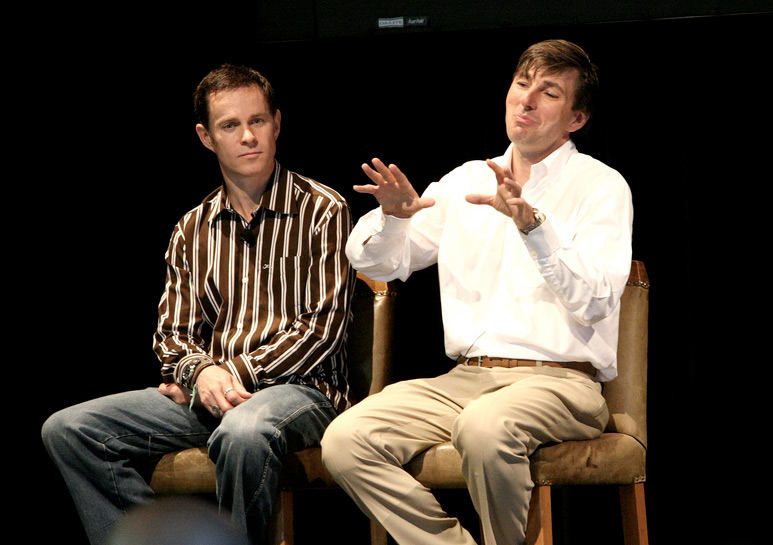 Mattrick (right) showing how he works the strings

Still, perhaps it's easy to see why Mattrick isn't too bothered about the split. He was initially signed on from Microsoft for $5 million in cash, $1 million a year for his salary and over $40 million in stock options; so he's done very well for himself as of late. As if to rub salt in the wound though, getting rid of him has cost Zynga even more, with the outgoing CEO being given a further $4 million, another $1 million as an annual bonus and Zynga will even help him sell some his shares, which could account for up to another $13 million.
That's almost $20 million for failing to do the job you were hired for and lots of industry veterans can't believe their ears. Todd Weidner, founder of Big Daddy Games stated: "These guys continue to fail all the way to the top. How much money did he get paid to be bad at his job? Must be nice to be in that club."
Following the news, Zynga's shares fell by more than 10 per cent, dropping to $2.6o per share in after-hours trading.
Discuss on our Facebook page, HERE.
KitGuru Says: It's bizarre that at a certain level you can be paid such large sums despite doing a poor job. The same certainly doesn't go for many other Zynga employees who have been let go in recent years.
[Thanks
GI
]
Image source: Kris Krug