As much as many cheered on Arab Spring protests in Africa and the Middle East over the past few years, it was obvious even in less developed countries that the technological disparity between protesters and governments is widening. So what can modern day protesters do to keep themselves safe from harm and surveillance when marching? Two NYU designers have a checklist that you should tick off before heading to one.
They are Pedro Oliveira and Xuedi Chen, part of the NYU Interactive Telecommunications Program. They believe that with the introduction of drone enforcement with non-lethal pepper spray and other weapons, the use of long range X-Ray equipment, increased facial detection technology and electronics tracking equipment, protesters need to better equip themselves in order to level the playing field.
With that in mind, the pair announced what they call, the Backslash Kit (via Ars), which offers protesters a number of options to counter brutality, surveillance and to better coordinate themselves to make their cause more secure.
The first item on the kit's list, is the Bandana. Looking like part urban camouflage, part QR code, the piece of cloth has a two fold purpose. Its patterning and placement help disrupt facial recognition technology, but based on the way it is folded, the pattern can also embed messages which foreign journalists and other organisations can pick up on and decode.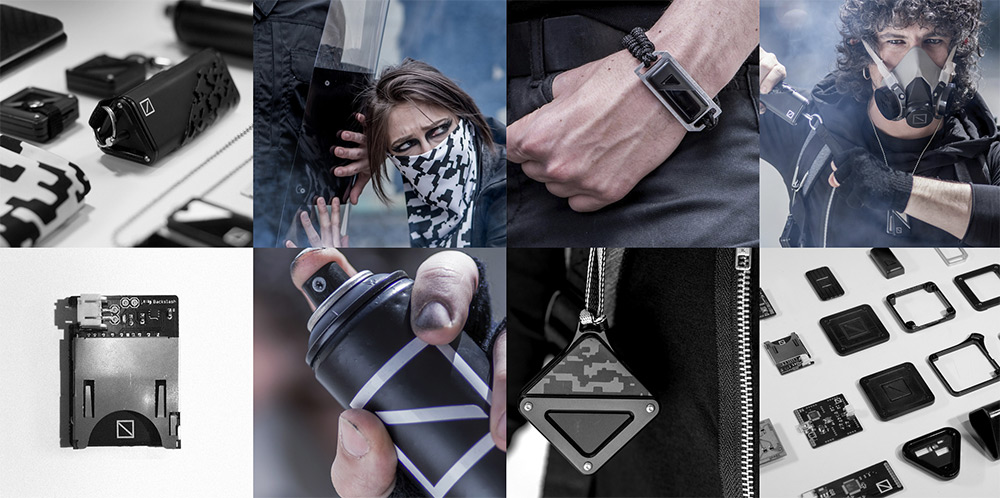 Next up are some slightly more technological products. The wearable panic button will make all nearby devices flash if pressed. That way protesters can let others know if they are being funnelled into areas without camera coverage, where arrests or beatings could take place without oversight.
The off-grid router allows for a quickly established offline network for local communication, should mobile reception or data traffic be shut down. When used in conjunction with the panic buttons too, a map of local protesters can be created. When used with the Personal Blackbox drive, images and video can be uploaded locally to a private cloud, allowing for upload online – without metadata – from a central location.
These gadgets should be combined with a jammer though, the designers say, as without it, law enforcement can gather data on smartphones and other electronics and use it to track down protesters weeks and months after the fact. There's also the possibility of remote killswitches which could shut down user electronics mid-protest, killing connectivity.
While less technologically impressive than the other gadgets here, a standard can of spray paint with some QR code stencils could let protesters know certain information about certain areas, without it being as obvious as a hand-made sign. It's also more durable too.
Discuss on our Facebook page, HERE.
KitGuru Says: This all sounds pretty smart, but we're sure that's not all the kit you'd want to take on a protest. What other gear, electronic or other wise would you show up with?