We often hear a lot about Australia and its woes with getting legitimate access to movies and TV shows from the US and elsewhere and how that has led to it becoming one of the biggest hotbeds of piracy in the world. In the UK things are a little better, with more available content, but it's still incredibly convoluted. In-fact, if you want to access all of the latest movies, you'd need to have accounts with more than two dozen different service providers.
This information comes from a recent study by research group KPMG, commissioned by NBC Universal to better understand the current state of availability in the UK. While a recent study of the US market painted a pretty rosy picture of availability, in the UK it turns out to be a bit of a mess.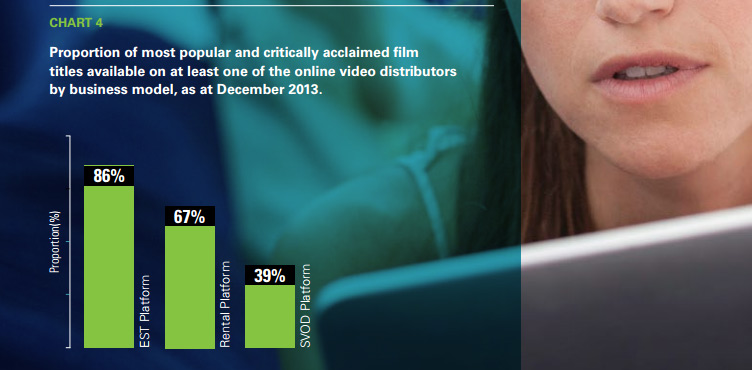 While stronger than the US, streaming film availability is still relatively poor
While the report starts strong, highlighting that you can legally watch most of the latest movies via some form of streaming or download platform in the UK, it turns out that to access around 86 per cent of said films, users would need to sign up to a total of 27 services. To even access 73 per cent, they'd need to sign up with at least five. As Torrent Freak points out, the telling thing there is that even with five separate digital accounts, users are still missing out on over a quarter of all the latest movies and TV.
The report highlights that some of the issues with streaming movies on platforms like Netflix in the UK, is related to the fact that Sky holds an exclusivity deal with many major studios, giving its Now TV and Sky packages access to a lot of content well before anyone else. However, it noted that this deal would be up for renewal and renegotiation in 2017-2018.
You can read the full KPMG report, here.
Discuss on our Facebook page, HERE.
Kitguru Says: Here's hoping that Sky loses that deal somehow, otherwise the UK is still going to be limited to Sky when it comes to many of the latest and most popular films.