A lot of publications are reporting this morning that Valve just made it possible for everyone to receive refunds on games they don't like within a 14 day period of purchase. If true, that would be great and would show a real about turn from the company that has been taken to court in some countries over its lack of after-purchase support, but it's not the case. Instead, the updated subscriber agreement is actually designed to waive EU rights to a 14 day returns policy.
The bit of the new agreement – spotted by Redditor Punkun – that everyone is getting so excited about is the following:
"If you are an EU subscriber, you have the right to withdraw from a purchase transaction for digital content without charge and without giving any reason for a duration of fourteen days or until Valve's performance of its obligations has begun with your prior express consent and your acknowledgment that you thereby lose your right of withdrawal, whichever happens sooner. Therefore, you will be informed during the checkout process when our performance starts and asked to provide your prior express content to the purchase being final."
That all sounds fine and dandy, until you pick out the part that says "until Valve's performance of its obligations has begun." In the real world, this would translate to 'no-refunds if you used it,' but in the digital world, this obligation could begin as soon as you've finished paying for the product. While this agreement doesn't expressly say that that will happen – leaving the language ambiguous enough that you could think it takes place as the download begins, or once you begin playing – the text during an actual purchase makes it much clearer.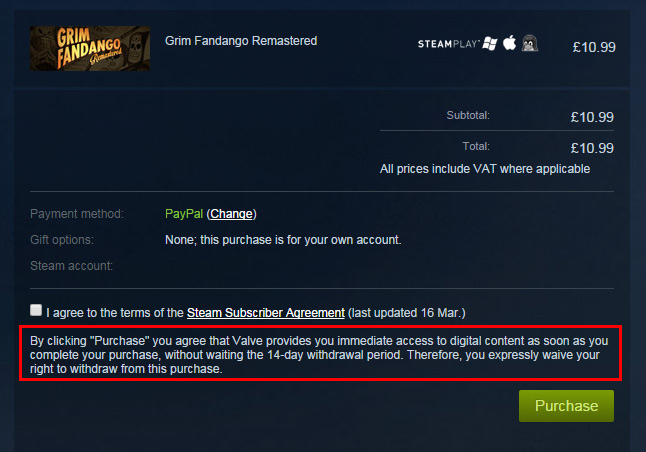 Attempting to buy a game on Steam within the EU at the moment gives the following message:
"By clicking "Purchase" you agree that Valve provides you immediate access to digital content as soon as you complete your purchase, without waiting the 14-day withdrawal period. Therefore, you expressly waive your right to withdraw from this purchase. "
EU law for the right to withdrawal for digital content currently gives anyone the right to receive a refund as long as they haven't downloaded or streamed the product. This is to stop people abusing a law that was designed to protect people shopping online. What Valve's updated subscriber agreement does is do away with even that, making the purchase itself the line that when crossed, no refunds will be given.
Discuss on our Facebook page, HERE.
KitGuru Says: In short, don't expect Valve to give anyone refunds any time soon. However, it would be interesting to see how this stood up in court, as Valve appears to be sidestepping EU law with its new agreement.