Advanced Micro Devices has demonstrated its roadmaps for the next five years. While the company did not disclose almost any details about its future products, it is important that AMD actually has plans that can be executed.
AMD's Junji Hayashi demonstrated a number of slides revealing the company's roadmaps at the PC Cluster Consortium event in Osaka, Japan, reports MyNavi. The presentation confirms that the company has plans for ten years down the road. AMD will continue to develop central processing units, graphics processing units and hybrid accelerated processing units, just like today.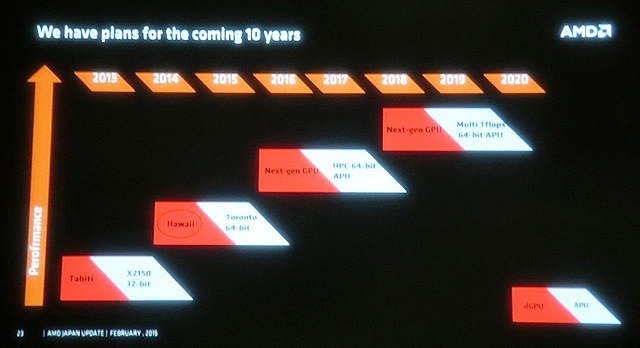 AMD will keep on releasing all-new graphics processing units every 1.5 – 2 years, like it does nowadays. The company will upgrade its APUs with new general purpose cores as well as graphics processing cores. Sometimes in 2018 – 2019 the company's APUs will be so advanced that they will offer multi TFLOPS performance. The company also plans to offer APUs for high-performance computing markets.
It is interesting to note that AMD will not cease development of classic microprocessors without graphics cores. While the company did not disclose details about its chips featuring next-generation Zen and K12 cores, it did imply that they will feature a technology akin to Intel's Hyper-Threading.
The Sunnyvale, California-based chip designer also reaffirmed plans to develop pin-to-pin compatible system-on-chips with ARM or x86 cores. As reported, AMD's "Skybridge" accelerated processing units with ARM Cortex-A57 or Puma+ cores are designed for various consumer applications, including notebooks, tablets and 2-in-1s.
Discuss on our Facebook page, HERE.
KitGuru Says: While it is nice to see that AMD has plans for the future, it would be great to learn actual details about its forthcoming products and analyse how competitive will they be against those offered by Intel and Nvidia.