Testing a case consists of finding out how the chassis deals with heat generated by the installed components, and how much noise it produces while doing so.
To create excess heat, I ran Prime95 26.6 and 3DMark Fire Strike simultaneously to stress both the CPU and GPU. After 15 minutes, I recorded the maximum temperature for each component to report here.
To test the Sapphire RGB, I installed the following components:

Intel i7-4790K CPU
Arctic Liquid Freezer 240 CPU cooler
16GB Corsair Vengeance 2400MHz DDR3
Gigabyte Z97X-SOC Force Motherboard
GTX 760 Reference GPU
Corsair RM750x PSU
OCZ Trion 150 SSD
Thermal dynamics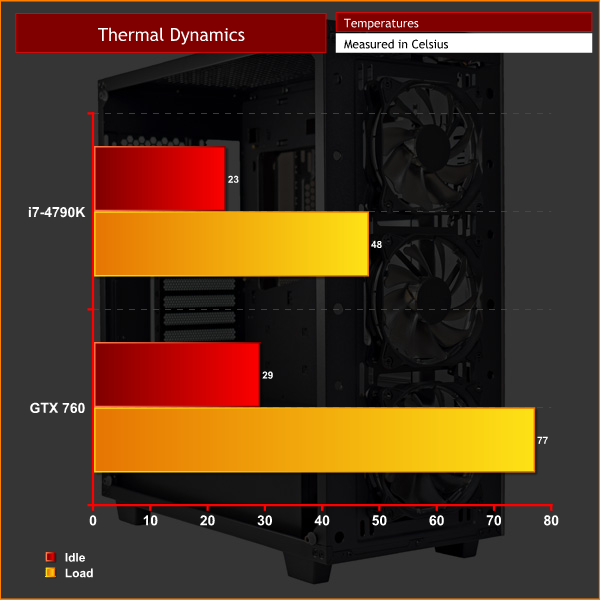 As you can see, thermal performance is very good. I did use a class-leading liquid cooler in the Liquid Freezer 240, but the 3 intake fans at the front of the chassis supply a good amount of air to the GPU as well, for which a 77 degree peak temperature is very good.
Acoustics
Thanks to the integrated fan controller, the Sapphire RGB can be as loud or quiet as you like. Incidentally, the fan controller can be set to 'low,' 'high,' or 'off'. The low setting is a mere whisper, while the high speed is definitely audible but it would be easily drowned-out by any pair of headphones.
I really like the 'off' setting, though, as it is very satisfying to completely switch-off your fans when you are just doing basic tasks – web browsing or emailing, for example. The ability to have a completely silent system available at the touch of a button is definitely a feature I appreciate.