be quiet! has been well known for their premium, low noise cooling solutions for many years. Products such as the Dark Rock Pro 3 and 4 have made be quiet! highly regarded by enthusiasts and system builders alike. They also have a great line up of power supplies and cases.
Today, we have a new case from their budget line up, the Pure Base 500, which is available in three colours; black, white and a metallic grey, which is the one we are examining. be quiet! say the Pure Base 500 offers outstanding price-performance ratio.
Together with the three colour options, the case has other features such as an interchangeable top cover, which can be swapped between a noise reducing or mesh filter panel, depending on the focus of the system build.

The Pure Base 500 is be quiet!'s first approach to a compact ATX case. It stands just 57mm taller, 20mm wider and 25mm deeper than the mATX Cooler Master Silencio S400 which we recently reviewed. Despite its smaller size, the Pure Base 500 packs an abundance of interesting features.
What's more impressive is the Pure Base 500 is said to be capable of housing up to a 360mm radiator in the front, a 240mm radiator in the top and a 120mm in the rear. It will be interesting to see how be quiet! have made this possible in such a small unit.
Other features of the be quiet! Pure Base 500 include a tempered glass side window panel, front mesh vented slots on either side, removable front and lower dust filters, five SSD mounting points and an adjustable and removable 3.5" HDD cage.
With all be quiet! products, there is a focus on low noise output. This theme continues with the Pure Base 500, where you will find sound deadening material lining on the front panel, right hand side panel and on the interchangeable low noise top panel.
Pure Base 500 is the second chassis in the Pure Base product range. As indicated by the number "500", it is smaller than the Pure Base 600. The case is positioned in a competitive price range, but with unique design choices such as a changeable top cover, an SSD mounting panel, and two preinstalled 140mm fans – be quiet! hopes this will set it apart from the competition.
Available from September 17th for around £80, it comes with a choice of side panels available in either a tempered glass or solid panel lined with sound deadening material, so should appeal to many.
Pure Base 500 features include:
Versatile design with an alternative air-permeable top cover panel for water-cooled builds
Support for water cooling radiators up to 360mm in length
Two pre-installed Pure Wings 2 140mm fans
Insulation mats in the front, side and regular top cover
Prominently placed SSD installation bracket with integrated cable management
Clean looking PSU shroud provides hidden double HDD cage
Space for high-end components and cooling
Removable dust filters at the front and bottom
Available with or without tempered glass side window
Black, metallic grey or white models available
Technical Specifications
Dimensions (L x W x H in mm) – 450 x 231 x 463
Weight (kg) – 6.95 (net) / 7.92 (gross) 7.53 (net) / 8.49 (gross)
Case Type – Midi Tower
Material – steel (SGCC), ABS plastic, tempered glass
Motherboard support – ATX, M-ATX, Mini-ITX
Front I/O – 2x USB 3.0, HD Audio (microphone + audio)
Max. cooler height (mm) – 190
Max. graphics card length (mm) – 369
Max. PSU length (mm) – 258 / 225 (depending on position of the HDD cage)
PCI slots – 7
3.5" bays – Up to 2 (2 included)
2.5" bays – Up to 5 (5 included)
Preinstalled cooling fans (mm) / (rpm) – Front: 1x Pure Wings 2 140mm / 900 Rear: 1x Pure Wings 2 140mm / 900
Optional, additional cooling fans (mm) – Front: 1x 140 / 3x 120 Top: 2x 140/120
Radiator support (mm) – Front: 120, 140, 240, 280, 360 Top: 120, 240 Rear: 120, 140
Additional features – Sound insulation mats (front and regular top cover), sides
Packaging of the Pure Base 500 comes in the form of a standard brown carboard box with an image of the case, the be quiet! logo and Pure Base 500 printed on the front. On the rear is an exploded diagram with key features to the side.
Internal packaging consists of thick polystyrene, protecting the top and bottom of the case. The whole product is then wrapped in a plastic bag.
Accessories bundled with the case include various screws for fixing components such as HDDs, SSDs, a handful of zip ties for cable management and a magnetic interchangeable top mesh panel, which can be swapped for the pre-installed sound insulated panel.
The Pure Base 500 continues the minimalist look, which manufacturers seem to be favouring in 2019. Although it does have some design features which separate it from the plain box looking shape – the corners of the front panel are chamfered and the front I/O is angled downwards slightly.
The front I/O consists of 2 x USB 3.0 Type-A ports, a large central power button with 3.5mm headphone and microphone jacks to the right. Along both sides of the front panel are mesh vents approximately 25mm wide and an open filtered vent at the bottom which doubles up as a grip to remove the front panel.
There are seven PCI-e slots on the rear, along with a large lower cut out for the PSU, a grille covering the rear fan mounting and below that, the usual motherboard I/O cut out. The bottom of the Pure base 500 features a large vent for the PSU fan and four feet with rubber soles.
Pure Base 500 is shipped with a magnetic, sound-insulated top cover, featuring air vents for improved airflow towards its rear. An alternative mesh top cover is included, which would be advisable to use when mounting a 240mm radiator or two fans..
The full-sized bottom dust filter is easily removed by pulling it out from the front. The front dust filters can be accessed by removing the front panel: the left and right air intakes feature separate dust filters and the bottom vent/grip, which is used to remove the front panel, is also protected with a dust filter.
A tempered glass left hand side panel enhances the Pure Base 500's elegant look and offers enthusiasts a view inside their PC. The white and metallic grey versions of the case feature a windowed side panel of clear glass, while the black version of the Pure Base 500 has a tinted windowed side panel.
Staying true to its brand name, be quiet! includes noise reducing insulation mats in the Pure Base 500. The front panel, the non-windowed side panels and the silent top cover feature insulation mats.
Removal of the exterior panels is quite simple. The front panel removes with a sharp pull from the bottom. The tempered glass side panel is located on four rubberised mountings and fixed in place with thumbscrews. The right-hand steel panel is fixed with two captive thumbscrews and pulls away to the rear for removal.
The Pure base 500 is primarily constructed of steel with an ABS plastic front panel and optional tempered glass side window panel. The overall quality is good for a budget case – nothing feels too flimsy. The metallic grey coating is a good colour match between panels and evenly applied.
Overall, we quite like the look of the exterior. The chamfered front corners give it a bit of shape and the mesh vents break up the panel joints. Not everyone may be a fan of the metallic grey colour though – in certain lights it can have a very slight brown/gold tinge to it.
Moving on to the interior of the case, we can see the metallic grey coating continues throughout which adds to the already pleasing aesthetics. Again, the coating seems to be a great colour match and evenly applied to all areas.
Once you take a deeper look into the interior, you realise plenty of time has been spent on the design. Incorporated are some smart features, such as the removable SSD panel, adjustable and removable HDD cage and ample room for radiators and fans.
There are options to mount radiators with up to 360mm in length and 140mm in width in the Pure Base 500's front mounting frame, while the top holds radiators up to 240mm without any problems. The rear mounting position can fit either a 120mm or 140mm radiator.
In addition to the Pure Base 500's two pre-installed Pure Wings 2 140mm fans, up to three 140mm fans can be installed in the case, adding up to five 140mm fans in total. Alternatively, up to six 120mm fans fit into the chassis.
Even in such a small case, be quiet! has made it possible to install a full size ATX motherboard. However, it does appear to be a tight squeeze – we will find out for definite during installation. Obviously, the Pure Base 500 will also accept mATX and mini ITX motherboards too.
Ample space for storage devices is provided in the Pure Base 500.  A double HDD cage is hidden underneath the PSU shroud and, as the name suggests, it fits up to two 3.5" drives. The HDD cage can be placed in three positions to provide extra clearance or removed completely.
Up to two SSDs or 2.5" drives can be mounted out of sight behind the motherboard tray and two additional SSDs can be installed on the SSD panel to the right of the motherboard. Instead of two 3.5" HDDs in the double HDD cage, users can opt to mount a fifth SSD.
A full cover PSU shroud has been implemented in the Pure Base 500, although it leaves the power supply quite exposed with the triangular grid design grille allowing the PSU to be seen. We would prefer this to be completely closed for a cleaner look.
Cable management seems to have been catered for well in the Pure Base 500. be quiet! have included Velcro strips and plenty of eyelets on the back of the motherboard tray. The SSD panel also serves as an innovative passthrough for cables from the back of the case to the motherboard and can be removed to facilitate the installation process.
Although we found the process to be relatively simple, the Pure Base 500 does throw up some issues during installation, which may prove troublesome for novice or DIY system builders.
Installation of the motherboard created our first problem. Fitting of our Gigabyte Z390 Aorus Master was extremely tight. We had to remove both the rear fan and SSD panel to allow clearance to place the board in position. Even then we found it difficult to line up the motherboard to the stand offs – this may have been due to the armour back plate on the Aorus Master.
To test radiator clearance at the front of the case, we decided to fit a Thermaltake Floe DX 360mm AIO. Surprisingly this was very straight forward and once completed, there was still ample space to install the GPU. getting to the lower fan screws was tricky but not impossible.
For the full potential of the Floe DX's RGB lighting to be viewed, we installed the radiator in a pull configuration. This meant mounting the radiator on the outer side of the front mounts. Again, we found no problems – the front panel fitted back on perfectly.
In our tests coming up later, we will be comparing thermal and acoustic performance of the Pure Base 500 with both AIO liquid cooling and large Air coolers. The chosen air cooler is the be quiet! Dark Rock Pro 4. Installation in the Pure Base 500 was straightforward, there was approximately 25mm of clearance to the tempered glass side panel once installation was complete.
There are three areas where the SSD drive can be installed in the Pure Base 500. We chose to install on the SSD bracket to the rear of the motherboard. This was a simple process – we especially liked the removable nature of the panel, meaning the motherboard didn't need to be removed to screw the SSD in place.
Also removable for installation is the HDD cage. Moving parts such as mechanical hard drives easily create noise-inducing vibration. be quiet! has overcome this problem with rubber decoupling grommets to suppress noise from the HDD.
We found plenty of room to install our Gigabyte RTX 2070 Super GPU in the Pure Base 500. The rear PCI-e slots are covered with a shield and when both thumbscrews are loosened off, it allows installation/removal of PCI-e devices by sliding the shield away from the slots.
Another feature we like about the Pure Base 500 is the PSU installation method. be quiet! have included a removable rear PSU mounting plate which makes installation of the PSU easy compared to trying to slide it in from the side, which most cases in this price bracket force you to do.
So, to install the PSU, detach the rear mounting plate and screw this to the rear of your PSU, then simply slide the PSU in place from the rear and secure with the four captive thumbscrews. Once installed, there is plenty of room to attach and remove cables if your PSU is modular.
Cable management is a key feature in todays PC builds. In most areas, the Pure base 500 excels with many cable cut outs and tie down eyelets. However, there are one or two issues. Firstly, no rubber grommets are fitted to the cable cut outs which could cause chaffing over time.
Secondly, our main bugbear with the cable management is the cut out on the removable SSD panel. When installing the 24-pin power connector, we could not manipulate the cable through the cut out as we desired. So, either the cable was stuck out of the case side too far or it had to be angled downwards for clearance.
Build Gallery
Acoustic Testing
Being a be quiet! product, there is a focus on near-silent operation with the Pure Base 500. Therefore, we have devised a simple series of tests to compare the acoustic performance with the case set up in various configurations.
These tests will involve taking sound level readings with our sound meter from approximately 300mm from the front of the case, at idle, under 100% CPU load and under 100% GPU load.
Sound levels will be measured in dBA after 5 minutes at idle in Windows. CPU load noise levels will be measured by running AIDA64 stressing CPU, FPU and cache for 10 minutes. GPU load noise levels will be measured by running AIDA64 GPU stress test for 10 minutes.
CPU and case fan profiles will be set to their silent operating mode in the Gigabyte Z390 Aorus Master's bios and GPU fans set to their default fan curve. The CPU cooler used in acoustic testing will be a be quiet! Dark Rock Pro 4 for air cooling and a Thermaltake Floe DX 360 for AIO liquid cooling comparisons. Case fans are the two pre-installed be quiet! Pure Wings 2 140mm fans.
The ambient noise level (noise floor) in our test room is measured at 37.4 dBA.
Thermal Performance Testing
As with every case we review, thermal performance is important, therefore, we shall test this by running another series of tests to measure temperatures both at idle and under load.
To fully stress test the system, we will run AIDA64 for 10 minutes stressing CPU, FPU, Cache and GPU with the case in various configurations. With this data, we can compare how each scenario affects thermal performance.
We will also compare the system's thermal capabilities with both air cooled and AIO liquid cooled solutions for the CPU. For air cooling, we will be using a be quiet! Dark Rock Pro 4 and for liquid we will use the Thermaltake Floe DX 360mm AIO.
During thermal testing, only stock case fans will be used. All fans and pumps (where applicable) will be set to 100% to test raw cooling performance.
All temperature measurements are presented as deltas – the ambient temperature has been deducted from the CPU/GPU temperature giving us a delta.
The following configurations will be used to test the affect they have on thermal and acoustic performance:
Tempered glass side panel installed with insulated top panel;
Tempered glass panel installed with mesh top panel.
Tempered glass panel removed with silent top panel installed;
Test System
Processor: intel Core i9 9900k @ stock frequency and voltage
Motherboard: Gigabyte Z390 Aorus Master
CPU Cooler: (Air) be quiet! Dark Rock Pro 4, (AIO) Thermaltake Floe DX 360
Memory: 16GB G.SKILL Trident Z RGB 3200MHz DDR4
Graphics: Gigabyte RTX 2070 Super Gaming OC 8GB
Power Supply: Seasonic Focus platinum 850PX
Storage Drive: Corsair Force LE 120
OS: Windows 10 version 1903
With the case in various forms of configuration we can measure what effect this has on acoustic performance: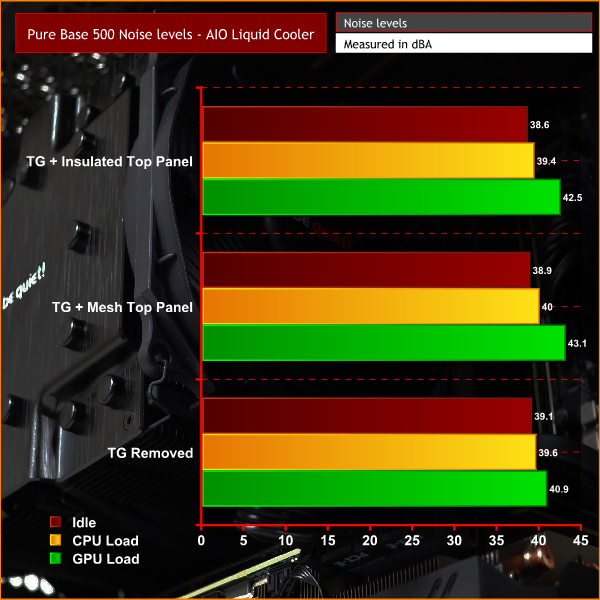 With the AIO liquid cooler installed, noise levels were at their lowest when the tempered glass panel was removed. This is a trend we often see as thermal dissipation improves with the side panel removed, therefore both CPU and GPU fans RPM are lower, so omit less noise.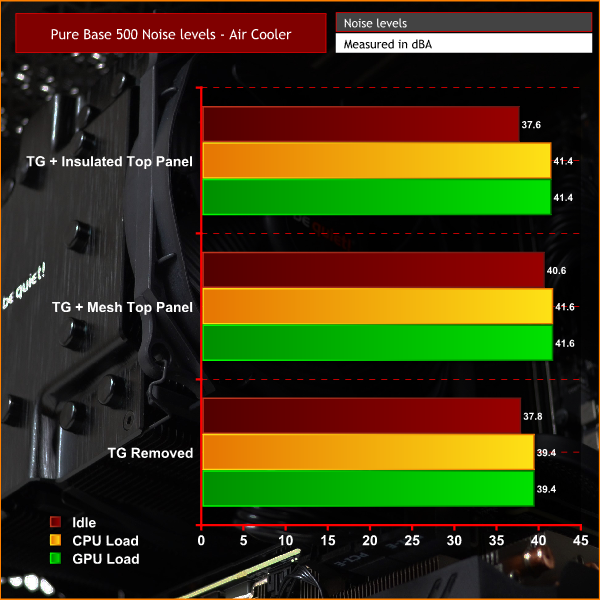 Both charts show us the Pure Base 500's acoustics does slightly benefit from having the insulated top panel installed compared with the mesh top. Again, with the CPU air cooler installed, noise levels were at a minimum with the tempered glass side removed.
Overall the Pure Base 500 does a good job with acoustics. The design features be quiet! have implemented seem to be working well.
With the case in various forms of configuration we can measure what effect this has on thermal performance:
All temperatures measurements are presented as Delta temperatures, the ambient temperature has been deducted from the CPU/GPU temperatures giving us a delta.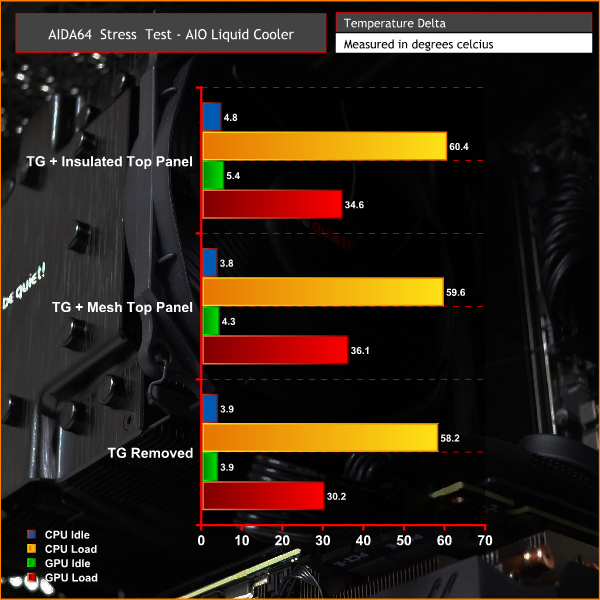 As mentioned in the acoustic test we find load temperatures to be at their lowest with the tempered glass side panel removed. GPU temperature is most affected as the heat generated can escape from the case more quickly.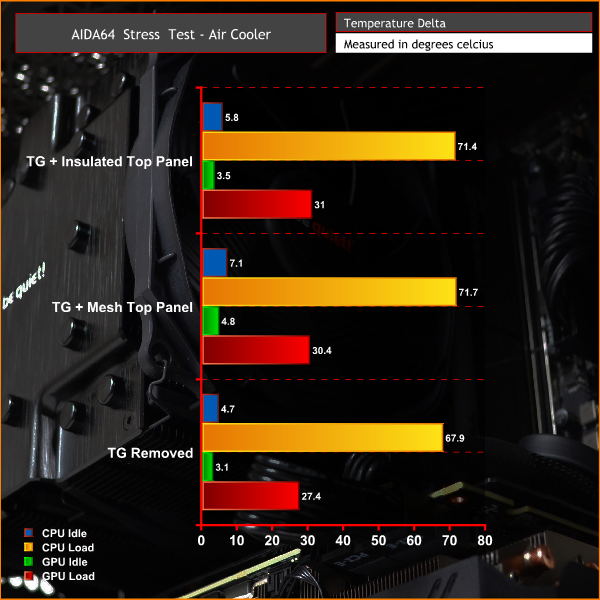 Both CPU and GPU temperature with the insulated or mesh top panels are barely affected. Again with an air cooler installed, thermals are improved with the tempered glass panel removed, but to a lesser affect than with an AIO cooler.
With the 360mm AIO installed temperatures were well under the thermal limits of our Core i9 9900k CPU in the Pure Base 500. With the Dark Rock Pro 4 air cooler, temperatures were still under control but were significantly increased. Overall the Pure base 500 does a reasonably good job with thermals.Taken as a whole, the be quiet! Pure Base 500 is a good budget ATX case. While still maintaining the minimalistic look we have come to expect in 2019, the aesthetic design features, such as the angled front corners and mesh panel accents provide an alternative to the plain box shape we often see.
The metallic silver may not be to everyone's taste – in certain light it can look a little off brown colour, so it may not fit in with most systems when placed next to other black peripherals. We guess it will be a love or hate thing.
In terms of acoustic performance, we were mostly pleased. The insulated panels be quiet! have designed into the Pure Base 500 seem to work, although not to an extreme extent. Noise levels were not impacted a great deal when changing the configuration of the top panel. Overall, Acoustics were not too distracting. With a quiet, large air cooler installed, acoustics were just a few dBA above ambient levels in the room.
One thing which really impressed us about the Pure Base 500 was the excellent options for cooling. be quiet! have created the possibility to install multiple radiators, which is often only found in cases of a higher cost. We applaud them for this, as it offers us scope for cooling more than one component with liquid.
It is also nice to see the case is wide enough to fit a high-end air cooler, such as the Dark Rock Pro 4 we installed in this review. Other cases in this price range suffer with width, which makes installing high end air coolers a problem, especially with tall ram modules which can increase the height of the front fan on an air cooler.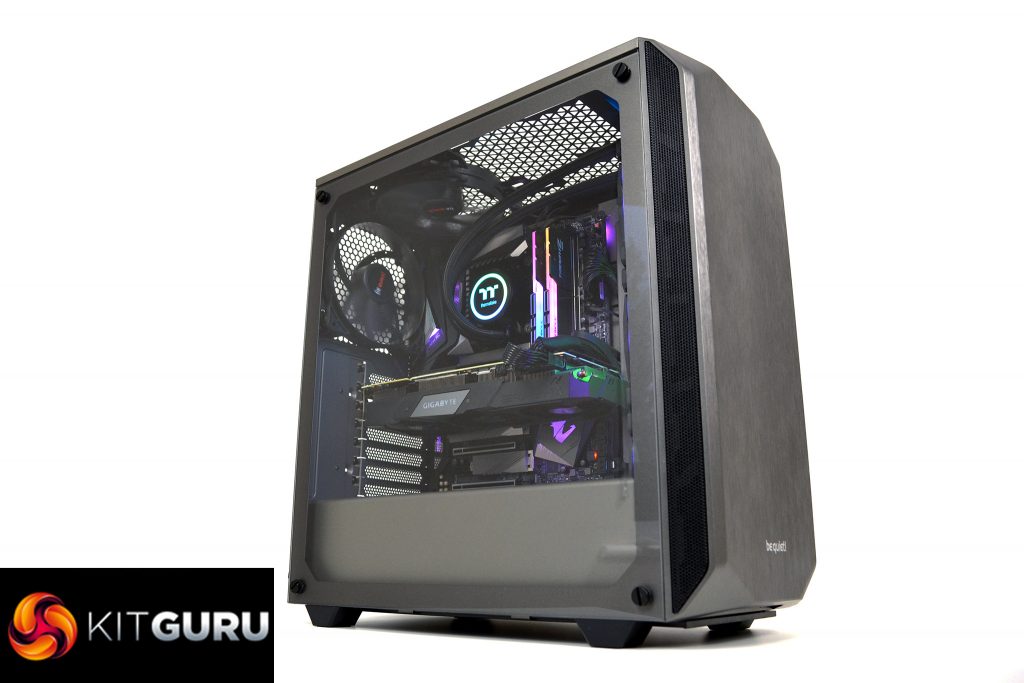 Thermal performance of the Pure Base 500 seems to be at a very acceptable level for a case in this price range. With a front mounted AIO liquid cooler, temperature of our i9 9900k was kept well under control. Using a high-end air cooler will achieve good results on a stock CPU too in the Pure Base 500.
During system installation, we did encounter some issues. The full ATX size motherboard we used was a tight squeeze – fans and panels had to be removed for installation. Considerable pressure was required to line up all the motherboard stand offs to enable the motherboard to be fixed in place.
be quiet! have given us plenty of cable management cut outs and eyelets in the Pure Base 500. We were a little disappointed with the lack of rubber grommets around the cut outs – the minimal extra cost to implement these would have outweighed the benefit in our opinion. The SSD panel next to the motherboard did create a long cable management cut out, however the width caused us problems with the orientation of the 24 pin power cables.
The Pure Base 500 uses a semi-modular design and removable SSD and HDD mounting panels aid installation, which is a great feature. The installation of the PSU from the rear is also nice to see and makes PSU installation easier than from the side.
A full cover PSU shroud is designed to hide away untidy looking cables. Unfortunately in this instance, be quiet! have cut out a grille on the top of the PSU cover. We would have preferred this to have been blocked off as you can still see the PSU and cabling which detracts from the otherwise clean looks of the interior.
Overall, when taking price into consideration. the be quiet! Pure Base 500 offers excellent performance. The features implemented are often seen only on cases in a higher price range. Therefore, we would be happy to recommend this case to enthusiasts on a budget. With the excellent range of cooling options, the Pure Base 500 would be capable of housing a mid-range gaming PC and shouldn't look out of place in a home office scenario.
The Pure Base 500 (grey, with tempered glass side panel) is currently up for pre-order for £84.95 from Overclockers UK HERE. You can find other colours, with solid panel or glass, HERE.
Pros:
Excellent options for cooling.
Smart semi-modular design.
Clear tempered glass give a good view of internals.
Sound insulated panels.
Good acoustic and thermal performance.
Many areas for cable management.
Cons:
ATX motherboard installation was tight.
Lack of grommets on cable cut outs.
PSU shroud grille design looks untidy.
KitGuru says: With many great features to set the Pure Base 500 aside from other cases in this price range, it is a worthwhile option for budget system builders and mid-tier gaming builds.