A minimalistic, all black design continues to the interior of the case, which is in keeping with the exterior. At the front, we can see there is ample room for cooling. There are options to mount up to two 120mm/140mm fans or one 240mm/280mm radiator. However, to install a radiator, the 3.5" HDD cage may need to be moved further back from its original position.

Above the fan/radiator mounting is the 5.25" drive bay. This can hold either an optical drive or a 3.5" HDD. This, too, can be completely removed.
The motherboard tray section can support either Micro ATX or Mini ITX motherboards. Along the top, right, and bottom sides of the tray, there are ample amounts of cable cut outs. Cooler Master has done a great job with these, as sometimes in cases of this price range, cable cut outs are poorly thought-out – but that is not the case here.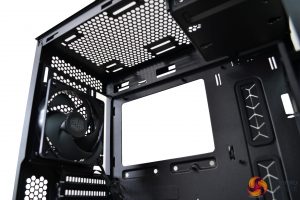 At the top of the case, there are mounting points for either two 120mm or 140mm fans. To install two fans would require complete removal of the 5.25" bay. It may be possible to fit a narrow radiator up to 280mm but, with only 50mm clearance above the motherboard, it may prove difficult.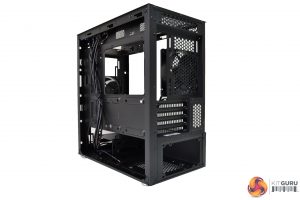 In the rear panel of the case, there is a mounting position for a single 120mm fan or, potentially, one 120mm radiator. The mounting has elongated holes, so the position of the fan can be adjusted vertically.
There is ample space for storage, too, with a total of four mounting points for 2.5" drives. Two are located on top of the PSU shroud and two are on the rear of the motherboard tray.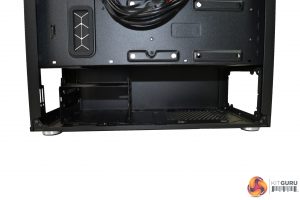 A 3.5" HDD cage is installed in the bottom of the case, covered by the PSU shroud. In total, three drives can be mounted to this cage. One is hard mounted on the very top and two others have tool free brackets to mount inside the cage.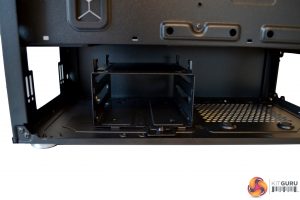 It is possible to install the 3.5" HDD cage in three positions, enabling extra clearance for larger power supplies. Simply loosen and remove the retaining thumb screw to release the HDD cage and transfer it into whichever position suits your PSU. Refit the thumb screw to hold it in place.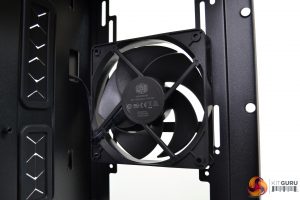 With the S400 case, there are two Cooler Master FP120 PWM fans included and a three-way splitter cable is also provided so you can connect them to a single fan header. The FP120 PWM fans feature specially designed blades that allow both quiet operation and high air pressure.