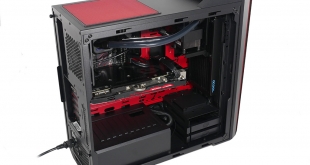 On the face of it, the new MasterBox 5t case from Cooler Master looks interesting because it is superficially similar to the much more expensive MasterCase Maker 5t with its nifty black and red colour scheme. The idea, clearly, is that enthusiasts who are in the market for a proper PC case can get a certain amount of style and sophistication without breaking the bank.
In fact we at KitGuru feel the MasterBox 5t is interesting for a different reason as it has been positioned as an update to the basic MasterBox 5 (a case we never saw at KitGuru) that fixes some obvious problems and adds a couple of new features. In the process the MasterBox 5t has been changed so much it has actually become a new case and that is why we find it intriguing.
Probably the biggest change between the MasterBox 5 and 5t is that you can now install a 360mm radiator at the front without any need to faff around with adapters or brackets. The front part of the top of the case (where you might expect to find an optical drive bay) have been extended upwards to form a carry handle. You could also, if you choose, stash your USB flash drives in that area.
To our eyes the inclusion of a fan mount and exhaust vent directly above the CPU is also a good move.
Specification:
Available Colour        Black
Materials                     Steel body, Plastic mesh bezel
Dimensions (LxWxH) 541mm x 220 mm x 514mm
Motherboard support ATX, Micro-ATX, Mini-ITX
Expansion slots           Seven
Optical drive bays       None
Drive bay                    2.5-inch/3.5-inch   Two
SSD Bay                     One
I/O Panel                     2x USB 3.0, audio in and out, fan speed high and low
Installed fans               1x 120mm front and rear
Fan support                 1x 120mm/140mm top, 2x 140mm or 3x 120mm front, 1x 120mm rear
Radiator support         280mm/360mm front, 120mm rear
CPU cooler clearance 167mm
PSU clearance            180mm
GPU clearance            410mm
Building a PC inside the MasterBox 5t is straightforward as you have plenty of space. We chose the components for our build to maintain the black and red colour scheme so the graphics card is an enormous Asus ROG R9 390 that shows you can install even the largest GPU in this budget case. Our motherboard is a tiny ITX Asus Z170i Pro Gaming, chosen to give our Skylake Core i7-6700K an outing before Kaby Lake takes over and also, again, because of the colour scheme.
The liquid cooling set-up uses a 240mm Alphacool radiator and XPX CPU block along with an EKWB DDC pump/reservoir. The choice of black Mayhems coolant with clear tubing might be unusual but we rather liked the finished look and it certainly fitted the colour scheme.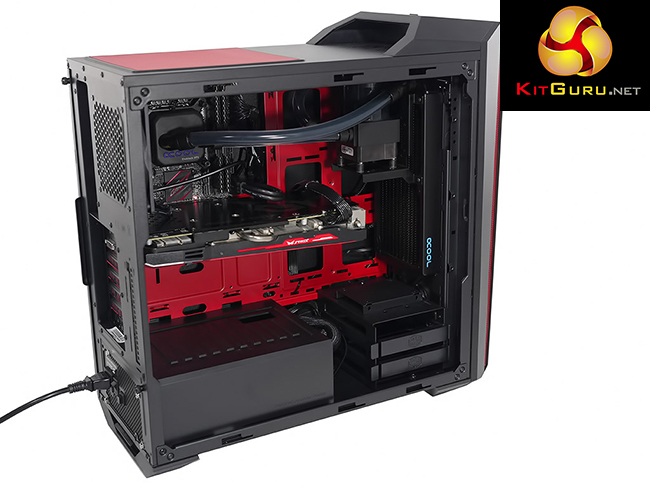 You can remove the power supply cover or leave it in place, however one weakness with this case is cable management as it is tough keeping things tidy and we strongly recommend you leave the cover alone. In our build that means our lovely Seasonic Prime Titanium was covered up and out of sight, which is a crying shame.
Routing cables is easy enough and Cooler Master has supplied a great many cable tie anchor points, however the construction of the case with those six huge cut-outs for mounting SSD/HDD drive trays means the cables are likely to be on show. We figure most people will be happy using just the two drive caddies that are located in front of the power supply.
The highly reflective Dark Mirror front panel is translucent so if you install LED fans you should see them from the outside. While we like the look of this panel we could see that front air flow comes via the meshed slots at the sides of the panel and that there is no separate air filter behind the panel. It would have been interesting to have the option of the Mesh Flow front panel that is available for the basic MasterBox 5 to see whether that has a significant impact on air flow.
Testing
To put this case through its cooling paces we will be using a test system consisting of an Intel Core i7-6700K, an ASUS R9 390 graphics card and an SSD. This system allows us to produce a substantial amount of heat and effectively test the Cooler Master MasterBox 5t's cooling capabilities.
For stress testing we use AIDA64 to create the maximum heat output to stress our CPU and GPU.
Test System:
Processor: 4.0GHz/4.2GHz Intel Core i7-6700K
Motherboard: Asus Z170i Pro Gaming
CPU cooler: Custom loop – Alphacool and EKWB
Memory: 16GB G.Skill TridentZ DDR4-3200MHz
Graphics card: Asus Radeon R9 390 8GB
Power supply: Seasonic Prime Titanium 750W
Storage drives: Kingston SSDNow SATA M.2
OS: Windows 10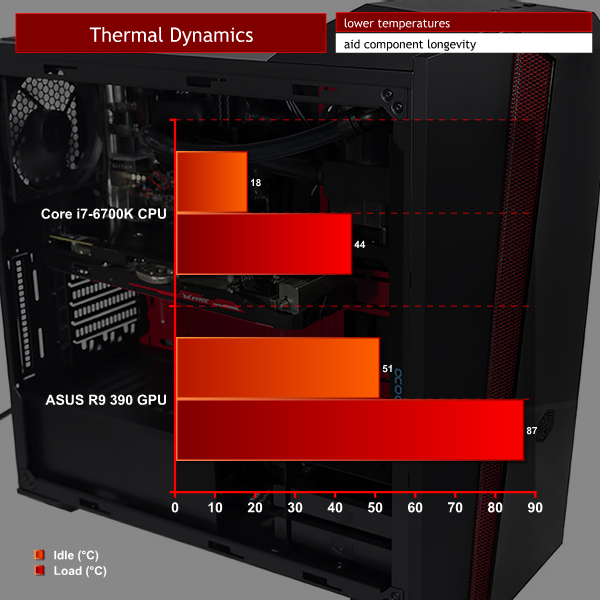 Cooling Performance.
Temperatures inside the MasterBox 5t were good and the open structure of the chassis meant our Core i7-6700K ran at 44 degrees under extreme load. Predictably the Asus R9 390 graphics card sat just below 90 degrees. Clearly the CPU temperature benefits from our choice of custom loop hardware but any decent cooler should work well inside this case.
Closing Thoughts.
Cooler Master has aimed the MasterBox 5t at the lower end of the market, in the sense that is it cheaper than the Master Case 5. It helped Cooler Master's cause significantly that they cut the price immediately before launch from £90 to £75 as there are many enthusiast cases on sale at £90 whereas £75 is just about budget territory. It is a fine line and Cooler Master tipped the MasterBox 5t out of one category and down to the one below.
The hardware looks good but offers few exciting features. The open structure inside the chassis assists air flow and the exhaust vent above the CPU was an obvious improvement to make over the basic MasterBox 5.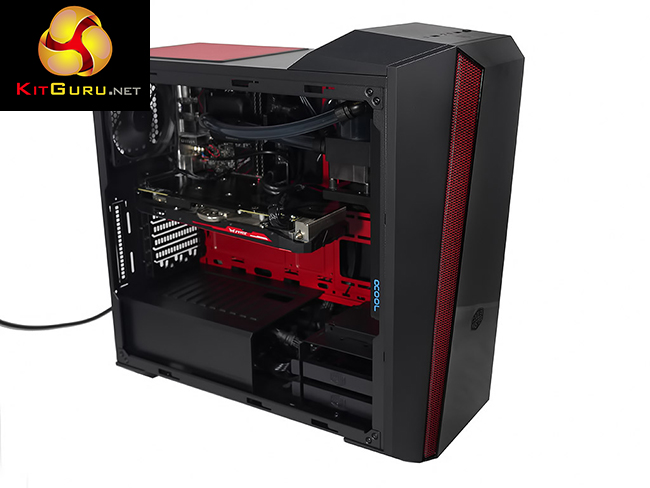 Probably the stand-out feature for this case is the carry handle. If you think you might want to cart your PC around the house or perhaps take it to a LAN party the MasterBox 5t has something to offer.
On the other hand if you want a conventional PC case and aren't fussed whether you have an optical drive bay, we recommend you decide whether or not you like the styling of the MasterBox 5t. If it looks good to you, then take the plunge and break out your credit card.
Pre-order from Amazon for £74.99.
Discuss on our Facebook page, over HERE.
Pros:
Nifty black and red colour scheme.
Space at the front for a 360mm radiator.
Carry handle is great for LAN events.
Front Dark Mirror panel is translucent and shows off LED fans (if you install some).
The price is very reasonable.
Cons:
There is no separate air filter behind the front panel.
Fan controller is only two position – high and low.
Cable management is a struggle.
There is no support for optical drives.
KitGuru says: The MasterBox 5t is a decent case with quirky styling and a groovy black and red colour scheme.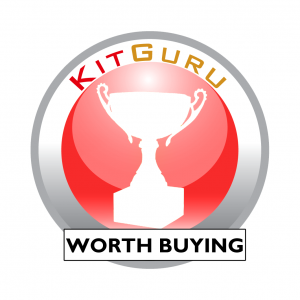 Be sure to check out our sponsors store EKWB here