Cooler Master has launched five new models of MasterFan Pro. In 120mm you can choose Air Flow, Air Balance or Air Pressure and in 140mm there are choices of Air Flow and Air Pressure.
Cooler Master sent us one sample of each fan and a pair of the 120mm Air Balance and as you will see in our video we had a simple plan to test how well the fans performed when compared with Corsair ML120 Pro. Both fans use a hybrid design that sits between Air Flow and Air Pressure and should suit all installations.
Watch via our VIMEO Channel (Below) or over on YouTube at 1080p60 HERE.
Cooler Master MasterFan Pro 120 Air Balance:
Cooler Master MasterFan Pro 120 Air Flow:
Cooler Master MasterFan Pro 120 Air Pressure:
Cooler Master MasterFan Pro 140 Air Flow:
Cooler Master MasterFan Pro 120 Air Pressure:
Cooler Master MasterFan Pro 120mm and 140mm fan range:
Specifications:
You can read all the facts and figures on the website, but the main points of the Cooler Master MasterFan Pro range are:
120 Air Flow, seven blades, 650-1,900rpm, 48.8-84.5cfm, 20-36dBA. £11
120 Air Balance, nine blades, 650-2,500rpm, 42.7-83.1cfm, 20-36dBA. £13
120 Air Pressure, five blades, 650-2,750rpm, 35-62.1cfm, 20-36dBA. £13
140 Air Flow, nine blades, 650-1,600rpm, 53.0-106cfm, 20-36dBA. £14
140 Air Pressure, five blades, 650-2,800rpm, 46.2-82.2cfm, 20-36dBA. £12
There is no 140 Air Balance
We used a Limited Edition Cooler Master MasterCase Pro 5 case from which we removed the drive cages as this opens up air flow enormously. We then installed an exotic Cooler Master MasterWatt Maker 1200 power supply and on the graphics front we used a reference GTX 980 GPU to match the Nvidia GTX branding on the MasterCase Pro 5.
Our chosen motherboard was an Asus Sabertooth 990FX R2.0 and the heart of the test PC was a monumentally toasty AMD FX-9590 processor. This is an eight-core monster that runs at 5GHz with a rated TDP of 220W, which makes it ideal for testing a cooling system.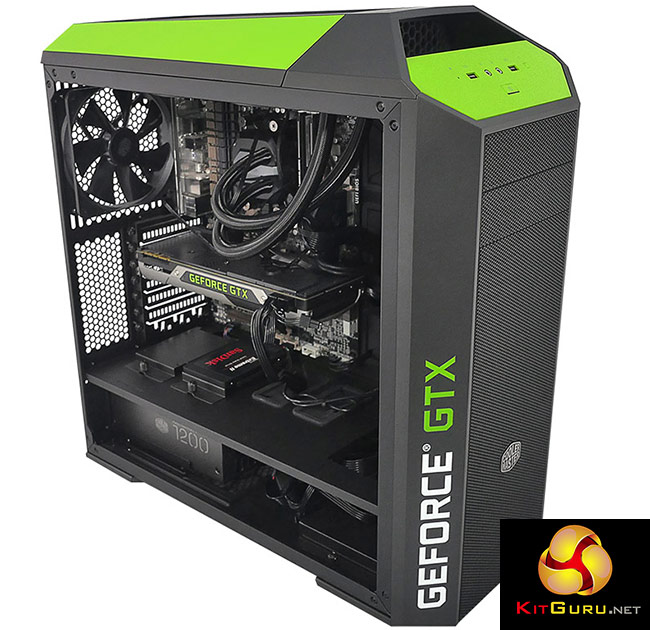 We used a Corsair H100i v2 CPU cooler as this 240mm All In One is a popular workhorse that offers excellent performance and value for money. The idea was to switch between Corsair ML120 Pro and MasterFan Pro 120 AB and see how the two fans compared. However, things didn't work out like that.
The Corsair ML 120 Pro fans behaved exactly as we expected. However, the various MasterFan Pros refused to respond to the PWM control of the Corsair H100i V2, regardless of whether Corsair Link was set to Quiet, Balanced or Performance mode.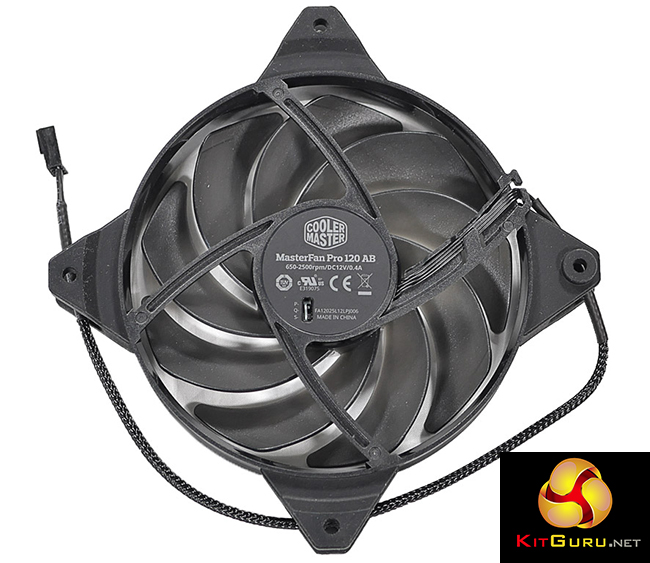 Each Cooler Master fan has a tiny three-position switch on the hub that caps the maximum speed. For the 120 AB in Silent mode this is 1,300rpm, in Quiet mode it is 2,000rpm and in Performance mode it goes up to 2,500rpm. The speeds for each mode vary from one model of fan to another but you get the general idea.
We like to run fans low and slow so Silent mode is all we need. However, if PWM detects a problem that necessitates 2,000rpm to prevent a melt down then we want the fans to run as fast as necessary. If we use a PWM mode that starts the fans low – say 500rpm or 25 percent of maximum speed – we want the fans to have the option to respond in the event of an emergency.
Noise is bad but cooked hardware is worse, which pretty much sums up the thinking behind PWM in the first place.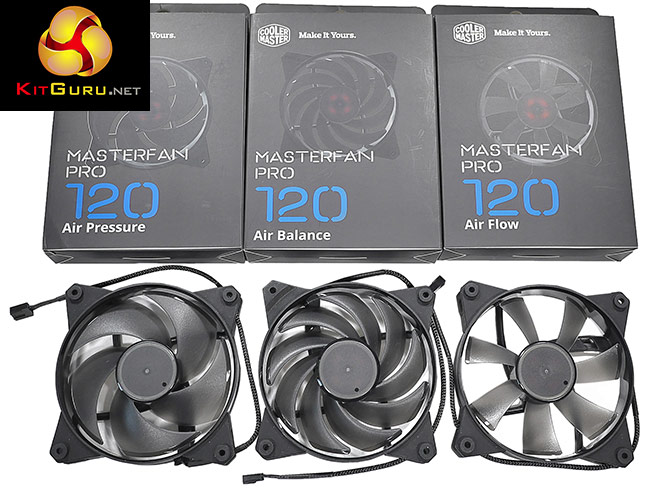 If you approach fans and cooling from that direction, the Cooler Master mode switch doesn't make a great deal of sense. However, there is a certain logic to Cooler Master's approach. Some motherboards have atrocious PWM control and need all the help they can get. Alternatively, you may be using an adapter to power the fan, such as the Molex-to-fan adapters that come with MasterCase 5.
If you connect your fan directly to the power supply, the only option you have is to use the mode switch to keep the thing under control.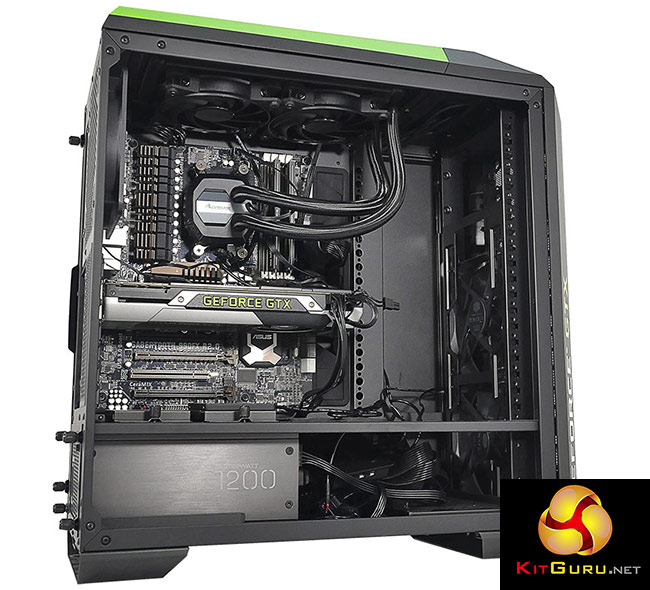 So we spent a good deal of time changing fans on the Corsair H100i and powering them from the Corsair cooler and also an NZXT Grid+ V2 fan controller. EKWB Vardars, Alphacool Coolmove and Corsair ML fans all worked fine with H100i while MasterFan Pro simply wouldn't play ball consistently.
Our only option was to connect the fans directly to a header on the motherboard and control them using the BIOS.
Testing
Cooling Performance

Ambient temperature = around 18°C.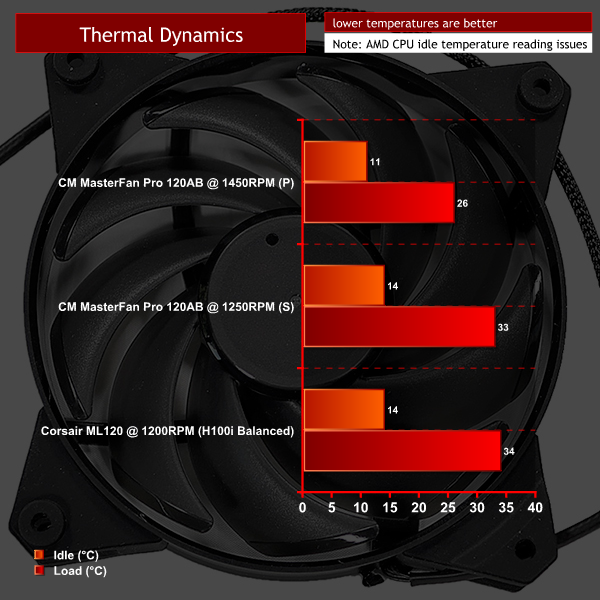 Temperature figures on AMD hardware are tricky as the reported numbers require you to add an offset of about 15 degrees. The snag is that the offset is consistent but mysterious so we know the CPU does not idle at 14 degrees and run at 34 degrees under load but cannot be certain the correct numbers are 29 degrees and 59 degrees respectively.
What we do know for sure are that the Corsair ML120 running in Balanced Mode at 1,200rpm is effectively identical to MasterFan Pro 120 AB running at 1,250rpm with the mode switch in Silent. The two fans also sound very similar which is surprising as Corsair has worked hard at the shape of the fan frame and air flow while the Cooler Master looks relatively crude. Despite that it works well.
Bumping up the MasterFan speed to 1,450rpm by flicking the switch to Performance reduces loaded CPU temperature by 7 degrees which is pretty darned impressive.
Acoustics performance

At 1,250rpm, the MasterFan Pro 120 Air Balance is effectively inaudible inside the Master Case 5. Increasing fan speed to 1,450rpm brought it up to audible but far from uncomfortable.
Closing Thoughts
We were annoyed by the way the mode switch used in Cooler Master's MasterFan Pro messes up PWM control. This isn't necessarily an issue with the Air Flow model which will presumably be used as a case fan and could easily be connected to a motherboard header. Air Balance might be used on a liquid cooler and Air Pressure is very likely to end up installed on a heat exchanger.
At the very least we feel Cooler Master should include a warning note about the way you connect your new fans to your PC hardware.
Having said all that, once you connect MasterFan Pro to a motherboard header you will find the performance is good and matches the more expensive Corsair ML.
As a closing point, the prices of Cooler Master MasterFan Pro are significantly lower than we expected and so despite our reservations they deserve a place in the market.

The Cooler Master MasterFan Pro range is available from Overclockers UK for £12.95 for 120mm variants and £13.99 for 140mm versions.
Discuss on our Facebook page, over HERE.
Pros:
Low price
Specific designs for different installations
Low noise levels
Three speed modes will suit users who have poor PWM control
Neat styling
Cons:
Speed mode switch interferes with add-in PWM controllers
Speed mode switch is out of sight when the fan is installed
KitGuru says: Decent performance at a low price.