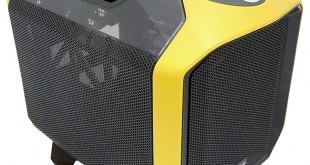 No doubt you are beginning to lose track of all the cases that Corsair has in its range but honestly, the Graphite 380T is easy to remember. You see it is Mini-ITX and it has a handle on the top, and the sample we have here is yellow and black in colour, rather like a wasp or hornet only with fewer wings. As it happens I was expecting either a black case with red lighting or a black and white model with white lighting, so you have avoided a weak joke about zebras by the narrowest of margins.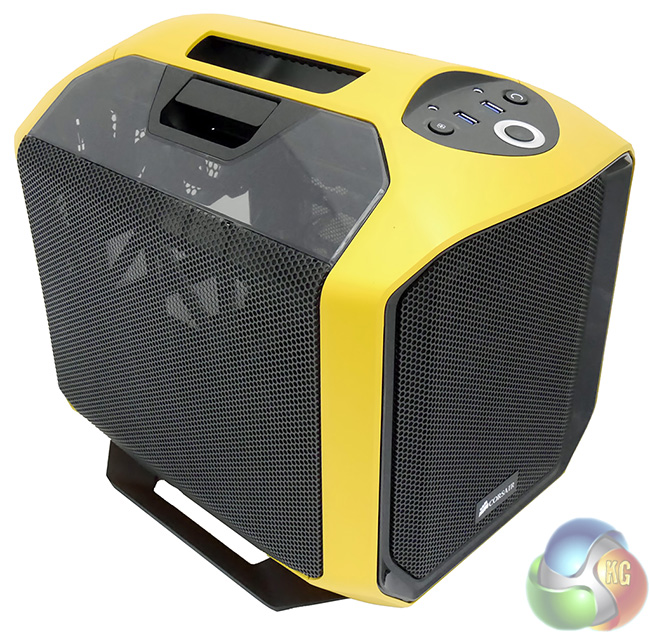 Corsair calls the yellow colour Midas, which is presumably meant to conjure up images of gold, however it looks more like Colman's mustard to me. 'A handle?' you say, in surprise. Well yes, that's for the LAN party gamers.
It isn't difficult to build a small form factor case that is compact and easy to carry but rather less so if you want to install a decent processor and graphics card as that requires cooling and airflow. And that is where the Graphite 380T rolls up its sleeves and steps into the fight.

Specifications:
Motherboard support: Mini-ITX.
Expansion slots: 2.
Included fans: 1x 140mm front intake, 1x 120mm rear exhaust.
Fan mounts: 1x 200mm, 1x 140mm or 2x 120mm front, 2x 120mm side.
Radiator support: 120mm or 140mm front, 240mm side
Internal drive bays: 2x 3.5/2.5″, 2x 2.5″.
Dimensions: 393mm deep x 292mm wide x 356mm high.