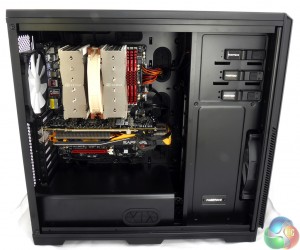 I built a test system using an ASRock 990FX Killer motherboard, AMD FX-8350 processor, four modules of G.Skill Ripjaws X RAM, a Sapphire Radeon Tri-X R9 290 4GB graphics card and a Noctua NH-D15 cooler.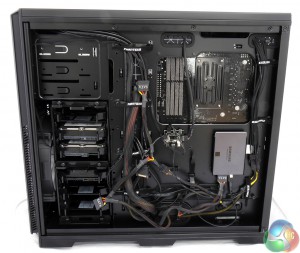 There isn't much to say here as the build was fast, easy and looked nice and tidy in the main compartment. Behind the motherboard tray I could have done more work on the cables but everything is secure and out of sight so this isn't strictly necessary.
The power supply can be mounted with the fan either facing up or down and there are rubber cushions for the PSU to sit on which avoids metal to metal contact.

I installed the Samsung SSD using the upper location for the mounting bracket. There is an alternative position lower down the case.
This mounting bracket has the name Drop-n-Lock which sounds awful but works rather well. Simply put the SSD in place and it snaps home and is held securely.
Sliding the DVD drive into place was simple as the tool-free latches so their job superbly.
The PWM hub is a key feature of this case. It has connectors for six fans and as there are only two fans supplied you have plenty of scope for upgrades. The idea is that you don't trail fan cables across the innards of your PC build looking for fan headers but instead connect a single cable from the PWM hub to a four-pin CPU header.
That one header then controls all of the case fans.
In principle this is a neat idea and Phanteks has included a SATA power connector so you can also connect the hub to a regular header if you don't have a spare PWM header. Initially I was confused and tried to connect the CPU fan to the PWM hub which was a bit dopey of me as the cable will not reach that far.
With the PWM hub connected to the CPU header you are actually obliged to connect the CPU fan to a different motherboard header and in the event with the ASRock 990FX Killer I used Chassis Fan 1 which is also PWM.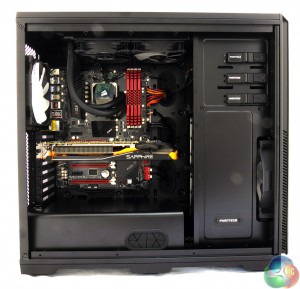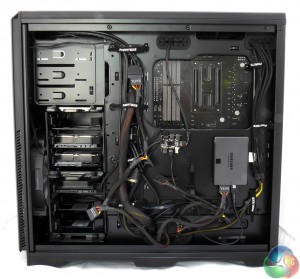 Switching from the Noctua NH-D15 to the Corsair H100i liquid cooler was dead easy. With the top cover removed from the case you are spoilt for choice with mounting holes and with the hot air exhausting from the top of the case you can be sure the PC will run nice and cool.