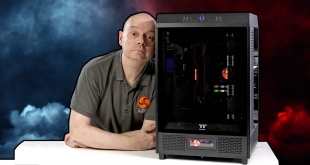 We have previously reviewed Thermaltake's The Tower 100, which is a quirky Mini-ITX case, so we felt fully prepared to work with The Tower 500 which is bigger and bolder in every respect. At least we thought we were prepared… As it turns out, the fan/radiator installation system used in The Tower 500 is unusual so our preparation for the video involved a certain amount of what-the-hecking before we were ready to give our KitGuru audience the straight dope.

Time stamps
00:00 Start
01:11 The Tower 500 – meccano!
03:15 The back
03:32 Storage options / removing plates
04:17 Bottom of the case
04:47 Front cover / interesting design / cooling
06:30 Nut plate – for pump mounts
07:05 Stripped down – building a system into the 500
10:30 Analysis: Thermal & noise testing
13:48 Leo's Closing Thoughts
Main features
Iconic Vertical design:

Three Tempered Glass Panels
Interior space-efficiency

Cooling Performance:

Includes two pre-installed rear fans
Reversible Side Panels
Versatile Cooling Options for DIY and AIO

Incredible Expansion:

Supports up to 12-inch x 13-inch E-ATX motherboard
Supports up to 360mm radiators up to 399mm
Supports up to 8x 2.5-inch or 3.5-inch HDD
Supports LCD panel kit (sold separately)
Specification:
Motherboard support: E-ATX 330mm wide, ATX, Micro-ATX, Mini-ITX
Power supply support: ATX
Expansion slots: 9
Included fans: 2x 120mm 1,500rpm rear exhaust
Fan mounts: 3x 120mm side, 2x 120mm/140mm roof, 2x 120mm/140mm rear, 2x 120mm/140mm power cover, 2x 120mm floor.
Radiator mounts: 360mm side, 240mm/280mm roof, 120mm/140mm floor
5.25-inch optical drive bays: None.
Internal drive bays: 8x 3.5-inch or 8x 2.5-inch and 4x 3.5-inch.
Front I/O ports: 4x USB 3.0 Type-A, 1x USB 3.2 Gen 2 Type-C, audio.
Dimensions: 608mm H x 398mm D x 153mm W.
Testing
To put this case through its cooling paces we will be using a test system consisting of an Intel Core i9-12900K, Radeon RX6800 XT and an SSD. This system allows us to produce a substantial amount of heat and effectively test the Thermaltake Tower 500 LCD's cooling capabilities.
Test System:
Processor: Intel Core i9-12900K (16 cores/24 threads)
CPU Cooler: Thermaltake Toughliquid Ultra 360
Motherboard: Asus TUF Gaming B660-Plus WiFi D4
Memory: 16GB Thermaltake ToughRAM RGB Racing Green DDR4-3600
Graphics card: Sapphire Radeon RX6800 XT 16GB
Power supply: Thermaltake ToughPower PF1 ARGB 850W Platinum
SSD: 500GB Sabrent Rocket 4.0 M.2 NVMe
OS: Windows 11
Luke has previously reviewed the Thermaltake Toughliquid Ultra 360 AIO HERE and the 16GB Thermaltake ToughRAM RGB Racing Green DDR4-3600 HERE
Cooling Performance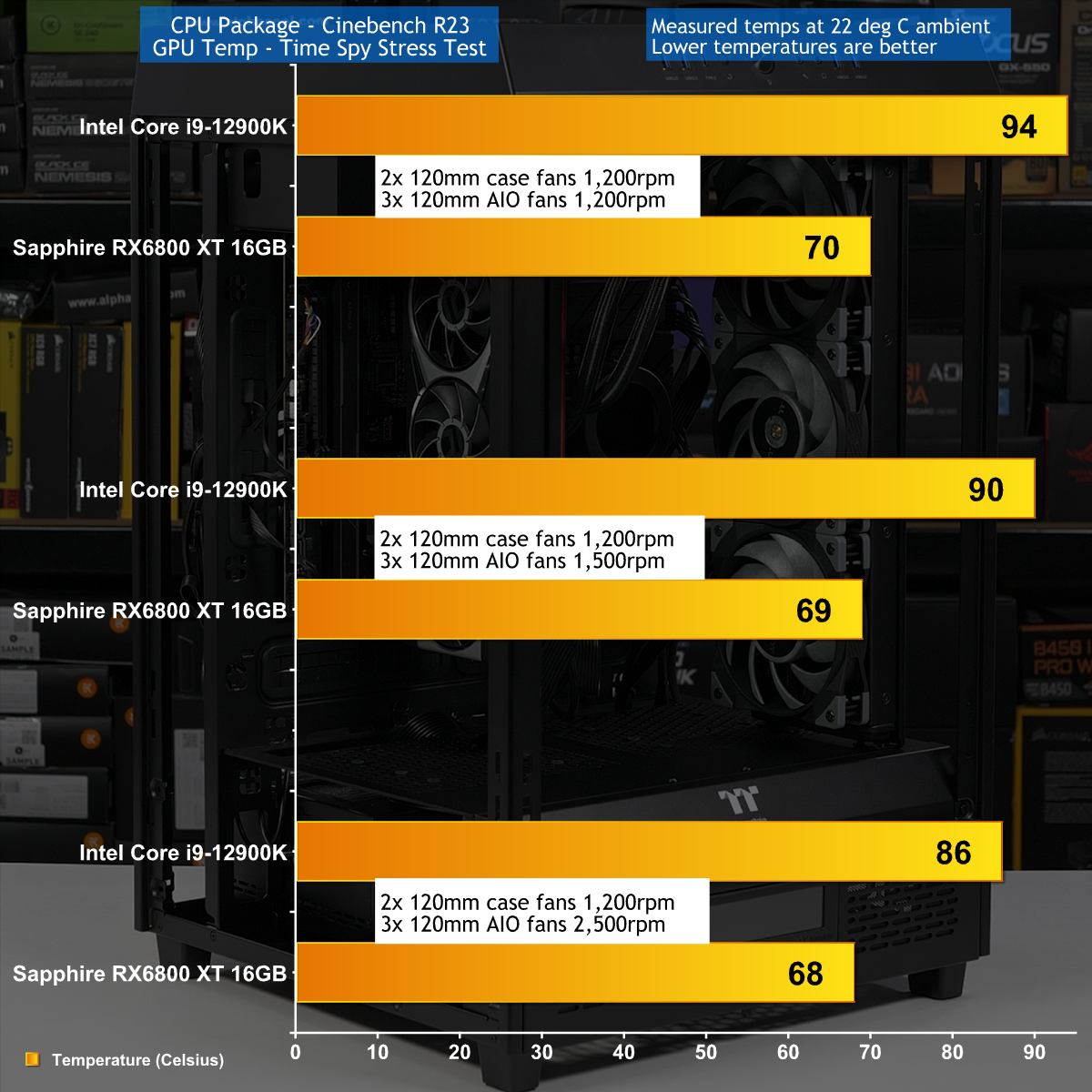 Cooling Performance Overview
The airflow inside The Tower 500 is unconventional and if you wonder why we configured the case with the fans on the AIO cooler set to exhaust to the side the answer lies in this report HERE.
The temperature of our graphics card was absolutely fine, however the Core i9-12900K was definitely on the hotter side of warm. We have every confidence The Tower 500 would breathe better if we installed fans in the floor and roof however this is a review of the case, rather than a guide to building a PC, so we added the AIO to the stock fans and left it at that.
Closing Thoughts
Thermaltake's The Tower 500 is an E-ATX case that doesn't play by the usual rules. It is certainly rather large, however it is tiny when compared to the truly enormous The Tower 900.
The motherboard is rotated 90 degrees which is a feature we have seen in other cases such as the Phanteks Evolv Shift 2 Air. For that matter we have reviewed cases where the motherboard is completely inverted, such as the Seasonic Syncro Q704 so we are familiar with cases that do things differently.
The thing that sets The Tower 500 apart is that the logic behind the design seems to be based on appearance, rather than function.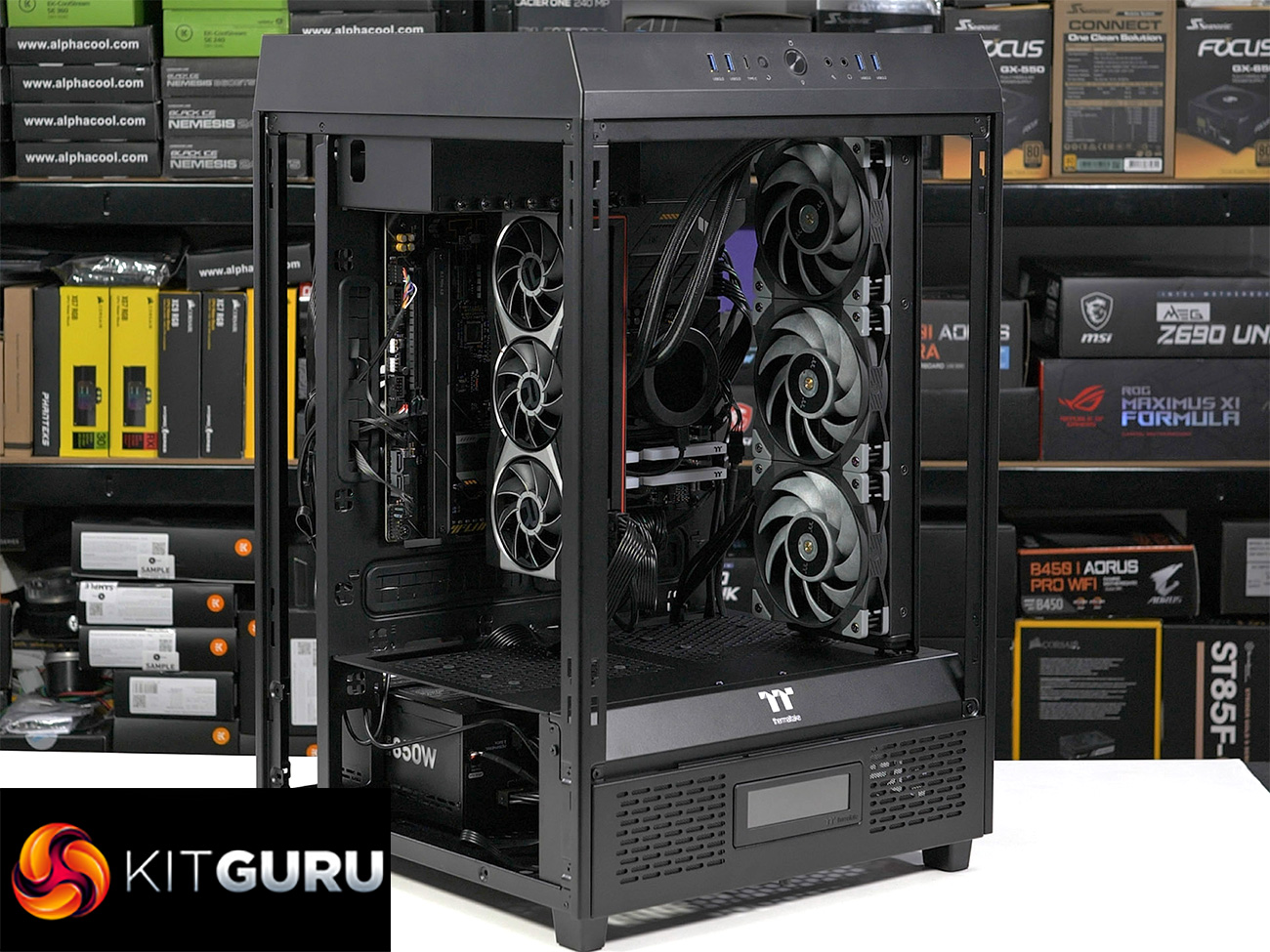 You can draw cooling air in through the vented sections in the floor of the case and there are large mesh sections in the main compartment however if you pack out the case with storage drives the two compartments are effectively separated. On the other hand if you remove the internal divisions the air will logically flow upwards and then it gets a bit confused.
You would think the top fan mounts would be used for exhaust as hot air rises, however Thermaltake makes it clear the top, bottom, front and left are for intake while the right side and rear are for exhaust. To our eyes this is another way of saying 'cram in as much air as possible and hope it reaches the correct places'.
If you build a middling PC that draws less than 500W we have every confidence this approach will be fine but if you are looking for maximum performance The Tower 500 goes about things in a rather odd manner.

You can buy the Thermaltake The Tower 500 for £199.99 from Overclockers UK HERE.
Pros:
The Tower 500 is unusual so kudos to Thermaltake on that score.
The price is reasonable but you will need to add plenty of extras such as fans.
Cons:
The case takes a large amount of desk space.
You only get one set of fan/radiator brackets in the package.
The optional LCD screen is fun but expensive.
KitGuru says: The Tower 500 is interesting but rather large and makes us keen to see a Micro-ATX 'The Tower 300.'
Be sure to check out our sponsors store EKWB here