Here I will walk you through the installation process. It is worth noting we test using a Z97 motherboard – socket LGA 1150. The process below reflects that.
The first thing to do is screw the two fans to the radiator.

After that, two mounting brackets need to be screwed onto the pump. Each bracket uses two screws.
Next, prepare the backplate – pass the four screws through the central LGA 115x holes and secure them with the small plastic clips.
Then you can go ahead and mount the backplate behind the motherboard socket, using two small adhesive pads to keep it from falling out as you flip the motherboard over.
The pump is now ready to be mounted, so place it on your CPU and pass the four long screws through the mounting arms and into the backplate screws. Tighten it down until the pump is secure.
That is it for installation, and overall it is a fairly pain-free process. It is a bit long-winded compared to the Asetek method, and the instruction booklet could be clearer, but it is simple enough.
I do have to mention the tubing, though, as it is very inflexible and will really fight you if you try to get it into a desired shape. The fittings where the tubing attaches to the pump aren't rotatable, either, so getting the tubing to look neat is not very easy.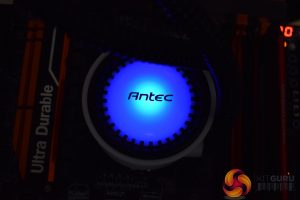 Just to show you the LED pump as well, I took that photo with the CPU idling, so the LED was blue. At 36-40C the LED is green, while it turns red once your CPU reaches over 41C.