Overall, the Antec Mercury 240 is an unspectacular liquid cooler.
It does have the advantage of LED fans and a temperature-reactive LED pump, but I find the latter feature to be a gimmick quite frankly. For instance, the pump glows red once the CPU temperature reaches 41C, as if 41C is somehow a dangerous temperature for your processor. Given the vast majority of CPUs will get hotter than that while gaming, the feature seems pointless to me.
Installation is pretty straightforward, though, and shouldn't take too long, but it is not as simple as Asetek's method. I also found the corrugated tubing to be very inflexible, making life difficult if you want a clean-looking installation.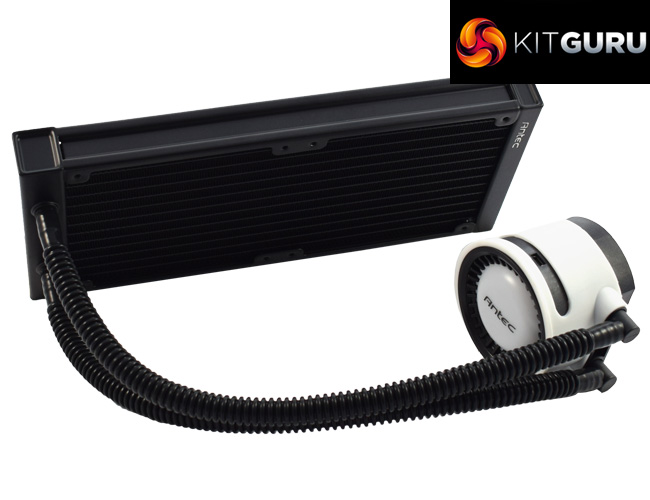 Performance is also disappointing, as we found the Mercury 240 was actually outperformed by the Cryorig H7 – a £35 air cooler – across both our tests. I would expect a bit more from an £80 liquid cooler. Update 20/9/17: We have since tested a new sample of the Mercury 240 and found it to perform a little better than our original sample, though it still could not overhaul the H7.
The last thing to touch on here is acoustics, and honestly the Mercury 240 is fine in this regard. It is far from the loudest cooler I've heard, so I cannot be too critical.
On the whole, though, I have to say those with £80 to spend on a liquid cooler could do a lot better than the Antec Mercury 240. The Arctic Liquid Freezer 240, for instance, is cooler, quieter and cheaper.
You can buy one for £79.99 from Overclockers UK HERE.
Update 27/7/17: Antec got in touch with us and it seems we may have been shipped a pre-production model of the Mercury 240. We will be getting another sample soon and will test it when it arrives. We will continue to update this original review as the story unfolds.
Update 20/9/17: We have tested our new Mercury 240 sample and found it to cool better, but not by much. For full details, see page 5 ('performance and comparisons'). Overall, we still feel that there are more compelling options than the Antec Mercury 240.
Pros
Reasonably quiet.
Installation is simple enough.
LEDs may appeal to some.
Cons
LED pump turns red at 41C – rendering it pointless.
Tubing is very inflexible.
Out-performed by a £35 air cooler.
Arctic Liquid Freezer 240 is an all-round better product for less.
KitGuru says: There are a few too many issues with the Mercury 240 for us to give it an award. Primarily, it is outperformed by a £35 air cooler which is hard to take considering this is an £80 liquid cooler.