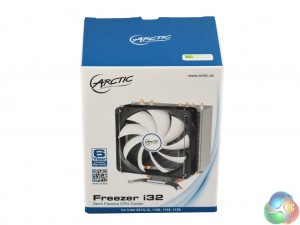 The Arctic Freezer i32 ships in a familiar-looking box – Arctic's other coolers (such as the Liquid Freezer 240) also ship in white-and-blue boxes.

Inside, there is little in the way of accessories. This is partly due to the fact that the Freezer i32 only supports Intel sockets. There is an AMD equivalent, the Freezer A32, so make sure you don't buy the wrong one!
What you do get, however, is a standard backplate, four fan clips, two mounting brackets, a sachet of thermal paste, and finally an assortment of screws.
A single 120mm fan is also included – Arctic's F12 fan. As mentioned on the first page, the fan only spins when the CPU is under a certain amount of load – to be precise, when the PWM value reaches 40%.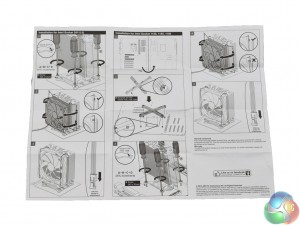 The instructions booklet is clear and detailed, with every step explained for both the LGA 2011 and LGA 115x sockets.
Lastly, we get a look at the heatsink. It is a fairly slim unit, with 4 copper heatpipes. Arctic are keen to point out the fact that the heatpipes are off-centre, which should allow for greater heat dissipation (as compared to the i32's predecessor, the i30.)