Installation of the Freezer i32 is straightforward but slightly fiddly in parts.
As a disclaimer, we installed the cooler on a motherboard using the LGA 1150 socket. The process below reflects that.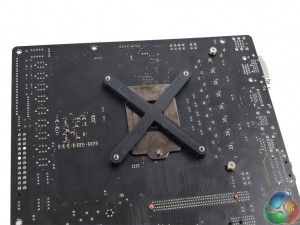 First, slot the backplate into place. It can only be oriented one way due to protrusions on the motherboard socket, which prevent it from lying flush otherwise.
Next, the mounting brackets need to be screwed to the base of the cooler. Flip the heatsink upside-down and align the brackets with the screw holes on the base of the cooler. Then, simply screw each bracket in place – the smallest four screws are the ones you want.
Once you have done that, all you need to do is screw the cooler into the backplate and the heatsink is attached.
Before attaching the fan, Arctic recommend installing a rubber washer to each corner of the fan. This should dampen any vibrations, reducing noise.
However, I found this part of the installation to be painfully fiddly. The washers come as part of a bigger sheet of rubber and you have to try to separate them from the rest of the rubber. This is much easier said then done and it took me a good 5 minutes to eventually prise the washers free and stick them in place.
Once you have stuck the washers in place, though, the fan attaches with two standard fan clips. Job done!