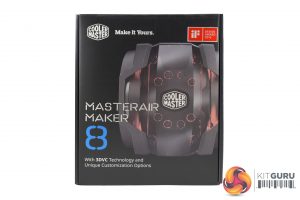 The Cooler Master MasterAir Maker 8 ships in a black box, while a top-down photo of the cooler itself is visible from the front.
Inside, Cooler Master have absolutely nailed the packaging and presentation – everything is neatly positioned and labelled, while all the installation hardware comes individually packed in a plastic case. This really is the dream, as having everything labelled – right down to the last screw – just makes installation so much easier.

Also inside the box is a set of extra fan brackets – these support 120mm fans, while the pre-mounted brackets support 140mm fans. It is good to see Cooler Master have provided the extra fan brackets, as this lets you use your choice of 120mm or 140mm fans.
There is also a replacement top cover for the Maker 8 included. The pre-installed cover is made of semi-translucent plastic, but Cooler Master also include a brushed aluminium cover if that is more your style. What is even cooler is that you can actually 3D print your own cover for the Maker 8, and Cooler Master actually sent over a special KitGuru cover for our review sample. It looks pretty sweet if you ask us.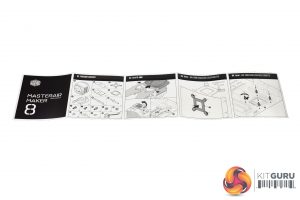 The manual is also effective, with large and clear diagrams providing excellent installation instructions. We go through the installation process itself on the next page.
Next, we get to the cooler itself. It is a beast of an air cooler, measuring in at 135 x 145 x 172 mm (LxWxH). Definitely make sure that your case can accommodate a cooler of this size.
The fans do come pre-installed, but it is very easy to remove them as Cooler Master have come up with an innovative solution where the fan brackets just slide into place on the heatsink. To unclip them, you simply need to press a small release tab at the bottom of the cooler, and the brackets slide free. This system also allows you to raise the height of the fans slightly, which would give you more clearance for tall RAM modules, something enthusiasts will definitely appreciate.
Lastly, the top cover is also easy to remove as it just snaps off. Once it is off, we can see the metal surface below, as well as some of the heatpipe tips. To add your own cover, just snap it into place – easy!