Temperatures
All temperature charts are sorted with lowest load temperatures at the top.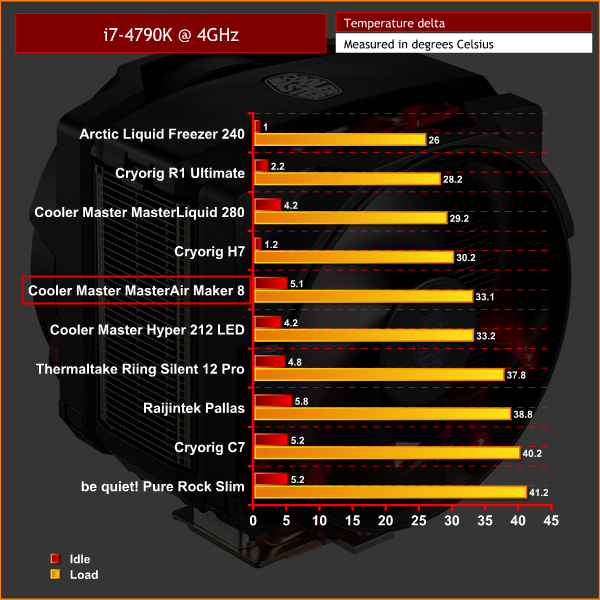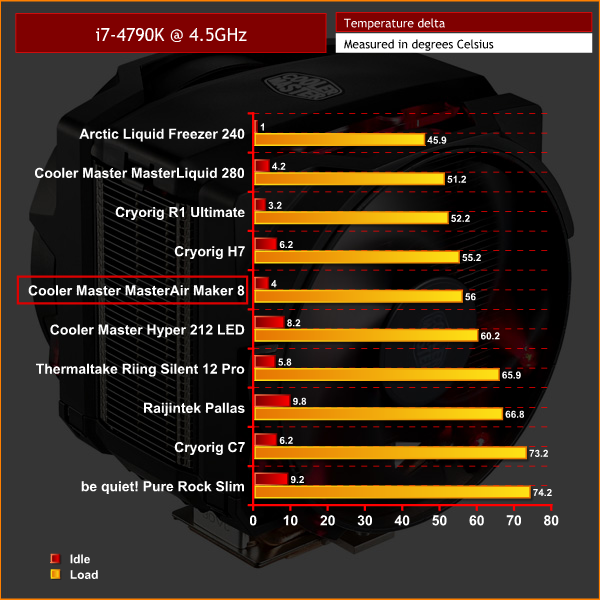 Thermal performance is slightly disappointing. With our CPU at stock-clocks, the similarly-sized Cryorig R1 Ultimate is able to beat the Maker 8 by 4.9 degrees Celsius. Things do look better once we apply an overclock to the CPU, but even then, the cheaper Cryorig R1 Ultimate still performs 3.8 degrees better.
We're talking just a few degrees here and there, and these figures are still very good for an air cooler, but these are the margins of difference between the top coolers on the market. Even so, the delta temperatures above represent a CPU did not exceed 76 degrees (while overclocked) and that is still a very good result.
Acoustics
Raw performance figures do not tell the whole story, though, as good acoustics is a big part of what makes a successful cooler. In my experience, the Maker 8 is an incredibly quiet cooling solution – with our test system idling, the cooler is dead silent, and the fans look like they are barely spinning.
Even when the load ramps up, the two fans work together very well and emit the quietest of hums. Compared to the R1 Ultimate, which we shall be reviewing soon, the difference is night and day.