Here I will walk you through the installation process. It is worth noting we test using a Z97 motherboard – socket LGA 1150. The process below reflects that.
As the H150i Pro is still an Asetek design, it features the same installation process as other Hydro coolers.

First, the backplate must be prepared – for our Z97 motherboard, the screws should be in the inner-most position.
Once the backplate has been positioned behind the motherboard, four standoffs can be screwed into the backplate.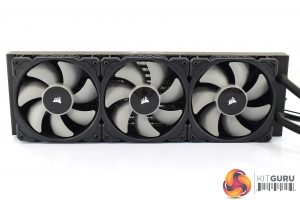 With that done, now is as good a time as any to install the three ML-series fans to the radiator.
All that leaves is for the pump to be placed over the CPU and secured with four thumbscrews.
So that's it – job done! I've said for a long time that the Asetek method of installation is the most pain-free (and thus beginner-friendly) and I stand by that here. Bravo.
Note: if you cannot see the above gallery, please disable AdBlock as it is known to interfere with our display code.
Moving onto the RGB lighting, this is controlled by Corsair's Link software, as the pump connects to your motherboard via an internal USB header. As such, there are plenty of options to play with – users can choose between static, blink, colour pulse, colour shift, rainbow or temperature modes, and the colours themselves are bright and vibrant.
There are no RGB fans, so the pump lighting is all you get, but I think it looks sleek and subtle so it's a thumbs-up from me.