Temperatures
All temperature charts are sorted with lowest load temperatures at the top.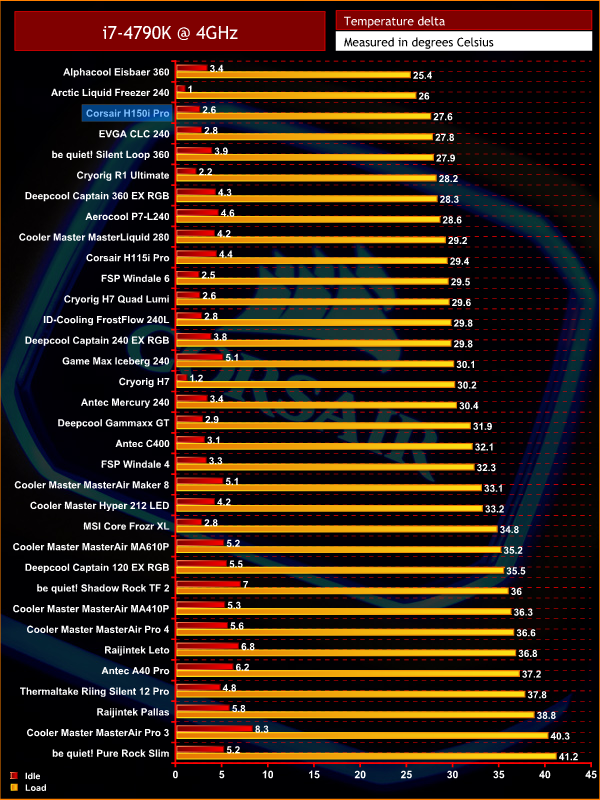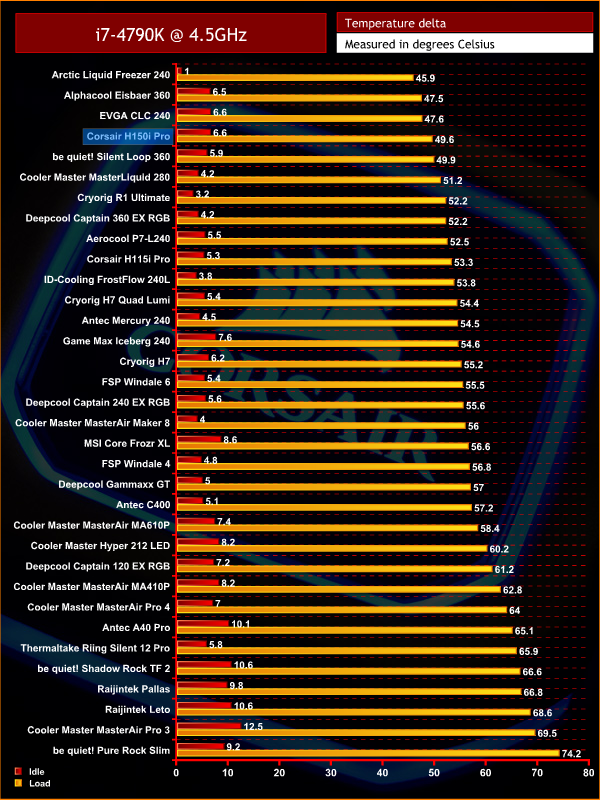 Before analysing the performance of the H150i Pro, we must quickly make a note that we did not test the cooler with the fan's connected to the pump's fan cable. For the sake of consistency, we connected the fans to our motherboard, as we have done with every other CPU cooler since we standardised our testing process.
With that out of the way, it is no surprise to see excellent performance from the H150i Pro. It is a mere 2C off the top result at stock clocks, and while that gap does increase with an overclocked CPU, coming home with the 4th-best result is very impressive.
Acoustics
Starting off with idle noise, the H150i Pro actually sports an all-new 'Zero RPM' mode which stops the fans from spinning until the coolant temperature reaches 40C. This mode is only available when using the pump's integrated fan cable, and the Zero RPM profile needs to be set using the Corsair Link software, but it is an excellent addition in any case – having zero fan noise while your system is performing light tasks is lovely.
Even under load, the fans are still nice and quiet. This is traditionally an area where Corsair's older Hydro liquid coolers have struggled – under load, the fans can get quite rackety in my experience. However, with the new ML-series fans, and their max speed of 1600 RPM, the noise is actually very inoffensive. Compared to the EVGA CLC 240, which offers similar levels of performance, it is significantly quieter as the CLC 240's fan spin up very fast to give that increased performance.