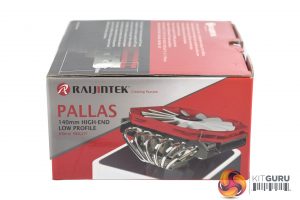 The Raijintek Pallas ships in a relatively small, red box. On the front side, we get a look at the cooler itself, with the red fan being particularly visible.
Inside, there are just two bags of installation hardware, though the contents are not labelled.

The instructions manual is decent, though it is very large as it is multi-lingual. The diagrams are quite clear, though, and we go through the installation process on the next page.
After that, all that's left is the fan and the heatsink.
The 140mm, low-profile fan is quite striking due to its red frame and white blades – I think it looks great, although I could understand if you think it looks gaudy.
Made entirely of nickel, but with a copper base, the heatsink is comparatively very small but it still manages to cram in 6 copper heatpipes, each with a 6mm diameter. Hopefully this should aid cooling performance, something we look at later in the review.