Having put the Raijintek Pallas through its paces, I think it is a solid offering for anyone considering a low-profile cooler – perhaps you are building a HTPC or SFF system and need all the space you can get.
For starters, I think it looks good thanks to its red-and-white fan, although this is obviously just my opinion.
I did encounter a number of issues with the installation process, though. The most significant issue I encountered was that I could not actually plug-in the CPU 8-pin power connector once I had mounted the Pallas. A way around this would be to mount the cooler 90 degrees counter-clockwise to what Raijintek suggest in the manual, though I do feel that I really should not have to point this out in the first place – that is Raijintek's job, not mine.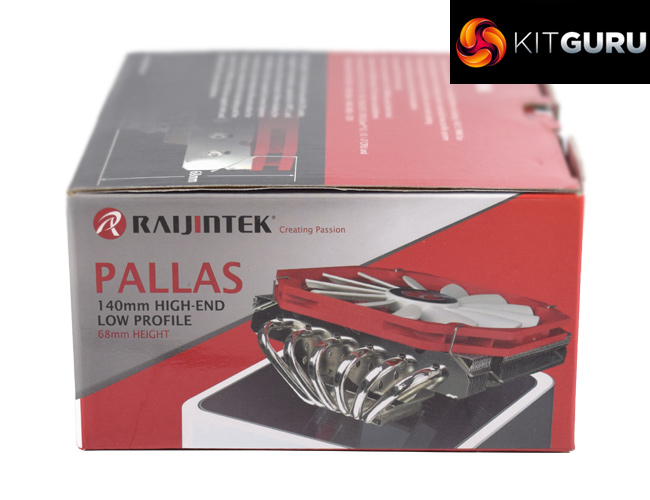 The Pallas' performance, for a low-profile cooler, is pretty good though. It cannot compete with the likes of the Cryorig H7 or the Cooler Master Hyper 212 LED, but it still offers decent thermals in a tiny form-factor.
Acoustically, it also does a decent job so long as you are not running your CPU under intense load for any amount of time. In that situation, the fan gets quite loud and whiny, though it is perfectly quiet in low-load situations.
All-in-all, the Raijintek Pallas is a good low-profile cooler at a decent price of £38.99. If Raijintek remedied the issues I encountered while installing the cooler, it would be even better.

You can buy one for £38.99 inc. VAT from Overclockers UK HERE.
Discuss on our Facebook page, over HERE.
Pros
Looks good.
Just 68mm tall.
Quiet in low-load scenarios.
Decent performance considering its size.
Cons
I encountered a few issues while installing the cooler, including not being able to plug-in the 8-pin CPU power connector.
The fan is a bit 'whiny' running at 100% speed.
KitGuru says: For those looking for a low-profile CPU cooler, the Pallas is a strong contender. I did encounter 3 different issues while installing it, though, so any improvements there would be welcome.