Temperatures
All temperature charts are sorted with lowest load temperatures at the top.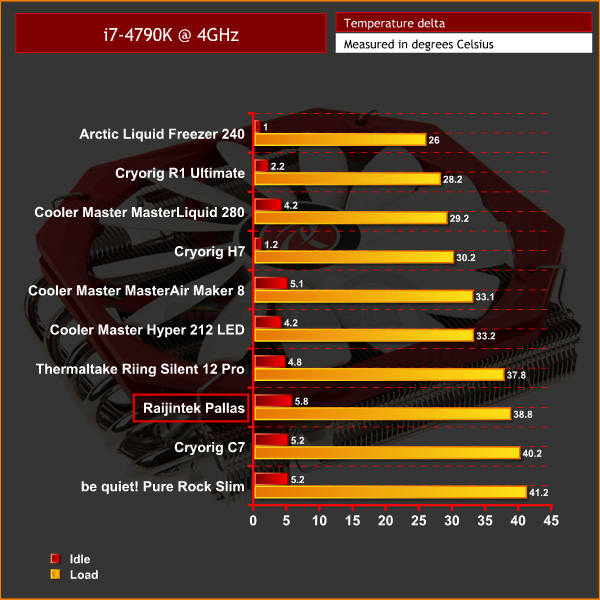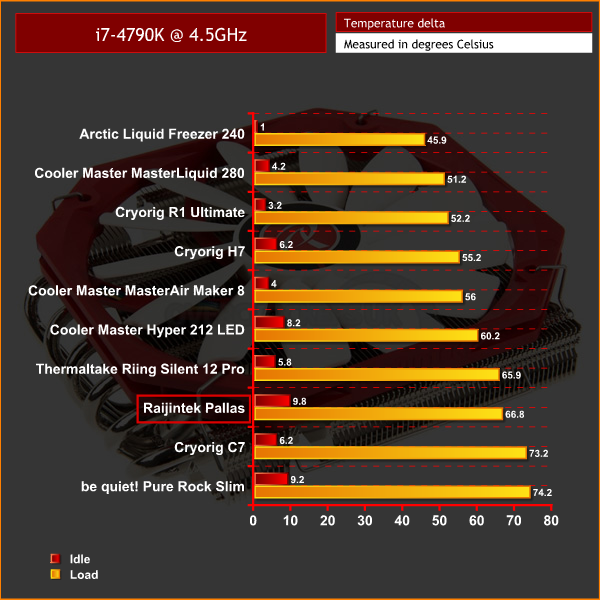 As you can see, the Pallas comes in third from bottom in both tests. This may seem like poor performance, but we have to keep the results in-context, and for a £38 low-profile cooler, I think the performance is actually quite good.
Obviously it cannot compete with a bigger air cooler like the Cryorig H7 or the Hyper 212 LED – but it is not meant to. The Pallas is designed to keep your CPU cooler in a highly space-constrained environment, and it will do that job well. Many people using the Pallas in an HTPC would likely have a less-demanding CPU than our i7-4790K anyway, so thermals would be absolutely no issue in that situation.
Acoustics
Acoustically, the Pallas does an admirable job. If you are not doing anything too demanding – simple web-browsing or video playback, for example – then the Pallas is whisper-quiet.
The low-profile fan cannot compete with a full-size fan, though, so when we pushed our CPU to 100% load, it did get quite loud. The noise was also on the whiny side, most likely due to the low-profile nature of the fan.
Again, though, we would add the caveat that if you are considering the Pallas to cool your CPU, it is unlikely you will be running programmes that will push a CPU to 100% load anyway – anyone doing such tasks would be better off with a beefier cooler.