Here I will walk you through the installation process. It is worth noting we test using a Z97 motherboard – socket LGA 1150. The process below reflects that.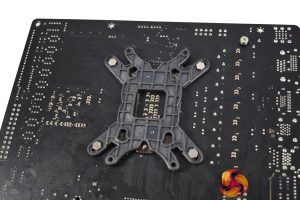 The first thing to do is prepare the backplate: for our Z97 motherboard, four screws should be slotted into the middle of the 3 mounting positions.

However, while this may seem like the easiest thing in the world, I actually encountered an issue at this very first stage of the installation process. Essentially, two of the four screws would not 'lock-in' to the backplate fully, so they were quite loose and prone to slipping out. The other 2 screws were fine, though, so it seems to be a QC issue.
Once you have prepared the backplate, slot the screws through the motherboard socket holes.
After that, four plastic spacers should be placed over the screws.
Next, place the two Intel-compatible rails on-top of the spacers, as above.
Once the rails are in place, you can use the four thumbscrews to secure the rails in-place.
Following that, the heatsink is ready to be mounted. There are two small cut-outs in the heatsink (as you can see above, right), and you can squeeze your screwdriver into these gaps to screw the heatsink in-place.
However, these gaps are quite thin, and I actually found my screwdriver would not fit – eventually I found a very old, thin screwdriver to use, but the situation was not ideal. If Raijintek provided a compatible screwdriver (as Cryorig do with some of their coolers) that would be the perfect solution.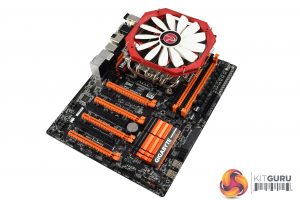 Lastly, the fan needs to be attached to the heatsink – it uses two clips which simply hold the fan to the heatsink.
After that, installation is complete. That being said, I ran into an issue with the Pallas pretty fast: with the cooler oriented as you can see above, I was not able to plug in the CPU 8-pin power connector – it simply would not fit underneath the heatsink. This was the case after I followed the Pallas' manual to the letter.
As such, I would advise users to ignore the manual and mount the cooler 90 degrees counter-clockwise. This would mean the bulk of the cooler is hanging over the I/O, leaving a lot more room for your 8-pin CPU connector to fit.