It is quite clear from a glance that the Triton is put together in a slightly different manner to most all-in-one liquid coolers.  While the assembly may appear more crude and clunky, the inclusion of clear plastic hoses and bulky compression fittings is quite deliberate.  These components meet industry size standards so that you can fully customise the loop with other components if required.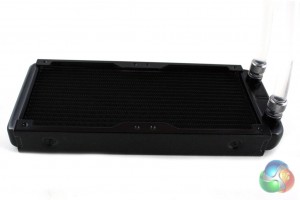 The radiator itself is a 240mm model which measures 32mm thick.  This is fairly low profile and should therefore fit in the vast majority of cases which boast support for 240mm radiators.  It is worth considering that one of the end tanks of the radiator is slightly larger than most AIO units to accommodate the comparatively large compression fittings used.

Raijintek have chosen to use clear plastic 8/11mm hoses for the Triton which have clear coolant running through them.  That said, they also include red, green and blue dye for this coolant should you want to customise the cooler a little. Adding coolant into the Triton does require the removal of a tamperproof sticker, however the warranty should remain intact unless you cause damage to the cooler.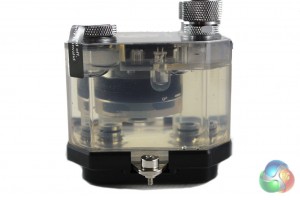 The CPU block and pump unit is also constructed out of clear plastic, meaning that you can see the coolant running through it.  Raitjintek has integrated LED lights into this to illuminate the coolant when running.  This will look especially good if you choose to use the provided dyes for the coolant.  The unit itself is quite large in size – remarkably more so than most all-in-one liquid coolers.  This should not cause many issues though as it is not likely to cause any RAM compatibility issues.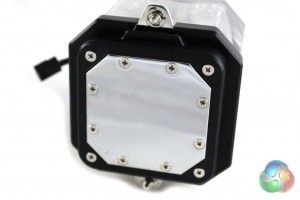 While Raijintek claim that the Triton features a copper cold plate, it would appear that it is actually made from nickel-plated copper.  This should not affect the thermal performance, though.  The cold-plate itself is octagonal in shape and is secured to the unit with a series of screws spanning the periphery.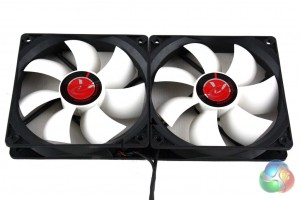 Raijintek include two 120mm fans with the Triton which are quite unusual in design.  Both fans are powered through the same cable which keeps them closely tied together.  There is another cable protruding from this which features a small variable resistor, allowing you to manually set the speed of the fans.
While we haven't seen this approach before, it will be perfect for those who want to tune their cooler to consistently achieve the best compromise between acoustics and cooling performance.