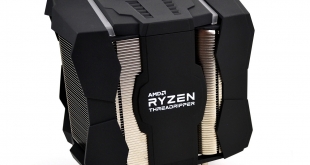 Since AMD is on the cusp of releasing its 3rd generation of Ryzen Threadripper high-end desktop processors, we thought this would be an ideal time to return to testing socket TR4 CPU coolers or sTRX4 as it is soon to be known, on our  Ryzen Threadripper 2950X test bench.
Arctic has perfectly timed the release of its new Freezer 50 TR CPU cooler to coincide with the impending launch of 3rd generation AMD Ryzen Threadripper. We have a sample of the Arctic Freezer 50 TR and will be putting it through its paces today, along with adding another TR4 specific cooler to our results chart, The be quiet! Dark Rock Pro TR4.
The Arctic Freezer 50 TR is the company's first attempt at a high-end cooling solution specifically for AMD's Threadripper platform. Our testing will provide an insight into how the Freezer 50 TR measures up against other TR4 specific coolers from rival manufacturers.
Artic claims the Freezer 50 TR is an extremely powerful cooler for AMD Ryzen Threadripper processors. The familiar dual tower design and eight heat pipe configuration should be good enough to put the Freezer 50 TR up there with some of the better performing TR4 specific coolers we have tested in the past.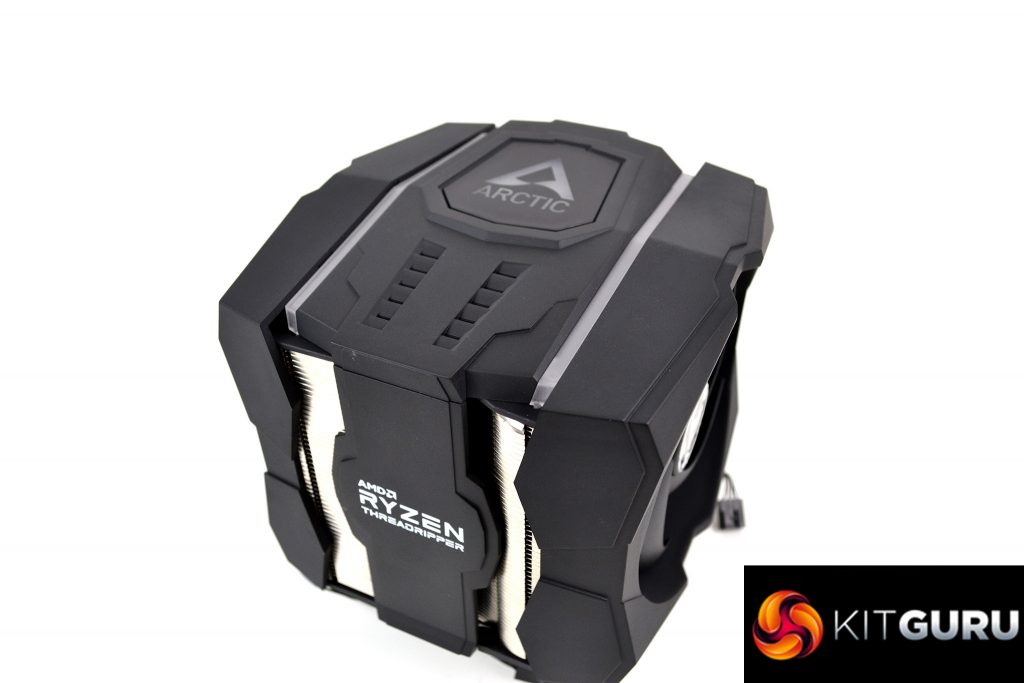 However, the thermal transfer plate does not completely cover the IHS of AMD Ryzen Threadripper processors – Arctic says the heat pipes are designed to be positioned over critical areas of Threadripper dies, to provide optimal thermal transfer.
Arctic's Freezer 50 TR features a large CPU contact surface with eight U shaped direct touch heat pipes to ensure high-efficiency heat dissipation and excellent cooling performance. 120mm and 140mm Arctic P fans are built into the shroud of the Freezer 50 TR and are optimised for high static pressure, through a wide speed range to guarantee effective and quiet cooling of AMD Threadripper processors.
Another first for Arctic is the addition of RGB lighting in the Freezer 50 TR. The implementation of addressable RGB is designed to combine high-performance cooling with striking aesthetics. The Arctic Freezer 50 TR includes thirteen addressable RGB LEDs that can be controlled either by major motherboard manufacturer software or by an optional Arctic ARGB lighting controller.
The Arctic Freezer 50 TR offers exceptional value and is priced significantly lower than similar high-end AMD Threadripper specific CPU coolers from rival manufacturers. The initial version of the Freezer 50 TR is available to purchase now. A further version with remote control RGB LED lighting is available at a slightly higher price.
Key Features
Large CPU contact surface
Eight heat pipes
RGB lighting effects
Dual tower design
Two Arctic P fans pre-installed
 Specifications
General              
Heat Pipe – Direct Touch Ø 6 mm x 8
Heatsink – Aluminium Fins x 104, Thickness: 0.4 mm
Thermal Compound – MX-4 (0.8 g)
Dimensions – 147.8 mm (L) x 149.5 mm (W) x 165 (H) mm
Weight – 1242 g
Compatibility – AMD ® sTR4
RAM Clearance – 37.5 mm
RGB      
Connector – D/V/G digital RGB 4-pin connector
Current / Voltage – 0.5 A/5V
Fans      
Fans – 1x 120 mm, 200 – 1800 RPM, 1x 140 mm, 200 – 1700 RPM (Controlled by PWM)
Current/Voltage – 120 mm: 0.09 A/12V, 140 mm: 0.13 A/12 V
Bearings – Fluid Dynamic Bearing
Noise Level – 0.4 Sone @ Max. RPM
Connector – 120 mm fan: 4-pin Connector, 140 mm fan: 4-pin Connector + 4-pin Socket
Addressable RGB Controller (Optional)
Outputs – 1x D/V/G digital RGB 4-pin connector, 2x A-RGB Fan 8-pin
Software Requirement – No
RGB Modes – 15 embedded modes, 12 embedded colours + Motherboard sync
Accessories – RF Remote, 400 mm Motherboard Sync. Cable, Mounting Accessories
Power Source – SATA Power
Dimensions – 100 mm (L) x 70 mm (W) x 12 (H) mm
Weight – 50 g
Be sure to check out our sponsors store EKWB here