The Arctic Freezer 50 TR arrives neatly packaged in a cardboard box sporting a black theme with RGB colours running around the edges. The front of the box displays a large image of the cooler with an Arctic logo and other branding scattered around. On the rear, key features of the Freezer 50 TR are highlighted, along with a series of images.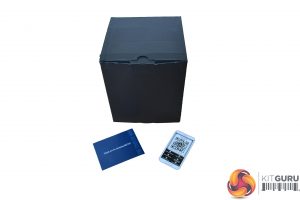 Inside the outer packaging, a smaller black cardboard box offers extra protection to the cooler. Arctic has included its traditional installation card that provides users with a QR code to scan, which opens the support page showing installation instructions. A small compliments leaflet is also included in the packaging.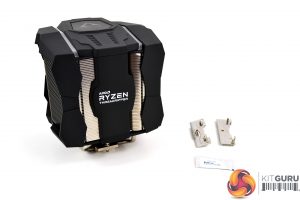 Once all the packaging is removed, the sheer size of the Freezer 50 TR becomes evident. Arctic has bundled in a simple-looking mounting bracket along with a sachet of MX-4 thermal compound, which should be enough for a single installation.
In an attempt to get a closer look at the heatsink design of the Arctic Freezer 50 TR, we stripped it down to its individual component parts. This turned out to be quite a simple process. The central fan slides upwards complete with integrated shroud, then both the front fan and rear shroud easily clip off.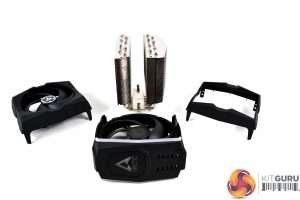 With the fans and plastic shrouds removed, we can get a better look at the heatsink design. The dual cooling towers are not equal in size. Width and height are identical, however, the front tower is approximately 28mm wide, while the rear tower measures approximately 46mm at its widest point. Both towers include a total of 52 aluminium cooling fins each.
The base of the Freezer 50 TR is made up of an aluminium anodised, copper thermal transfer plate, with heat pipes running through it to provide direct contact with the CPU HIS. Integrated into the thermal plate are two spring-loaded mounting screws.
Taking a closer look at the fans, we can see they are not a standard Arctic P fan design like we have seen in other Arctic coolers. The fans are integrated into the plastic shrouds, so they are specific to this type of cooler only. The fans must be removed for installation, so this means they could be replaced under the event of failure if Arctic can provide them separately.
At the top of the central fan shroud, we can see the RGB LEDs and circuitry. The LEDs are defused by two opaque strips and lighting shines through the upper Arctic logo. The central fan includes a 4-pin PWN cable splitter to connect the two fans together, along with a 3-pin 5V ARGB connection.
We quite like the overall design of the Arctic Freezer 50 TR. Its neutral black and silver colour scheme should be easy to integrate into any system. Considering its cost, the Freezer 50 TR feels well built out of high-quality materials.
RGB Gallery