Arctic has packaged the Freezer 7 X in a small cardboard box sporting the traditional blue theme. On the front is an image of the cooler, various Arctic Freezer 7 X logos and a reference to the 6-year warranty. At the rear are additional images outlining the key features and a small performance graph.

Inside the packaging is another smaller brown cardboard box as well as the cooler itself. The contents of the internal box include the Intel mounting bracket, four clips to hold the bracket in place, along with an Arctic compliments card and a QR code with a link to the installation guide.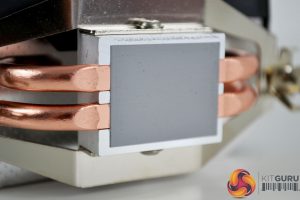 The base of the cooler looks quite small and possibly will not offer full coverage of either current Intel or AMD mainstream desktop processors. The base is covered with a pre-applied thermal compound coating which will help speed up installation.
With the thermal compound coating removed, we can see that the two heat pipes run across the centre of the base plate, they have a smooth machined finished and are mounted in a pretty crude looking, but functional aluminium block.
A universal mounting bracket is pre-installed to the cooler and is used for both Intel and AMD platforms. It has hook style clasps at either end that are tightened into position by Philips head screws which looks like a very simple to use mounting solution.
The P-series fan also arrives pre-installed to the cooler and is housed inside a shroud that is designed to direct airflow at the heatsink. The fan, along with its shroud can be removed from the heatsink and is held in position by two clips. This makes it easy to remove but also means that is could be difficult to use the cooler with a different fan if required.
With the fan removed we can see all 44 of the heatsink fins with their spiked design at the fan side. Even though this is a cheap cooler, it seems to be well built and constructed from high-quality copper and aluminium materials with a sturdy feel to it.